Blue Blazes! Could we see Richard Rider Nova in the MCU?
According to Adam McKay, who wrote Ant-Man and has taken meetings with Marvel about Inhumans and Guardians of the Galaxy 3, Marvel Studios is thinking of doing something with Nova.
"When I was in the fourth or 5th grade I got into Nova of all people, and I think they're kicking around a Nova idea now too," McKay told the Happy Sad Confused podcast.
This isn't the first time we've heard about Nova potentially making his way into the MCU as Richard Rider Nova was a part of Nicole Perlman's version of the Guardians of the Galaxy, however, when James Gunn came on board, he cut Nova from the film.
Last April also saw Marvel Studios president Kevin Feige mention the Human Rocket.
"Nova is… if we have a big board with a bunch of characters that have more immediate potential, Nova is on that board," Feige said. "Because of the connection to the Guardians universe, because there are more than one examples to pull from in the comics that are interesting. And you're absolutely right, he was in the earliest drafts of the [Guardians of the Galaxy]."
Reportedly, Gunn cut Nova because he wanted Star-Lord as the only human in the movie and in space, which is also why Gunn changed the origins of other characters such as Drax and Mantis, unfortunately.
Fans are already speculating ways Nova could be introduced into the MCU, with a favorite being with what happened at the start of Infinity War, which saw Thanos and his Black Order decimate Xandar to capture the Infinity Stone. Perhaps similar to the stellar Marvel Comics Annihilation event from 2005/6, Nova is the lone survivor and houses the Nova Force and Worldmind. The Nova movie could actually show what we didn't get to see in Infinity War.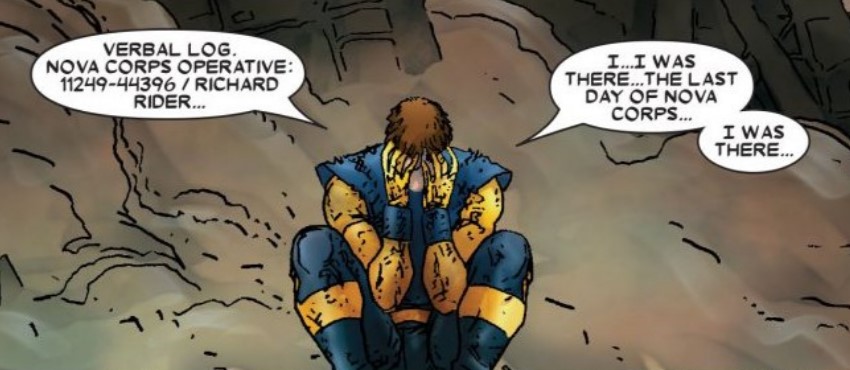 Regarding Adam McKay directing a Nova movie, he wouldn't be my first choice as his style seems to be on the goofier side (Anchorman), as I think a Nova movie should be more serious and hardcore than what Gunn did with Guardians of the Galaxy and with what Taika Waititi did with Thor: Ragnarok.
My choice of director would have to go with the Russo brothers as they respect the source material (they have a huge comic collection), yet they bring something new for the film version. I know Joe Russo's favorite character is Spider-Man, and that he had a hand in casting Tom Holland, so I think Joe and Anthony Russo can sympathize with cosmic fans not wanting their favorite character getting butchered.
Marvel is set to get Silver Surfer, Galactus, Super-Skrull and Annihilus from Fox Studios next Spring, so perhaps a Nova movie building up to an MCU cosmic Annihilation event film is the way to go? And that's another reason I figured Avengers 4 wasn't titled "Annihilation."
While we are on the topic of Nova in the MCU, check out this awesome fan art from the art director of the God of War video games also including Super-Skrull: