Details are learned about the Daredevil: Born Again series that is getting rebooted, which includes that Charlie Cox's Matt Murdock quit being the Man Without Fear.
Regarding the reboot, THR confirms what I was told by Marvel insiders at Comic-Con.
So following the earlier news, info on what we can guess is no longer going to happen leaks from the CanWeGetSomeToast Twitter account.
Worth a mention is that the same account also said episodes wouldn't feature Charlie Cox as Daredevil, which also has been confirmed by THR who says the first four episodes don't feature Daredevil.
Update: Additional plot details include White Tiger.
What are the details?
CanWeGetSomeToast now adds the MCU Disney+ series was going to feature Charlie Cox's Matt Murdock quitting being Daredevil as a result of Foggy getting killed.
Leaks have also offered the first episode of the series sees Foggy Nelson and Karen Page getting shot and killed off (which explains why Elden Henson and Deborah Ann Woll aren't a part of the MCU series).
"Originally, Daredevil Born: Again had Matthew hang up the Devil's cowl for over a year after failing to save Foggy…" states the account.
The account continues and again mentions Kingpin wining the election to become mayor, as previously CanWeGetSomeToast revealed part of the plot involves corrupt police officers using the Punisher skull logo.
"Kingpin would've been Mayor, winning on a campaign of backing law enforcement while discouraging street level heroes like Punisher, Daredevil… and Spider-Man," says the info.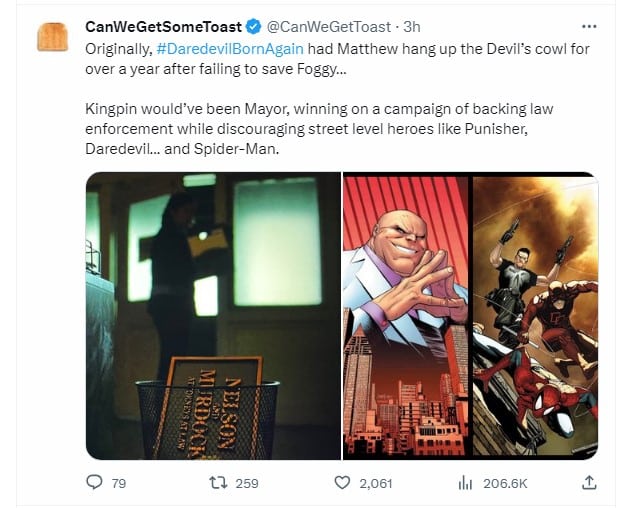 The account also added in a separate tweet, "Matthew not suiting up for 4 episodes would've been fine if Born Again was actually 18 episodes long, but Marvel is splitting it into two 9 episode seasons. They realized they couldn't release a Daredevil show when Daredevil's the only hero not suiting up for half the season!"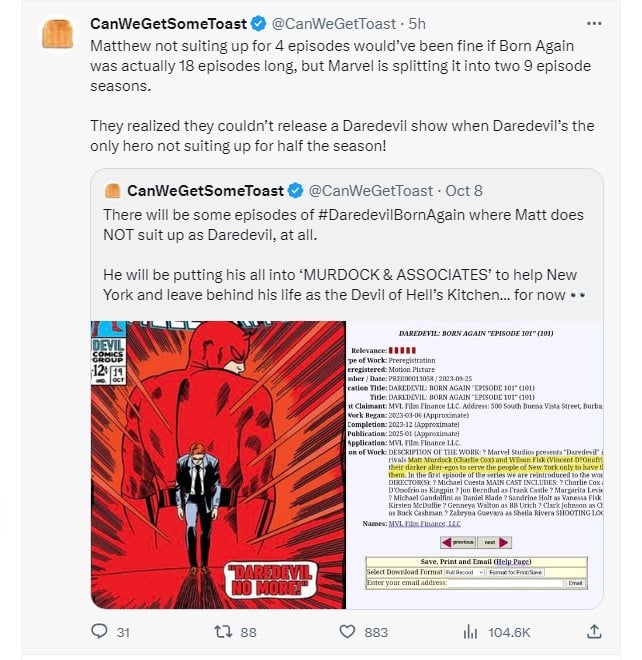 A fan questioned if Jon Bernathal's Punisher will remain in the show.
"The rework won't be changing any of the principal cast," replied CanWeGetSomeToast.
Another questioned if they originally planned for Spider-Man to appear in Daredevil: Born Again.
The account replied, "He was just a mentioned in the speech Kingpin gave as he was sworn in as Mayor. Remember those set photos of the Kingpin in New York on New Years Eve? That was the speech."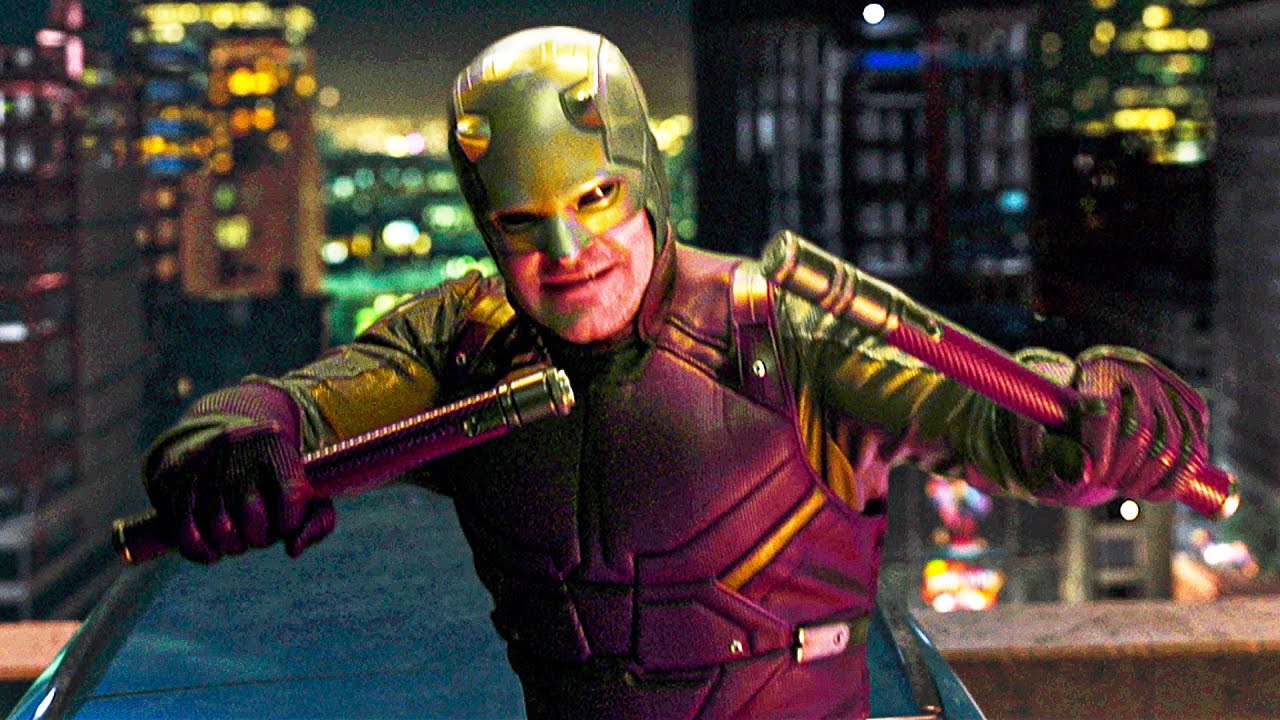 Good news
So the good news is that Kevin Feige is fixing the series to line it up closer with the popular Netflix series.
Feige has fired the head writers and remaining directors and is currently looking for replacements. It's also known only a few episodes have been filmed anyway.
"Marvel is FINALLY giving their TV shows the proper love and support they desperately needed. Say goodbye to the 6 to 9 episode 'events,'" tweeted CanWeGetSomeToast.