Marvel and Disney are bringing back Stan Lee in a 20-year licensing deal with POW! Entertainment and Genius Brands.
Stan Lee, the co-creator of Marvel and characters such as Spider-Man, X-Men, Iron Man, Thor, Hulk, and lots more, passed away on November 12, 2018, but according to the announcement will be brought back for potential use in future Marvel films and TV shows as well as Disney Theme Parks and Experiences.
While the new deal does give Disney and Marvel Stan Lee's name, voice, likeness and signature in movies and television projects, as well as to use images, existing footage and existing audio recordings featuring him, THR notes that according to insiders, "the new deal does not necessarily pave the way for the return of Stan Lee cameos in movies, at least not in the way fans traditionally knew them," and that "it is unclear if the public even has an appetite to see Lee digitally resurrected."
So we can guess it could be possible that Stan Lee will not be brought back digitally for cameos in various Marvel projects, but that those projects could still feature his likenesses, like an Easter Egg poster or picture or something and that maybe the Disney theme parks would feature the digital and/or archival likenesses as Lee could be involved with rides and exhibits.
A Stan Lee Marvel Legends action figure was released at the New York Comic-Con back in 2019, so it's likely there will be more of the same sort of merchandise and such (mugs, t-shirts, etc.).
I've interviewed and met Stan Lee a couple of times and the guy is quite the showman, so continuing on in some form seems right up his alley; however, when I was photographed with him at the NYCC in 2016, he seemed less than enthusiastic as when I asked him how he is doing, he replied he doesn't know what he is doing (lol), which isn't a surprise as he had to sit in a chair for hours as photo after photo was taken with him and fans. I saw him on the floor later on mingling at a booth where he looked really happy (pictured above).
Stan Lee's last MCU cameo was in The Avengers: Endgame where he filmed the scene and appeared posthumously digitally de-aged as a cab driver in 1970 alongside a digital re-creation of his wife, Joan Boocock Lee. Recently, in Spider-Man: No Way Home, Lee's birthday (December 28, 1922) is used as the number plate (1228) of a taxi cab in the movie's bridge fight scene.
Genius Brand is a global kids media company that was created as a joint venture with POW!, a media company that was co-founded by Stan Lee along with Gill Champion and Arthur Lieberman in July 2020.
"It really ensures that Stan, through digital technology and archival footage and other forms, will live in the most important venue, the Marvel movies, and Disney theme parks," said Andy Heyward, chairman and CEO of Genius Brands. "It's a broad deal."
Heyward added, "The audience revered Stan and if it's done with taste and class, and respectful of who he was, it will be welcomed. He is a beloved personality and long after you and I are gone, he will remain the essence of Marvel."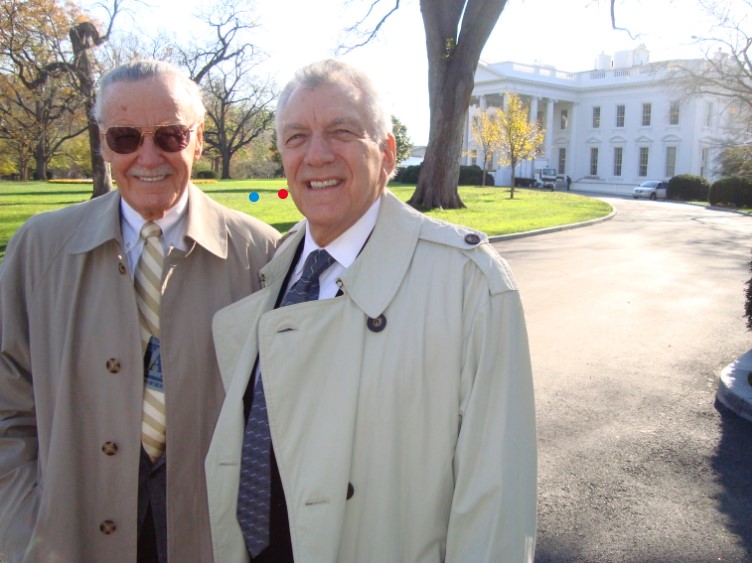 Press Release
Stan Lee's POW! Entertainment and Genius Brands Sign 20-Year Deal with Marvel Studios to License "Stan Lee" for Use in Future Films, TV Shows, and Disney Theme Parks and Experiences
Stan Lee Universe, LLC, a joint venture between Stan Lee's POW! Entertainment and Genius Brands International, is excited to announce a 20-year deal with Marvel Studios to license the name, likeness, voice, and signature of Stan Lee for future feature films and television productions, as well as use in Disney theme parks, in-park merchandise, and experiences around the world.
We're happy to share this news with Stan's fans, who we know always enjoyed seeing his Marvel appearances over the years. The admiration they showed – and continued to show – for Stan was something Gill Champion, President of POW! Entertainment and Stan's longtime business partner and friend, witnessed first-hand many times. "It's a ​privilege commemorating Stan in a way that not only honors his work and legacy, but also the relationship he shared with his fans," Gill said. "Building a connection with those who celebrated and supported Stan is important to us as we continue sharing his life and stories with the world."
'Nuff said!