Stan Lee has passed away at the age of 95 years today as he was rushed to the hospital where he died.
I think it is an understatement that we are all in shock as Stan Lee was a big influence on our lives and even aspirations.
Reactions have been pouring into social media from fans and celebrities.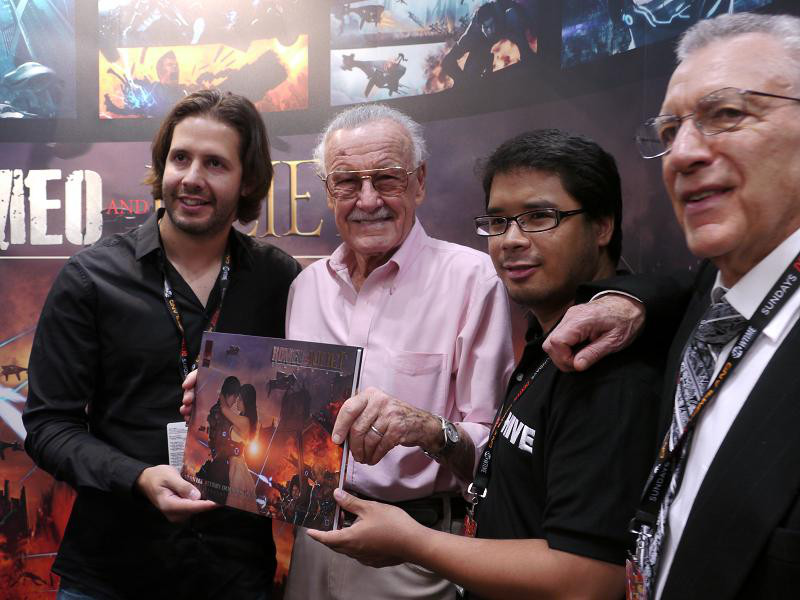 Remembering Stan Lee at New York Comic Con 2011
I can recall first meeting Stan Lee back in 2011 at the New York Comic-Con. I was asked to do an interview with Stan Lee on the floor of the NYCC for a comic he produced with Romeo and Juliet: The War.
When I arrived at the location, the place was packed with fans. There were actually so many fans trying to get a look at the legend that the New York Fire Marshalls showed up and threatened to shut it down! I quickly took my spot in line and sure enough, got a couple of minutes to chat with "The Man."
He was as cordial and friendly as you would expect. And boy, did he know how to work a crowd! I mumbled a few questions, something about cosmic this or that, he noticed my site logo on my shirt and said something about yes it being cosmic, and off I went. I just scored the interview of a lifetime! I quickly checked my phone to make sure I had the recording. My phone felt like pure gold in my hand!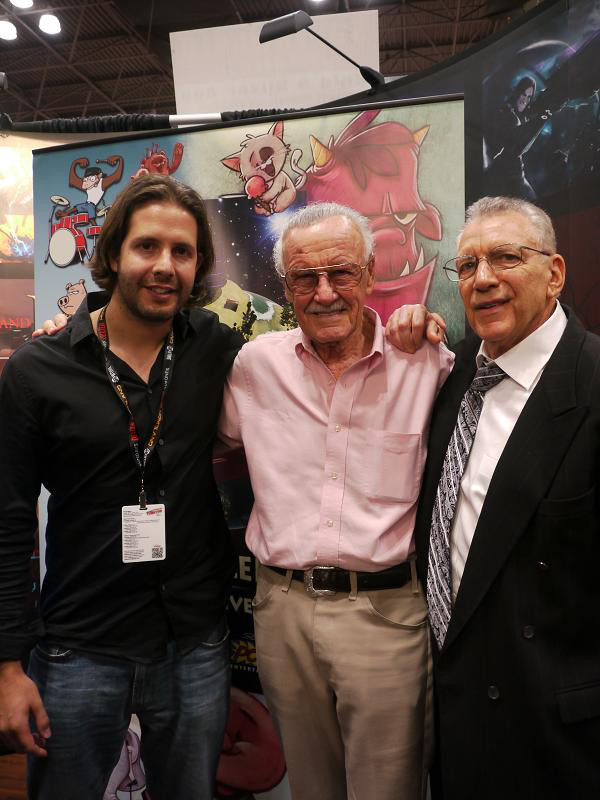 Remembering Stan Lee at New York Comic-Con 2016
The next time I would meet Stan Lee would be at the 2016 New York Comic-Con during a meet and greet.
I think I waited in line with thousands of others for at least a couple of hours. It was just a quick pic that was taken. I remember being in line and getting called up for my photo. They said we weren't allowed to touch Stan Lee or anything. I went over to Stan and said hello. I asked how he was doing. He replied to me he didn't know what he was doing (lol).
It was a quick twenty seconds and his eyes are closed in the photo, but that was Stan Lee, and I will cherish that moment forever.
My final time seeing Stan Lee
My final time seeing Stan Lee would be at the same 2016 NYCC.
I was checking out various booths where I saw Stan Lee basically walking around like he was just a fan. He had what I assume to be security with him or an entourage, but he was happy to be mingling with the fans and having photos taken of him. I shouted his name and quickly snapped the following pic.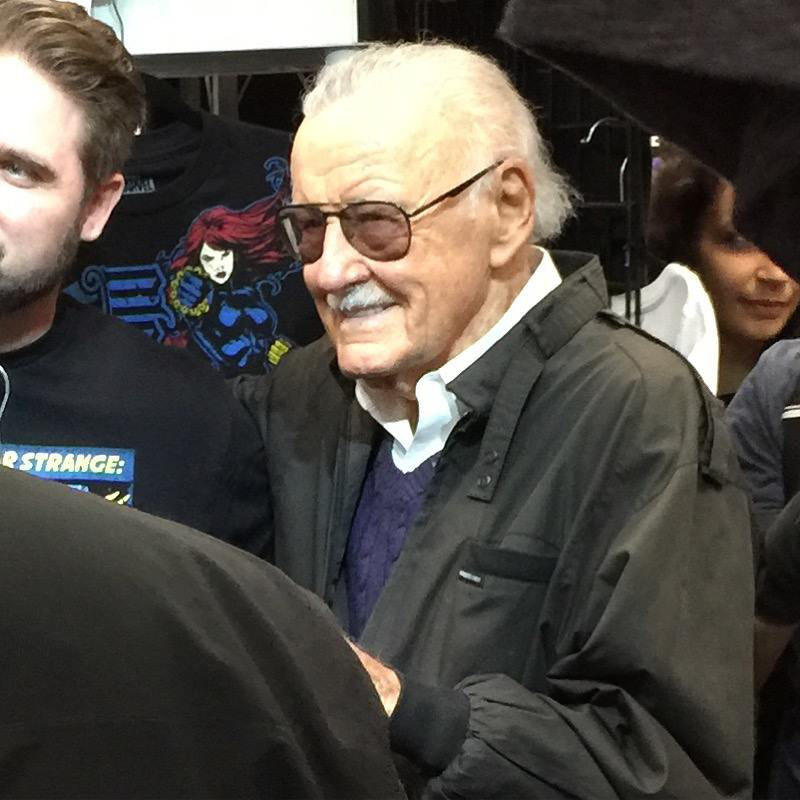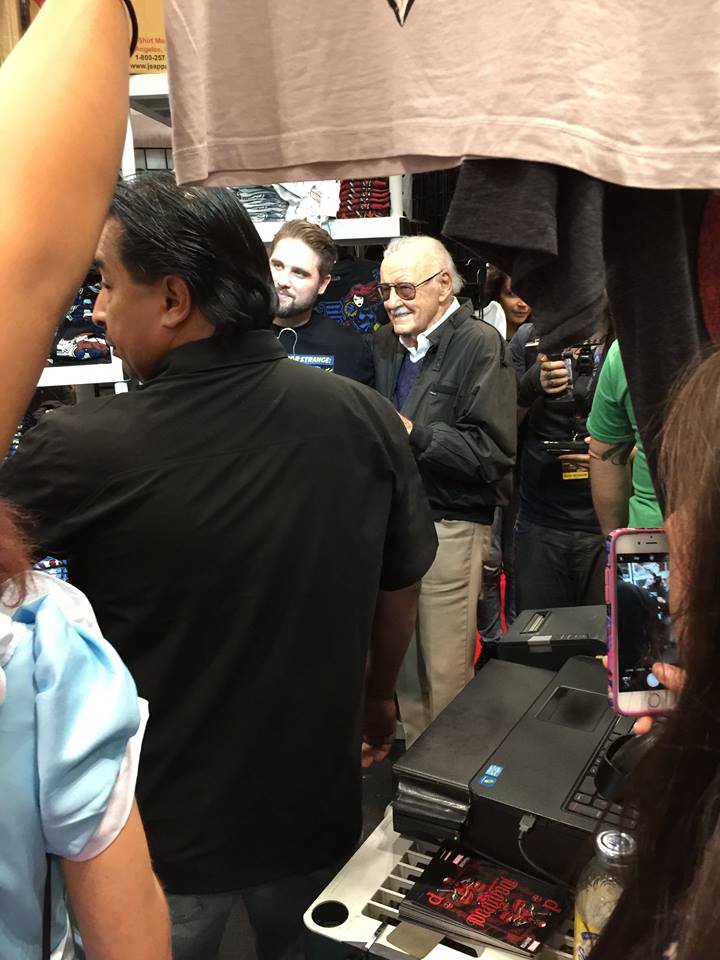 I'll miss you, Stan Lee
While I didn't personally know Stan Lee, I always looked at him as a grandfather figure. He was a showman, a legend, a creator, and I'll even say a friend. You know when Stan Lee was around or appeared in his various cameos that things were good. I'll miss that. I'll miss you, Stan Lee.
Here are some various reactions on social media from Marvel Comics Editor Bill Rosemann, the Russo Brothers, Alex Ross, Ryan Reynolds, Lou Ferrigno, and more:
You may not have known it, but your stories, editorial notes, letters pages, and Soapboxes that we read growing up became the voice we needed to guide us through life and inspire us to strive to be the heroes that you knew we could be. Rest in peace, Stan Lee, and thank you. pic.twitter.com/NisO7GDAku

— Bill Rosemann (@BillRosemann) November 12, 2018
Thank you for filling our childhoods with such joy. You will be dearly, dearly missed… pic.twitter.com/Qt2sZqaNlc

— Russo Brothers (@Russo_Brothers) November 12, 2018
Rest In Peace @TheRealStanLee #legend #StanLee #StanLeeRIP pic.twitter.com/acQpyBxCqk

— Alex Ross (@thealexrossart) November 12, 2018
Not enough kind words to post about my dear friend @TheRealStanLee
My life wouldn't be the same without his incredible talent as a creator, storyteller and friend
Rest In Peace Stan. You'll be missed.
.#legend #hulk #stanlee #rip pic.twitter.com/9XU45GHCnq

— Lou Ferrigno (@LouFerrigno) November 12, 2018
I don't have words for this. My life has been so incredibly changed by this mans creations and words. I'm going to celebrate him today by putting in the work and writing his characters the absolute best way I know how.

Thank you, Stan.

I love you, True Believers.

Excelsior. https://t.co/rkvoh3m8w2

— DONNY CATES (@Doncates) November 12, 2018
I was first interviewed for Stan Lee's obituary about 20 years ago. I was happy he defied the reaper and carried on. With Stan gone, an era really does come to an end. He was the happy huckster that comics needed. And he really did alliterate like that when you talked to him.

— Neil Gaiman (@neilhimself) November 12, 2018
In loving memory of Stan Lee. It was an honor to have him on The #BigBangTheory. Thank you for being a real life super hero to so many generations. Your legend will live on. pic.twitter.com/OHWdbHQPYC

— The Big Bang Theory (@bigbangtheory) November 12, 2018
Damn… RIP Stan. Thanks for everything. pic.twitter.com/TMAaDJSOhh

— Ryan Reynolds (@VancityReynolds) November 12, 2018
He changed the way we look at heroes, and modern comics will always bear his indelible mark. His infectious enthusiasm reminded us why we all fell in love with these stories in the first place. Excelsior, Stan.

— DC (@DCComics) November 12, 2018