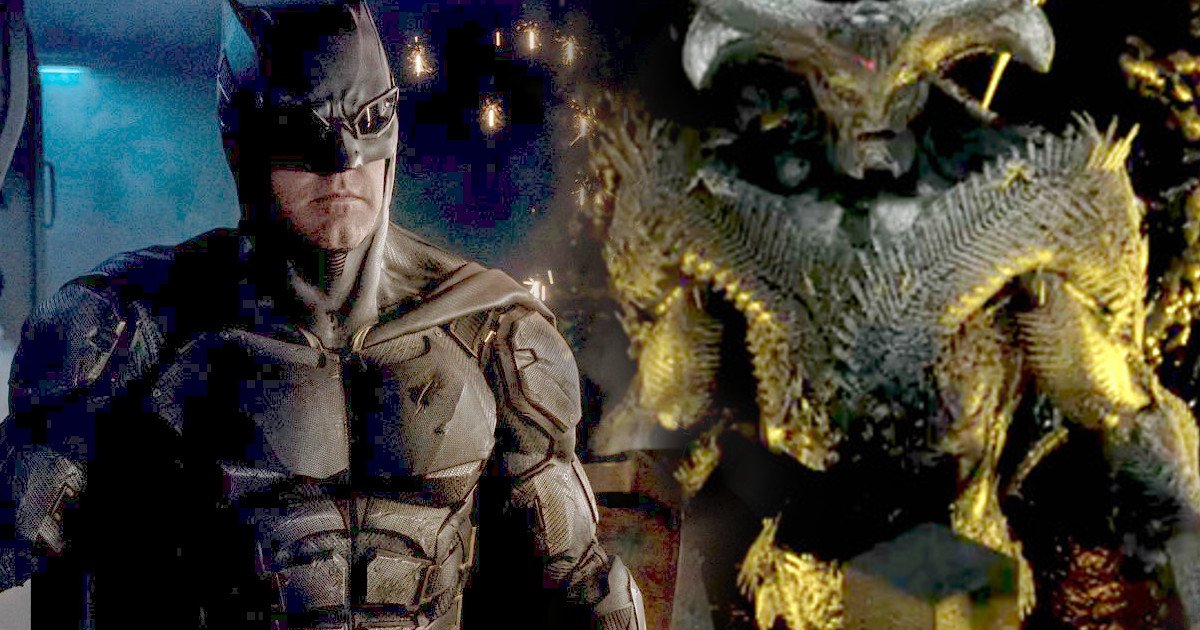 Update: Justice League Comic-Con trailer now online.
Will the Justice League Comic-Con trailer reveal Steppenwolf?
All signs are pointing that it's highly likely Saturday during Hall H WB will reveal the villain of the Justice League movie with Steppenwolf in a trailer.
Evidence to support the theory that Steppenwolf will be first revealed in the Justice League Comic-Con trailer comes from the fact that today Mattel revealed the Steppenwolf DC Multiverse build-a-figure ahead of both the SDCC and the official August 1st embargo.
Perhaps the biggest clue that Steppenwolf will be revealed in the Justice League Comic-Con trailer comes from the fact that the WB UK Twitter account just posted the Batman vs. Superman "Communion" deleted scene, which features Steppenwolf and the three Mother Boxes. It's likely that they may want to remind fans about the character.
WB also happened to reveal an official look at the three Mother Boxes on the floor of Comic-Con. Steppenwolf comes to Earth in search of the Mother Boxes that were lost during a battle thousands of years earlier with humans, Amazons and Atlanteans. It's possible the Justice League Comic-Con trailer may give us a taste of that battle, which will be a part of the movie's prologue.
I'm honestly on the fence regarding a look at Steppenwolf in the Justice League Comic-Con trailer. I do like what they did with Ares in Wonder Woman in that they never released an official image or footage; however, we actually weren't sure that Ares was the main villain, but we do know Steppenwolf is the villain of Justice League.
Steppenwolf is being voiced by Game of Thrones actor Ciaran Hinds who recently offered the "murderous, avenging Steppenwolf from Apokolips is bent on Hell on Earth."
Hinds also offered Steppenwolf apparently doesn't have a good relationship with Darkseid.
"He's old, tired, still trying to get out of his own enslavement to Darkseid, [but] he has to keep on this line to try and take over worlds."
The Justice League Comic-Con trailer looks to be released on Saturday during WB's big Hall H movie presentation which will feature Ben Affleck, Gal Gadot, Jason Momoa, Ezra Miller and Ray Fisher talking all things Justice League, as well as an early look at director James Wan's Aquaman film.
A look at the Justice League Comic-Con booth has also been revealed and features Henry Cavill as Superman.
If a Justice League Comic-Con trailer is released, WB will most likely unveil it online at the same time. Look for it here!
"Justice League" has a November 17, 2017 release directed by Zack Snyder starring Ben Affleck as Batman, Henry Cavill as Superman, Gal Gadot as Wonder Woman, Jason Momoa as Aquaman, Ezra Miller as The Flash, Ray Fisher as Cyborg, J.K. Simmons as Commissioner Gordon and Willem Dafoe an Atlantean, Nuidis Vulko.
Synopsis:
Fueled by his restored faith in humanity and inspired by Superman's selfless act, Bruce Wayne enlists the help of his newfound ally, Diana Prince, to face an even greater enemy. Together, Batman and Wonder Woman work quickly to find and recruit a team of metahumans to stand against this newly awakened threat. But despite the formation of this unprecedented league of heroes—Batman, Wonder Woman, Aquaman, Cyborg and The Flash—it may already be too late to save the planet from an assault of catastrophic proportions.