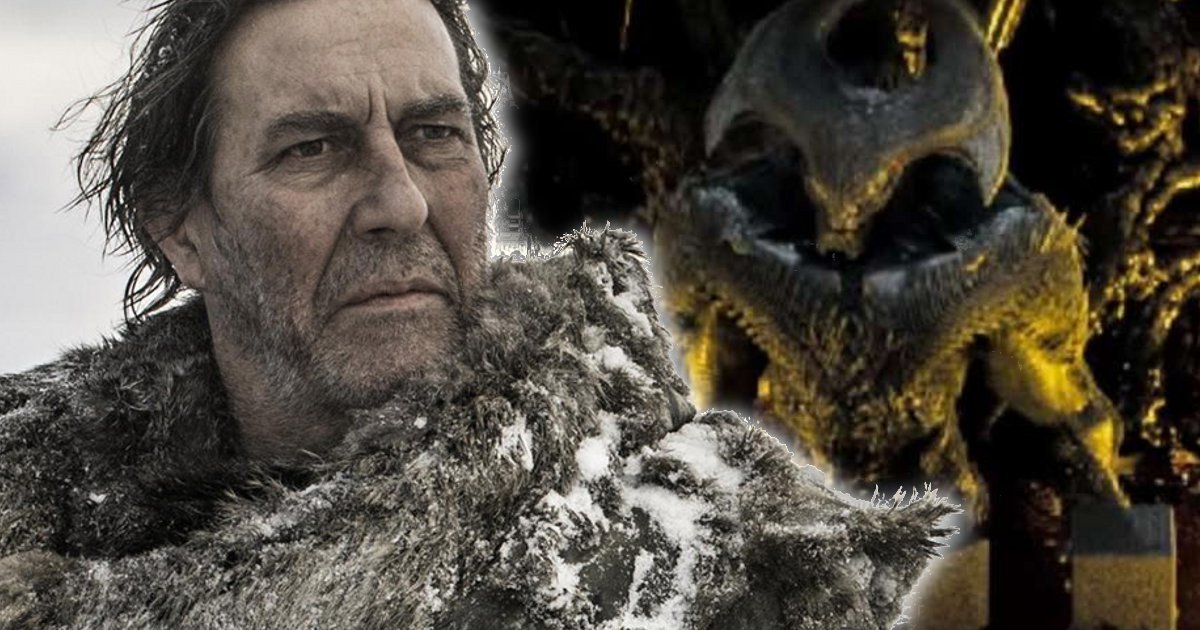 For the first time, Irish actor Ciaran Hinds talks playing the villain of the Justice League movie with Steppenwolf.
For those unfamiliar, the character appeared in the Batman vs. Superman "Communion" deleted scene (watch below) and in the comics is the uncle/lieutenant of Darkseid.
Ciaran Hinds chatted with the UK's Independent about Steppenwolf letting it be known the character will be done on screen using CGI, and also that Steppenwolf has an apparent beef with Darkseid.
But actually Hinds performed the role via motion-capture, a first for him, with cameras strapped to him and his body sheathed in a "very tight and embarrassing" suit covered with sensors. "Basically they're going to construct something, digitally, and then they will use my eyes and mouth."

Hinds even reveals just what we can expect from the planet-snatching Steppenwolf, an underling to the yet-to-be-seen Darkseid. "He's old, tired, still trying to get out of his own enslavement to Darkseid, [but] he has to keep on this line to try and take over worlds."
News of Steppenwolf feuding with Darkseid is rather interesting as we can speculate that may mean Steppenwolf comes to Earth on his own seeking the Mother Boxes, which may also mean Darkseid sends his own forces after Steppenwolf with possibly Earth caught in the crossfire. It actually sounds really cool and would be a way to have the Green Lantern Corps introduced.
Ciaran Hinds also said he never read the comics as a kid, received advice from Liam Neeson and compares Batman vs. Superman to Excalibur, of which he played King Lot in the 1981 movie.
"They were great fans of Excalibur, Zack and his team. Maybe that's how I got the role [in Justice League]! Who knows? There's a bit when they're walking in Gotham City and suddenly on a marquee of a cinema you see Excalibur playing." Then there was the moment Superman is impaled by a large spear. "That's exactly what happened in Excalibur, with Nigel Terry [who played King Arthur] pierced by Mordred."
A previously released plot synopsis for Justice League also mentioned Ciaran Hinds, Steppenwolf and Darkseid.
In the wake of Clark Kent/Superman's (Cavill) death at the hands of Doomsday in BvS, vigilante Bruce Wayne/Batman (Affleck) reevaluates his extreme methods and begins reaching out to extraordinary heroes to assemble a team of crime-fighters to defend earth from all kinds of threats. Together with Diana Prince/Wonder Woman (Gadot), Batman seeks out cybernetically enhanced former college football star Vic Stone/Cyborg (Fisher), speedster Barry Allen/The Flash (Miller) and Atlantean warrior king Arthur Curry/Aquaman (Momoa). They face off against Steppenwolf (Hinds), the herald and second-in-command to alien warlord Darkseld, who is charged by Darkseid with hunting down three artefacts hidden on earth.
"Justice League" has a November 17, 2017 release directed by Zack Snyder starring Ben Affleck as Batman, Henry Cavill as Superman, Gal Gadot as Wonder Woman, Jason Momoa as Aquaman, Ezra Miller as The Flash, Ray Fisher as Cyborg, J.K. Simmons as Commissioner Gordon and Willem Dafoe an Atlantean, Nuidis Vulko.
Synopsis:
Fueled by his restored faith in humanity and inspired by Superman's selfless act, Bruce Wayne enlists the help of his newfound ally, Diana Prince, to face an even greater enemy. Together, Batman and Wonder Woman work quickly to find and recruit a team of metahumans to stand against this newly awakened threat. But despite the formation of this unprecedented league of heroes—Batman, Wonder Woman, Aquaman, Cyborg and The Flash—it may already be too late to save the planet from an assault of catastrophic proportions.