"Release The Snyder Cut" continues to trend on Twitter, now with near 45K tweets, which sees Jason Momoa respond by posting an image of Aquaman vs Steppenwolf.
"#releasetheysnydercut Aloja," Momoa posted on Instagram, with the image showing Aquaman gutting Steppenwolf with the trident.
Reportedly, Aquaman then throws Steppenwolf to Superman who punches Steppenwolf to Wonder Woman where she beheads him seconds before he enters a Boom Tube.
Steppenwolf's head then rolls to the feet of Darkseid on Apokolopis.
Zack Snyder did tease the final battle in the form of Justice League storyboards for his version of the film (see below).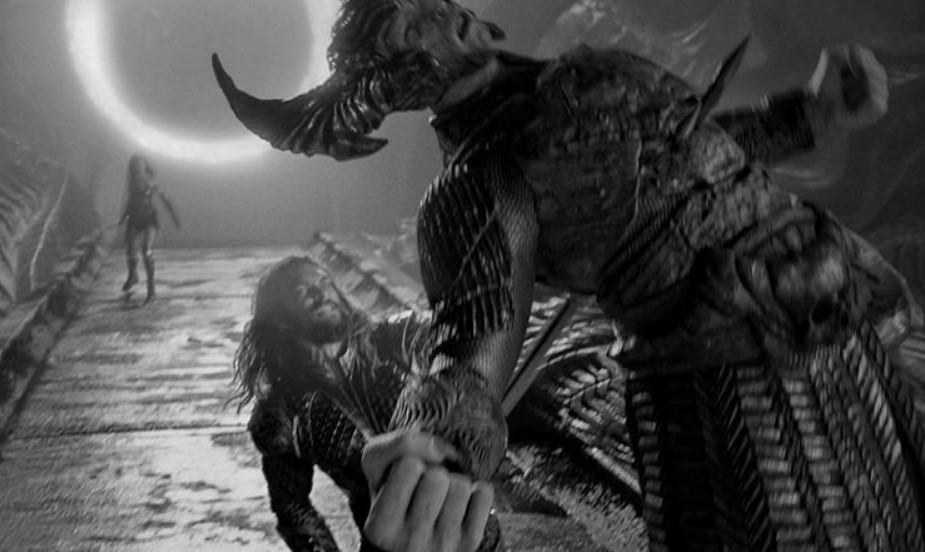 The Snyder Cut said to be finished
Earlier also saw Zack Snyder post a new image from the Snyder Cut featuring Ezra Miller as Barry Allen with Kiersey Clemons as Iris West.
The "Release the Snyder Cut" campaign has seen renewed interest following recent comments made by Jason Momoa where he said he has seen the cut and implied Zack Snyder finished it.
"I have seen it. I've seen the Snyder Cut." Momoa teased. "Oh, you don't think Zack couldn't finish it?"
Fans continue to support the release.
#ReleaseTheSnyderCut https://t.co/B9TRIuQK3N

— robliefeld (@robertliefeld) November 9, 2019
This is the only way, the five of us, United #ReleaseTheSnyderCut @ATT pic.twitter.com/PWqqV5qI4O

— Fran ☃️ (@Dailter_Fran) November 9, 2019
The Snyder Cut should be released because this is a WIN WIN situation for everyone.#ReleaseTheSnyderCut pic.twitter.com/E5uiF5OcK7

— ZSFAN_PARADEMON_No.33!!!#ReleaseTheSnyderCut (@Superfan2016) November 9, 2019
That's the one i want to see most too. It'll make that weak scene in the "bat cave" from the theatrical cut look like a joke.#ReleaseTheSnyderCut https://t.co/ar7LZbMojd

— l3rian Scully (@Brimm) November 9, 2019
You know what the most important thing about this is? Steppenwolf is rendered. He looks done… The haters have been telling me that Zack didn't finish any effects shots… pic.twitter.com/ANt5x8dP1h

— DC Connections (@dc_connections) November 9, 2019
Hahahaha, it was originally meant to be just the Seven, but now it's the Thousands! —#ReleaseTheSnyderCut pic.twitter.com/2eW5YF64vY

— Shannon (@Super_Shanko) November 9, 2019
Why so serious? You're bound to make a fortune on realizing a movie that is already done. We're doing the PR work for free out here. Come on #tobyemmerich throw us a bone!! And #ReleaseTheSnyderCut pic.twitter.com/0uDDsU3DBX

— Parker (@Roundaboutnoon) November 9, 2019
Because its a TOTALLY different movie! Less than an hour of Zack's 3 1/2 movie was used in the theatrical release! #ReleaseTheSnyderCut @justiceleaguewb @warnerbros @wbpictures @WBHomeEnt

— Alessandro [Lex]– JLUPodcast #ReleasetheSnyderCut (@raveryn) November 9, 2019