Following getting canceled after the debut of the premiere episode, now Aquaman director and executive producer on the Swamp Thing DC Universe series, James Wan, takes to social media to comment on the controversial cancellation.
"Don't really know or understand why Swamp Thing was cancelled, but I can tell you this — all the cast and crew, and producing/writing team poured their hearts into this. Really proud of everyone's hard work. Go watch episode 2, and immortalize these 10 episodes. Swampy deserves it," Wan posted on Instagram.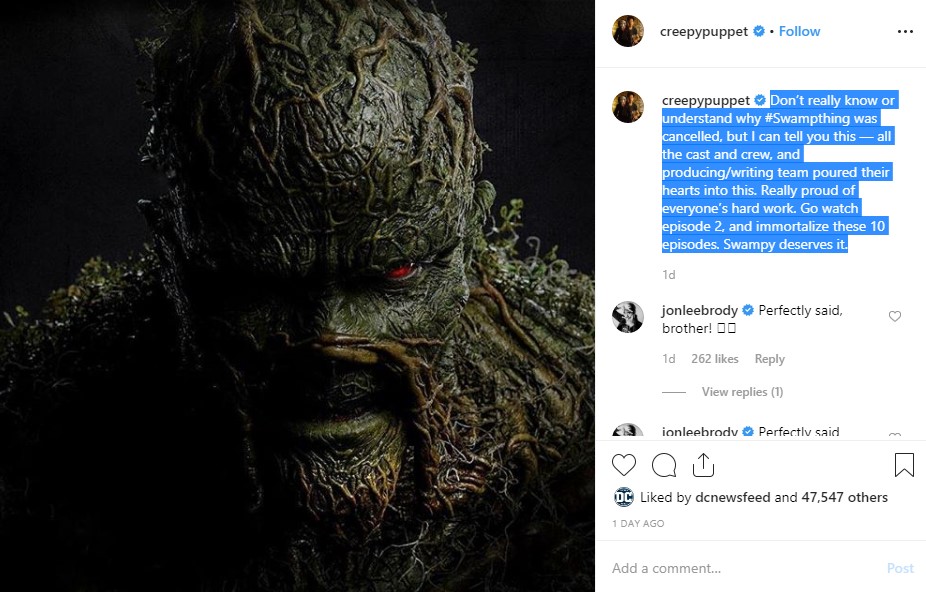 James Wan says he doesn't know why Swamp Thing is canceled
With James Wan offering he doesn't know the reason for the cancelation, we can probably guess he wasn't that involved with the series to begin with. Reportedly, the series cancellation came from on high, as it has been said WB execs weren't too thrilled with the series for some reason. It could be possible that Swamp Thing got the ax as a result of the recent AT&T and Time Warner Merger, as it has also been said execs are rethinking the DC Universe streaming service. An erroneous report also offered the series wasn't renewed for a second season due to North Caroline not providing promised tax credits, but at noted, that has been proven not to be true.
The news of Swamp Thing getting canceled also came a few weeks after Warner Bros. halted production on the series cutting the number of episodes from a planned 13 to only 10.
While Swamp Thing won't have a Season 2, all 10 episodes of the first season will be airing on the DC Universe streaming services with new episodes released on Friday.