Henry Cavill takes to social media to reveal two horses he is training with for The Witcher Season 2 with Zeus and Hector.
"Look who I found! And for those asking. This is Zeus pronounced Zey-oos, but most may know this particular horse as Roach! And yes, Roach is traditionally a mare (lady horse) and if the name is anything to go by, Zeus, is not….but that shouldn't limit his performance options. Why don't we have an Oscar for best supporting horse?" Henry Cavill posted Wednesday on Instagram.
Henry Cavill with Zeus: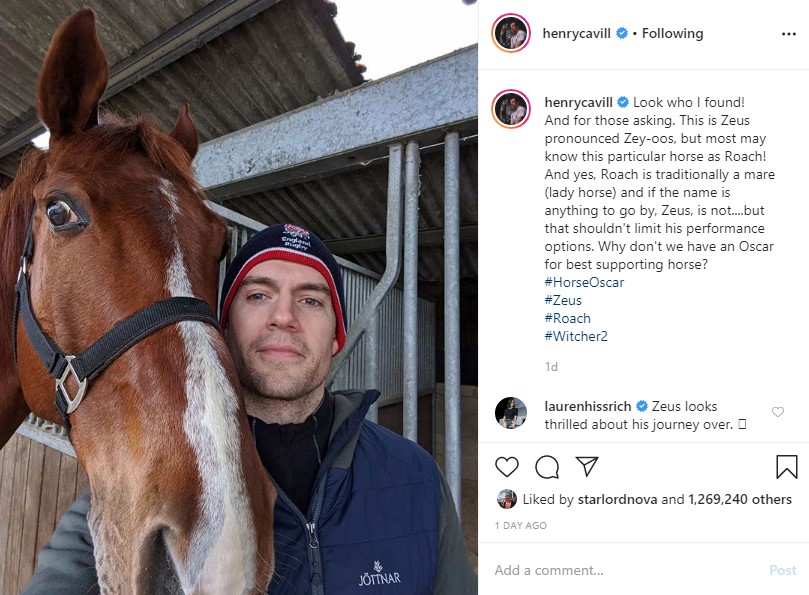 Henry Cavill followed the Zeus post with one about Hector.
"The mighty, the glorious, the powerful, and the kind, like a king of ancient myth….this is Hector. Hope you guys actually like horse content….because chances are, now that Zeus and Hector are here, you will be getting a lot," posted Henry Cavill on Thursday. "For me my riding training is all about riding different horses. Over the years Geralt has had many horses named Roach and each one has been different, just like real horses. Every horse has a different personality and way of interacting, way of moving, and feel to ride too. So training on different horses builds up that knowledge that Geralt would naturally have built up over the years. As far as becoming a 'horseman' is concerned, I have many many years to go, but I am loving every step of the way."
Henry Cavill with Hector: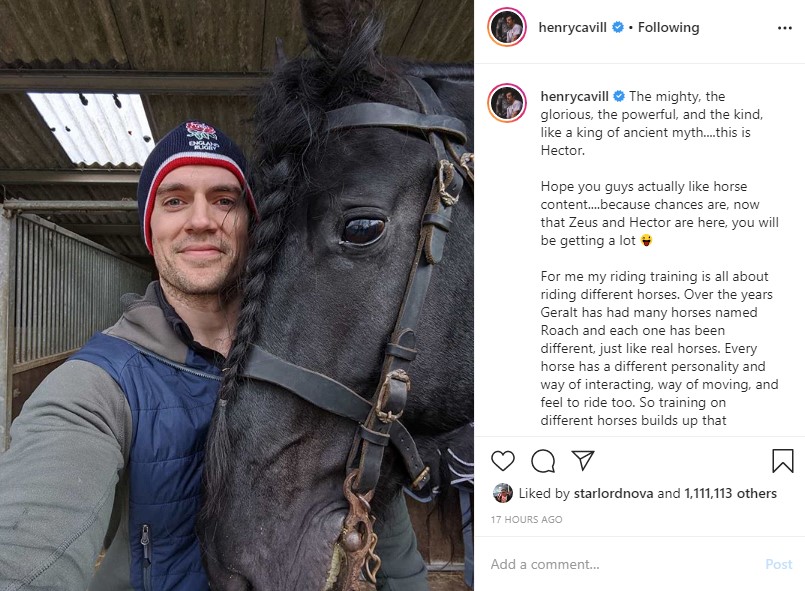 Henry Cavill filming and training for The Witcher Season 2
Netflix and Henry Cavill are currently filming The Witcher Season 2, which follows the big success of the first season that saw over 100 million viewers tune in to watch the show.
The streaming network recently announced that The Witcher is its most-watched new show and Netflix also announced an anime series is in the works with Nightmare of the Wolf which explores a powerful new threat facing The Continent.
The Witcher Season 1 is now streaming on Netflix (great show) and also stars the fan-favorite Anya Chalotra as Yennefer and Freya Allan as Circi, with Joey Batey as Jaskier.
Based on the best-selling fantasy series of books, The Witcher is an epic tale of fate and family. Henry Cavill plays Geralt of Rivia, a solitary monster hunter, struggles to find his place in a world where people often prove more wicked than beasts. But when destiny hurtles him toward a powerful sorceress, and a young princess with a dangerous secret, the three must learn to navigate the increasingly volatile Continent together.