Henry Cavill happens to be rumored to be reteaming with his Superman director Zack Snyder on the upcoming sci-fi movie, Rebel Moon, coming to the Netflix streaming service.
I actually caught wind of the potential casting of Henry Cavill in Rebel Moon last night as a rumor surfaced on Twitter that Henry Cavill has been cast along with Ray Fisher, and now the trades are reporting that Fisher has been cast, yet there is presently no mention of Henry.
The rumor, which is said to come from a production listing for the flick (possibly via Production Weekly), states that in addition to Henry Cavill and Ray Fisher that Zack Snyder has also cast Jared Leto and Billy Crudup for a role in the movie, with the listing also naming Sofia Boutella who previously has been announced to be a part of the film.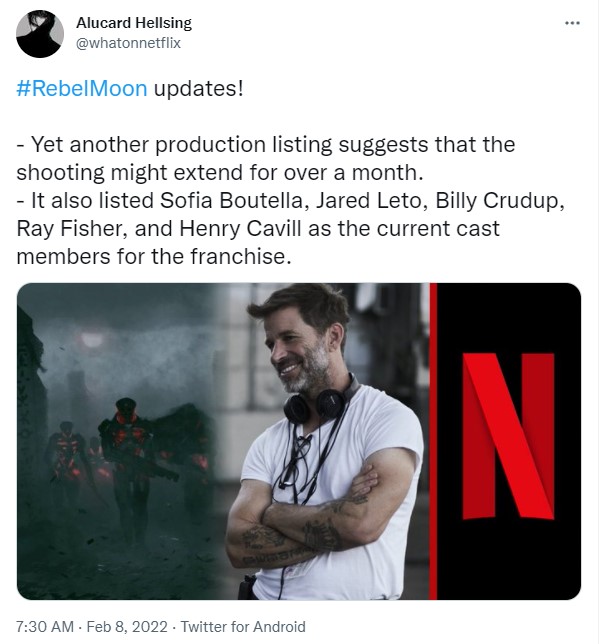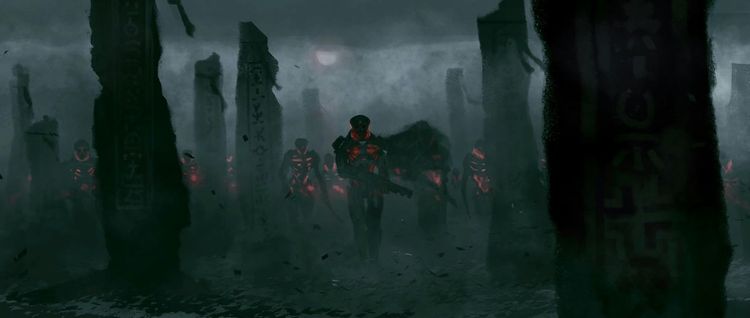 Zack Snyder casting the usual suspects for Rebel Moon
Henry Cavill, Ray Fisher, and Jared Leto were featured in Zack Snyder's Justice League films along with Billy Crudup who also starred in Snyder's Watchmen, and back in October, Snyder actually name-dropped Billy Crudup when he said he would be interested in bringing some of his usual suspects back for Rebel Moon.
Regarding what the trades have to say, following the above rumor, on Wednesday, Deadline reported that Ray Fisher, Charlie Hunnam, Djimon Hounsou, and Doona Bae have joined the cast of Rebel Moon; so as the rumored production listing happened to mention Fisher and Boutella, it could be possible that Henry Cavill, Jared Leto, and Billy Crudup are also a part of the movie but haven't been announced, or that maybe they were at one time wanted for the flick.
Deadline further adds that Jena Malone, who starred in Snyder's Sucker Punch, has been added to the cast along with Staz Nair, E. Duffy, Charlotte Maggi, and Sky Yang.
Details for Rebel Moon include that Zack Snyder is directing, with Snyder writing along with Shay Hatten and Kurt Johnstad, with the story by Snyder and Johnstad.
The film is described as: When a peaceful colony on the edge of the galaxy finds itself threatened by the armies of the tyrannical Regent Balisarius, they dispatch a young woman with a mysterious past to seek out warriors from neighboring planets to help them take a stand.
Maybe Henry Cavill could be playing the villain of Rebel Moon, the tyrannical Regent Balisarius, as Henry was such a great villain in Mission: Impossible – Fallout, and of course, both Henry and Zack have a great relationship with Netflix?