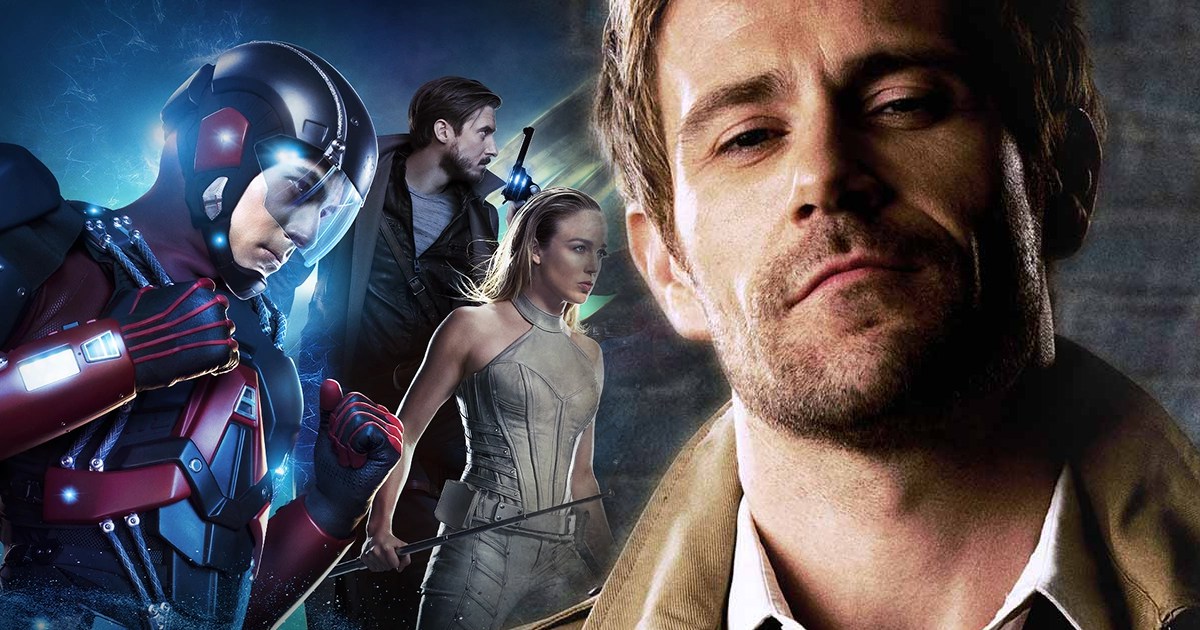 It's learned that Constantine is a possibility for DC's Legends of Tomorrow Season 3 and that the producers of the series are actively trying to recruit Matt Ryan for the show.
At the recent TV Critics Association summer press tour, Legends of Tomorrow executive producer Phil Klemmer filled in IGN that they are "actively campaigning for Matt Ryan's Constantine to appear on Legends of Tomorrow."
Good news as Matt Ryan is a huge fan-favorite actor!
Matt Ryan appeared for one season in the defunct NBC Constantine series leading to fans starting a #SaveConstantine campaign. Since then, Matt Ryan has returned as Constantine on Arrow and also the recent WB animated Justice League Dark movie. Ryan is also set to return in a Constantine animated series for The CW Seed digital network.
A few months ago I spoke with Matt Ryan for the JLD movie where he stated he was hoping for a return to Constantine in live-action.
"I'm always up for reprising this character because I feel like there was some unfinished business with the TV show," Ryan told me. "I felt we were really getting somewhere in terms of the tone of it and the storylines we were exploring. So any other opportunity to explore him or flesh him out, I'm game for."
A return of Constantine in Legends of Tomorrow Season 3 would be perfect!
Legends of Tomorrow Season 3 premiers Tuesday, October 10th at 9pm ET on The CW. Watch the trailer:
Legends of Tomorrow Season 3 synopsis:
After the defeat of Eobard Thawne and his equally nefarious Legion of Doom, the Legends face a new threat created by their actions at the end of last season. In revisiting a moment in time that they had already participated in, they have essentially fractured the timeline and created anachronisms – a scattering of people, animals, and objects all across time! Our team must find a way to return all the anachronisms to their original timelines before the time stream falls apart. But before our Legends can jump back into action, Rip Hunter (Arthur Darvill) and his newly established Time Bureau call their methods into question. With the Time Bureau effectively the new sheriffs in town, the Legends disband – until Mick Rory (Dominic Purcell) discovers one of them in the middle of his well-deserved vacation in Aruba. Seeing this as an opportunity to continue their time travelling heroics, Sara (Caity Lotz) wastes no time in getting the Legends back together. We reunite with billionaire inventor Ray Palmer (Brandon Routh), the unconventional historian-turned-superhero Nick Heywood (Nick Zano), and Professor Martin Stein (Victor Garber) and Jefferson "Jax" Jackson (Franz Drameh), who together form the meta-human Firestorm. Once reunited, the Legends will challenge the Time Bureau's authority over the timeline and insist that however messy their methods may be, some problems are beyond the Bureau's capabilities. Some problems can only be fixed by Legends. Based on the characters from DC, DC'S LEGENDS OF TOMORROW is from Bonanza Productions Inc. in association with Berlanti Productions and Warner Bros. Television, with executive producers Greg Berlanti ("Arrow," "The Flash," "Supergirl"), Marc Guggenheim ("Arrow," "Trollhunters," "Percy Jackson: Sea of Monsters"), Andrew Kreisberg ("Arrow," "The Flash," "Eli Stone," "Warehouse 13"), Phil Klemmer ("The Tomorrow People," "Chuck") and Sarah Schechter ("Arrow," "The Flash").
Tags: