With James Cameron's Avatar: The Way of Water opening this week, the early reviews are now in and are hitting Rotten Tomatoes.
With 114 reviews presently accounted for, Avatar: The Way of Water is right in line with the first movie and has a Rotten Tomatoes Score of 84%.
The first flick from 2009 has an 82% score for both the Rotten Tomatoes Critics and Audience Scores.
Update: The score has dropped to 78% and the film's international box office is trailing both Star Wars and Spider-Man with the Thursday previews box office also underperforming and the flick is bombing on Friday.
Update #2: The box office numbers are in and it's a disappointment.
Related: Henry Cavill rumored for Avatar 4.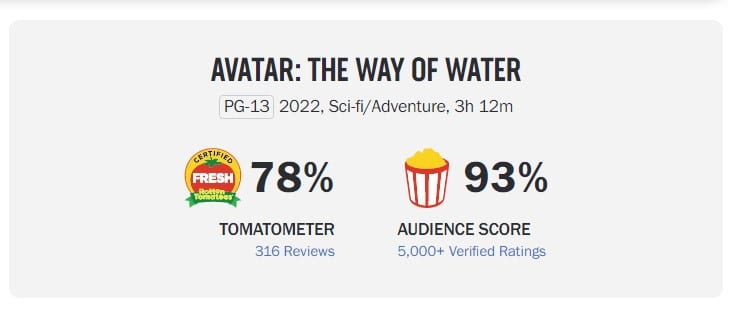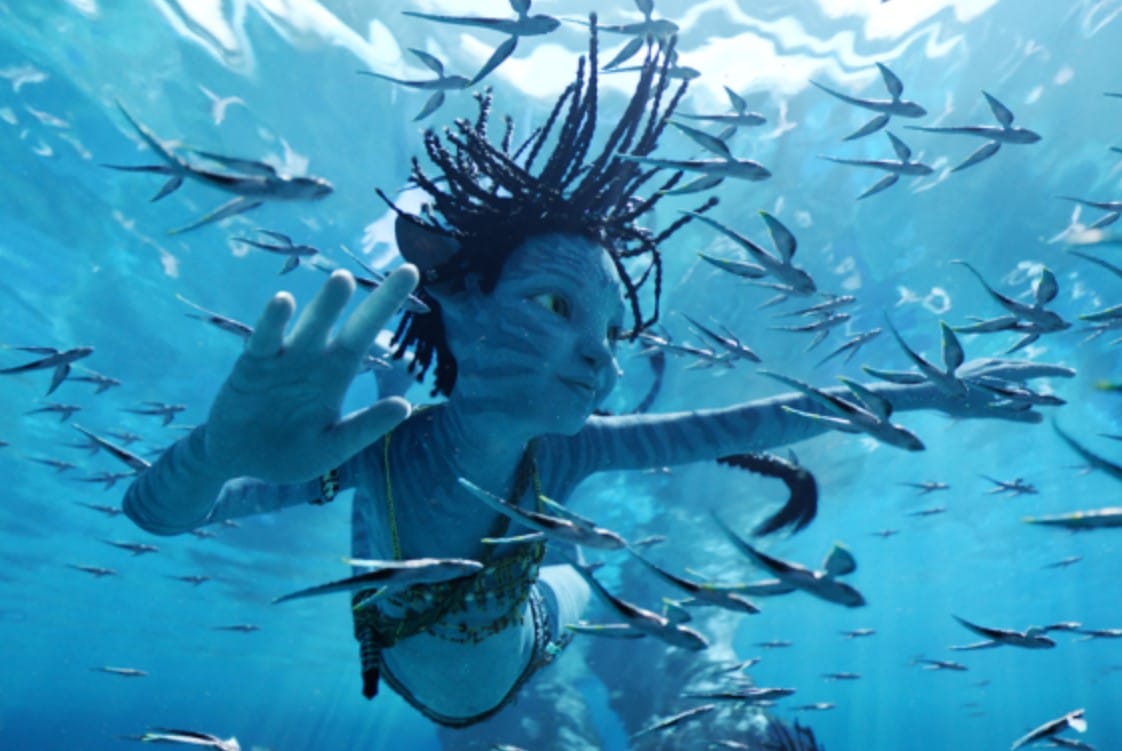 What are the Avatar: The Way of Water box office estimates?
As it is only at an 84% score that means some critics weren't all that impressed by the film, which is in stark contrast to the first reactions from the shills that gave it glowing reviews on Twitter.
Check out the first batch of negative reviews below.
Avatar: The Way of Water is currently tracking for a $175-200 million box office opening domestically with a half billion worldwide debut; the first film has made nearly $3 billion with multiple releases.
The lower end of the estimates is on track with Marvel's Black Panther: Wakanda Forever opening of $181 million and BP2 will likely finish in the $800 millions, which would be a disaster for Avatar.
James Cameron has made it clear that the film needs to have box office numbers similar to that of Star Wars: The Force Awakens just to break even, so that is around $2 billion.
A bonus for the film is that Cameron got the flick a China release while most movies nowadays won't get released in the Middle Kingdom (the first Avatar grossed over $261 million in China and is getting a re-release this week).
Cameron has also questioned if there is enough support for additional sequels.
"The market could be telling us we're done in three months, or we might be semi-done, meaning: 'OK, let's complete the story within movie three, and not go on endlessly,' if it's just not profitable," he said in a recent interview.
Cameron continued, "We're in a different world now than we were when I wrote this stuff, even. It's the one-two punch – the pandemic and streaming. Or, conversely, maybe we'll remind people what going to the theatre is all about. This film definitely does that. The question is: how many people give a shit now?"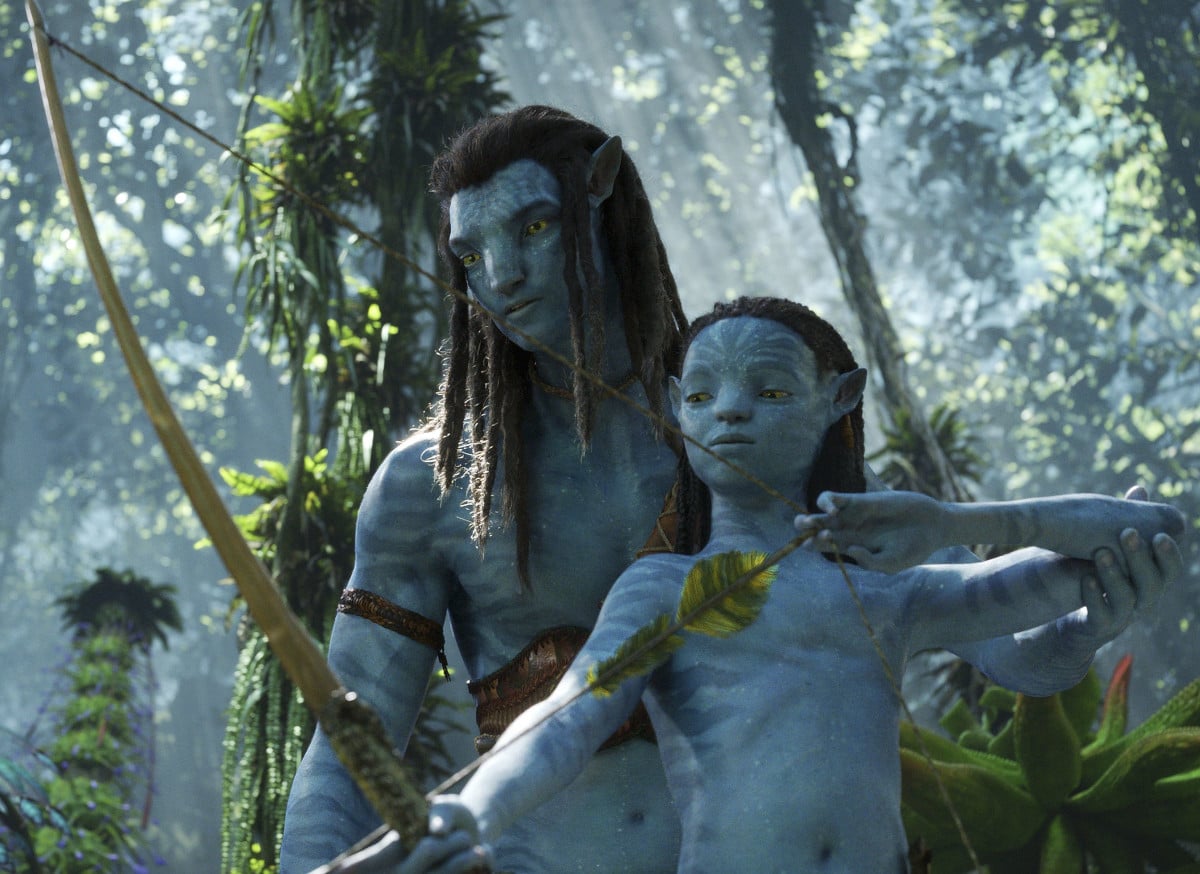 What do the Avatar: The Way of Water negative reviews have to say?
Negative Reviews from Rotten Tomatoes:
Like the original, it's "Dances with Wolves" in outer space. Only dumber. – Seattle Times
Cameron and his cronies just expect us to marvel at his technological acumen and forget that filmmakers are supposed to entertain audiences, not expend energy to impress them with their moviemaking expertise. – Journal and Courier
Yes, the film looks spectacular, but… so now do David Attenborough's wildlife documentaries… the sight of a great white shark launching itself out of the water in Blue Planet II is far more awesome and sublime than a CGI fantasy creature… here. – What to Watch
Cameron loses track of his characters, snarls his story, squanders his star power, and then dizzies 3D audiences with so much whiz-bang that they might feel attacked in lieu of awed. – Mashable
Watching the film [feels] like being waterboarded with turquoise cement. – Daily Telegraph
The Way of Water is the wave of the future, rolling in whether you like it or not. – Time Magazine
At 192 minutes, The Way of Water is less of a narrative film and more an endless tech demo one might expect to endure in purgatory. – CineVue
Overwritten, when it isn't underwritten. Overwrought. Overblown. I'm over it. – Filmspotting
Creatively speaking, [it's] of a piece with its predecessor, a would-be epic of boundary-pushing digi-grandeur in service of Pocahontas-style us-vs-them mush. – The Daily Beast
It's a gorgeous visual treat, a testament to the artistry and attention to detail of Cameron and his effects crew, but if you're looking for anything else from it, you'll be left sorely disappointed. – Nerdist
The floatingly bland plot is like a children's story without the humour; a YA story without the emotional wound; an action thriller without the hard edge of real excitement. – Guardian
James Cameron's high-tech spectacle succumbs to simplistic storytelling, shallow characterization, and a complete lack of engagement past its arduous artifice. It's a disappointingly subpar sequel. – Podcast
Avatar: The Way of Water struggles under the weight of thirteen years of expectations and fails to be anything other than mediocre when it comes to anything other than the visuals. – Bleeding Cool
A feat of coldly-precise engineering, but not a good movie. – Little White Lies