Director James Wan reveals that the planned Aquaman spinoff, The Trench, was actually going to be a Black Manta solo movie starring Yahya Abdul-Mateen II.
Following the Aquaman movie hitting over a billion dollars at the box office in 2018, a Trench spinoff was announced which was said to be a horror flick centered on those creatures featured in the movie; however, back in April, along with New Gods, The Trench was canceled, with the reason given that Wan had too busy of a schedule.
Now while commenting on Instagram, James Wan reveals to fans The Trench was actually a Black Manta movie.
"I'll let you in on a secret," Wan responded to a fan asking if there will be a Black Manta streaming series. "The canceled Trench spin-off movie was really going to be a secret Black Manta movie."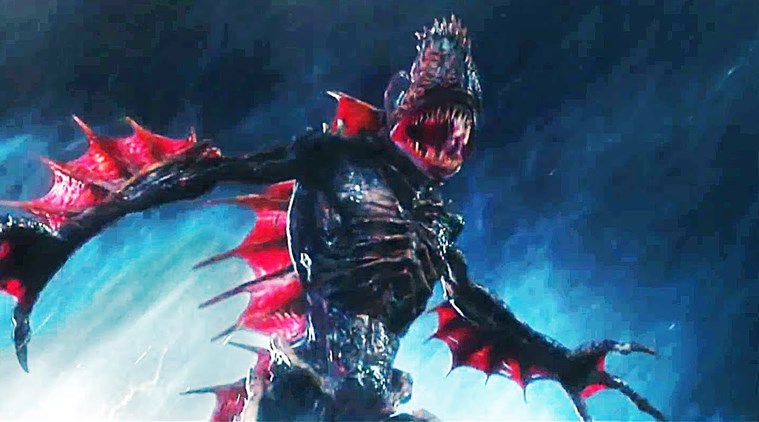 The Trench creatures from Aquaman
Wan also included pics of the Black Manta helmet and Yahya Abdul-Mateen II from Aquaman 2 (see below).
"Black Manta (played by the talented and badass @yahya) and his ship/tech inspired by the aesthetic of the Silver Age (and New 52, thank you @ivanreisart) comics," posted Wan. "Months and months of meticulous detailing were spent on costume and production designs. #aquaman2 #lostkingdom #silverage."
Wan stating they spent months and months on the costume and production designs seems to suggest the project wasn't shelved because of his busy schedule, so it's exactly unknown why the solo Black Manta movie didn't move forward, but at least the character and Yahya Abdul-Mateen II will be a part of the sequel.
Aquaman and the Lost Kingdom gets released Dec. 16, 2022 also starring Jason Momoa, Amber Heard, and Patrick Wilson. Check out the recently released BTS clip and concept art here.
James Wan reveals The Trench was really a Black Manta solo movie: