New Gods and The Trench are no longer in development at DC and have been canceled by Warner Bros.
New Gods was based on the Jack Kirby property and is said to have been canceled because it would have been too big for just one movie.
The Trench was an Aquaman horror spinoff about those creatures in the Aquaman movie, with it said it's no longer happening because of James Wan's busy schedule.
WB released the following statement on Thursday: "As part of our DC slate, some legacy development titles including New Gods and The Trench will not be moving forward. We thank our partners Ava DuVernay, Tom King, James Wan and Peter Safran for their time and collaboration during this process and look forward to our continued partnership with them on other DC stories. The projects will remain in their skillful hands if they were to move forward in the future."
Ava DuVernay also tweeted the following: "Tom, I loved writing NEW GODS with you. I'm upset that the saga of Barda, Scott, Granny, Highfather and The Furies ends this way. Diving into Kirby's Fourth World was the adventure of a lifetime. That can't be taken away. Thank you for your friendship. And remember…"
Tom King tweeted: "Ava! I'm so incredibly proud of the work we did, it was such a joy seeing you bring your passion and talent to these characters. I really felt Kirby's legacy was being honored here and I wish we could've kept going. That one Barda/Scott scene where…damn."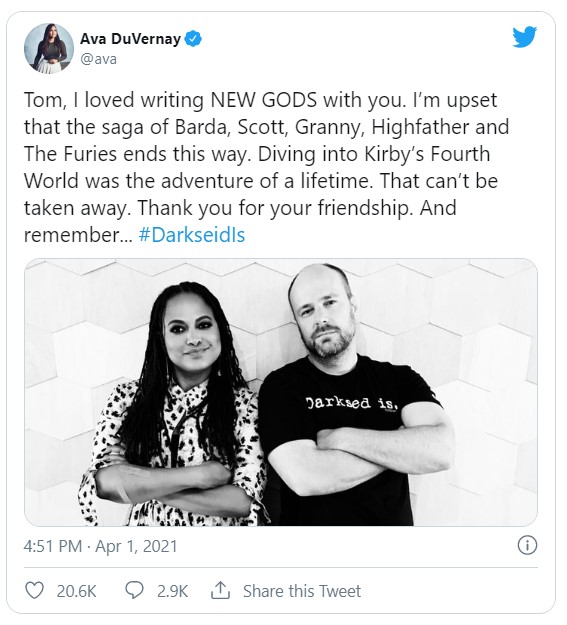 Future of the Justice League unfolds in The Flash
In regards to New Gods, interestingly enough it follows it being said the Snyder Verse is no longer moving forward, and Zack Snyder included Darkseid in his version of Justice League, who was also supposed to appear in New Gods, so it seems it may all be related (DuVernay even tweeted using the Darkseid hashtag).
I'm not too surprise both projects have been canceled and I didn't have much hope New Gods would be any good as it ha DuVernay attached to direct whose A Wrinkle in Time was awful, and DC Comics writer Tom King was helping with the script whose Batman run wasn't all that good. DuVernay is now behind the DMZ series at HBO Max and Naomi series at The CW.
Deadline offers an update on the DC movies mentioning that "the future of the Justice League and the entire DC Multiverse will unfold in The Flash," which I think involves a DCEU reboot.