Director Zack Snyder is excited for the Aquaman movie!
The director of Man of Steel, Batman vs Superman and Justice League took to the Vero social networking App to voice his support for the movie.
"I'm exciting to see what James Wan does with this king #Aquaman #James Wan," Snyder posted.
Zack Snyder also included an image of Jason Momoa at the ocean.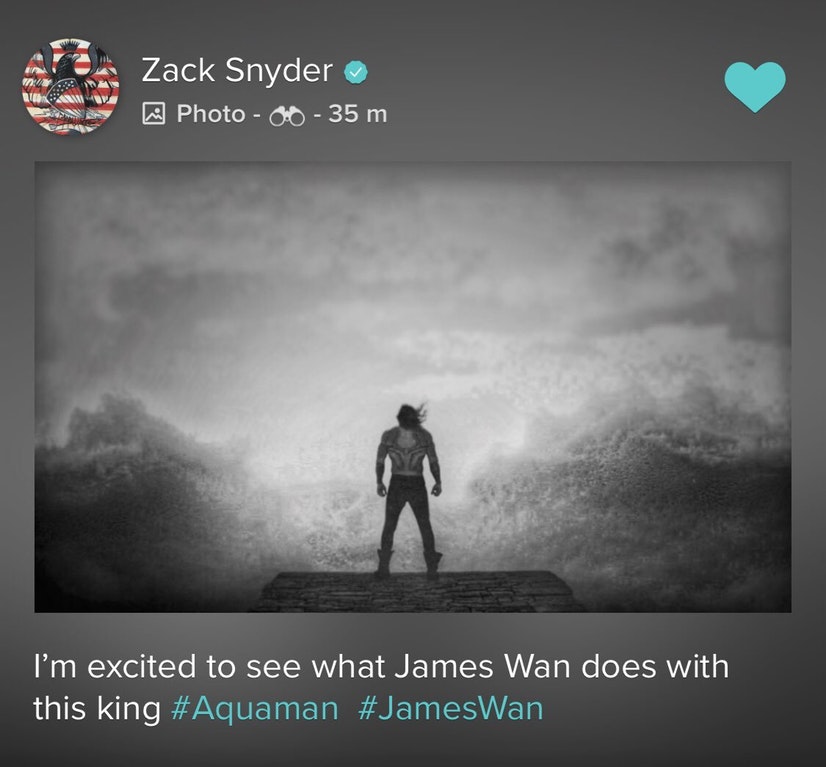 It was Snyder who first cast Jason Momoa in the role, with the actor initially thinking he was up to play some Batman villain.
"Yeah, that whole audition process was pretty crazy," Momoa said. "I mean, Zack was a huge fan of Game of Thrones. A lot of people are huge fans of Game of Thrones. Zack was the one – I couldn't get a job – and Zack called me in. He was a huge fan. He wanted to take Aquaman who…"
"It was funny because I had no idea what I was going to be playing," Momoa continued. "He just called me in. I had an audion that was for Batman. Obviously, Ben was cast. I'm like, 'What am I coming in for?' I'm like, 'Basically I'm going to be the bad guy. I'm going to fight Batman and Superman. I'm going to play the villain.' And he's like, 'Wait, no. Aquaman.' And I was like [nods]. I'm like, 'Blond. White. Shaven. Blond. White,'" Moama explained. "Yeah. Right. Now it's thank you, Game of Thrones. Now I'm Aquaman."
The movie has a December 21, 2018 release also starring Amber Heard as Mera, Willem Dafoe as Nuidis Vulko, Patrick Wilson as Orm the Ocean Master, Yahya Abdul-Mateen II as Black Manta, with Temuera Morrison as Arthur Curry's father, Thomas Curry, Nicole Kidman is playing the mother, Queen Atlanna, and Dolph Ludgren is King Nereus.