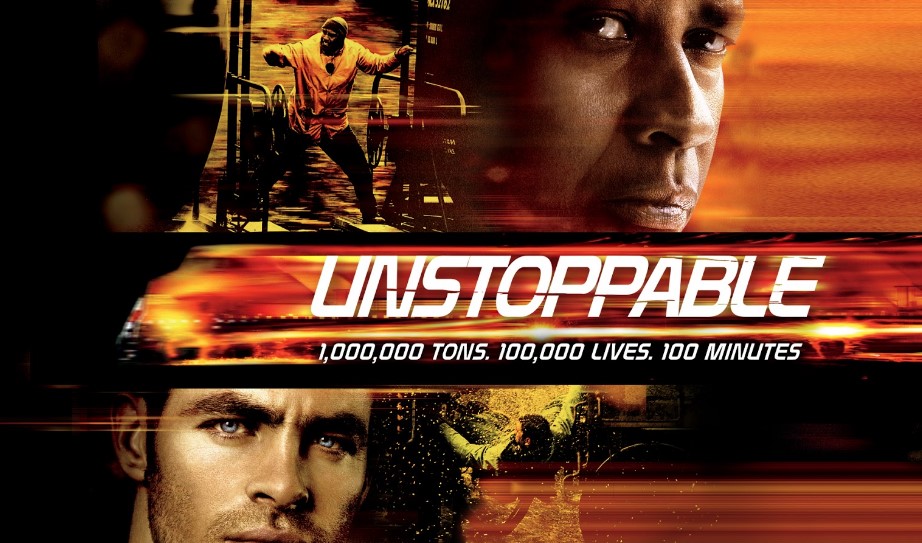 Oh yes my friends, Denzel Washington maintains his status as "reliably immoveable" from my top ten contemporary male thespians that can produce the kinds of performances that turn good films into timeless classics and somewhat questionable flicks into solid, cinematic adventures. Unstoppable happens to side on the latter as the concept of "chasing down a runaway train" at first mention seems rather hokey and mundane for the plot of a Denzel Washington film. And make no mistake; this production is a complete derailment without this man's inclusion. Add the fact that this film continued a trailer blitz on television after its release that over emphasized positive reviews for the film and it made me somewhat suspicious of being spoon fed all this cheerful flair. My suspicions were put to rest about 1/3 of the way into the film as I was pleasantly surprised and satisfied by this little adventure. Unstoppable is neither the best nor the worst of 2010, but it is certainly worth a screening especially if one happens to be a fan of the incomparable Denzel Washington.
I've got to start off with some serious recognition for director Tony Scott who was not only chosen to helm this production for his proven track record of action film aces, but his good standing and experience with Denzel Washington in his previous films: Man on Fire (2004), Déjà vu (2006) and The Taking of Pelham 123 (2009). Tony Scott is most definitely the directorial polar opposite of Kevin Smith. Although there are no scenes featuring significant gunplay or fisticuffs, there are plenty of explosions, collisions, destruction and mayhem wrought by a certain runaway train and to no one's surprise; the camera always seems to capture all the money shots. Certainly Tony owes much of the success to his collaboration with cinematographer Ben Sersein who is by no means as seasoned as Scott, but has DP credits for the very relevant (albeit incredibly disappointing) Transformers: Revenge of the Fallen in 2009. Scott and Sersein display an impressive ability to get all the right angles from many challenging perspectives that feature a litany of vehicles moving at high speeds.
The story of Unstoppable can best be described in one word: safe. It's "safe" because it features no singular antagonist in the form of a villain. It's "safe" because it features Denzel Washington in the most positive and heroic light without taxing the man emotionally or physically. It's "safe" because the whole picture boils down to a massive rescue operation (for which no one can root against) and the only opposition happens to be the element of chance. This is the kind of story that delivers the maximum impact of good vibes without delving into the icky aftertaste that may develop from devil advocacy or metaphor. In terms of taking risks from a plot perspective, this happens to be the safest installment from screenwriter Mark Bomback's brief filmography of fellow "safe" screenplays such as Live Free or Die Hard (2007) [a PG-13 Die Hard?] and Race to Witch Mountain (2009) [The Rock in a kid-friendly flick]. When the story departs slightly from the runaway train angle to the "runaway-corporate-conglomerate" angle, the interest level certainly takes a jump, but without a serious commitment to that element of the story it really gets forgotten amidst the tension of the chase. Don't expect too many twists or turns beyond the railways because even the most casual movie-goer will have the plot mapped out about 5 minutes after all hell breaks loose.
Without the extreme proficiency and professionalism of the visual effects, digital effects and stunt teams of Unstoppable, this film degenerates into an Indy production of Thomas' evil brother, Thombzz and how he wreaks havoc on rail communities with lyrics of vile dissonance. The combined efforts of these teams really push the envelope in regards to the real world manipulation of contemporary locomotives, how they would look if pushed beyond their supposed physical limitation and the inconceivable scenarios involving the boarding of such a mechanized beast while at its top speed. It's easy to wreck, jump and incinerate cars because they're cheap. It's easy to do the same to planes because they're CG. Doing the same with trains involves considerably more creativity and finances due to the nature of its mobile restrictions. At the end of this film, I knew there was a hefty price tag attached, but I was aghast when I discovered that this film was budgeted at $100 million dollars! Please note: this was neither an alien attack nor an end of the world disaster film. Where did all the money go? Did the rail companies charge this production well beyond what would be considered reasonable rates because we all know with the train's massive popularity and efficiency in travel, they could ill afford such a prolonged stoppage for filming? This is why no one takes the train anymore.
The acting performances of Denzel Washington and Chris Pine give this film a very personal and heartfelt soul that showcases the kinds of people that are responsible for working on trains. Certainly these two represent characters that are a tad overzealous in their selflessness and gallantry, but I feel they represent the best of what this segment of blue collar America is capable of. Chris Pine follows up a very impressive showing of his portrayal of Captain Kirk in Star Trek (2009)with an equally commanding depiction of a working class hero in this production. He seems to be far too pretty of an actor to be cast in a film such as this, but he's got 100% more grit than say, an Ashton Kutcher, and it shows on the screen. Pine exudes the natural exuberance of youth coupled with the humility of a somewhat broken man with a complicated personal life and a less than productive professional one. Yeah, this is something most of us can relate to and he nails it. But let's not kid ourselves, this is Denzel's film and the man continues to prove why he's at the top of all lists requiring a leading man. He does this not simply by producing an effective performance or relying on charisma, but by doing more with less. That's not to say Tony Scott didn't put him in the best scenes with the best direction to succeed or that Chris Pine wasn't a strong enough foil for his own character that he was disallowed any interesting interplay. Quite the contrary! But the story really cuts Denzel off at the knees in terms of what his character is allowed to do and unfortunately it rarely extends beyond driving a train. As a result, Denzel needs to deliver haymakers with each and every line with emotional urgency and respectful command. He does so much with just a throttle control and a CB radio that I wonder if Cast Away (2000)would have been better served had he been cast in the sole role.
Unstoppable is easily the biggest surprise of 2010 in terms of cinematic quality and worth for your hard earned dollars. Although with a massive budget and A-listers both on the production staff and cast, one wonders why the moniker of "dark horse" should ever be applied to such a production. The main reason for this is that the scope of this film is very pedestrian and if the viewer can get past the simplicity of the story's concept, he or she will be satisfied by the end credits. Think of this film as a prolonged car chase that is methodical in development because the vehicle that is being chased is a massive obelisk. Do yourselves a favor and take a ride on this crazy train!