It's learned the Star Wars Obi-Wan Kenobi Disney Plus series cut Darth Maul and actor Ray Park, with it also said the original version of the show was too dark.
The info about Darth Maul comes from THR who offers insights into the development process of the show which includes details about changes from the early version of the series.
According to the report, Darth Maul scenes have been cut and a young Luke Skywalker actor has been replaced as a result of a "creative overhaul" said to be in regards to Jon Favreau and Dave Filoni thinking the Obi-Wan Kenobi series would have too closely resembled the Lone Wolf and Cub story approach to that of The Mandalorian; so instead, it's claimed that Favreau and Filoni pushed the show to "go bigger."
It's said Filoni and Favreau's concerns made their way up to Lucasfilm president Kathleen Kennedy who then ordered Obi-Wan to get overhauled, which included new scripts, and the additions of Darth Vader and the Grant Inquisitor at the best of Filoni.
The original plan was to have Darth Maul hunting down the young Luke Skywalker where Obi-Wan would protect the young Luke, which is obviously similar to the Mando and Baby Yoda story.
The report claims that actor Ray Park was even on set and either was involved in preproduction and stunt fighting or in test footage, though the site does say a separate source at LucasFilm is claiming Darth Maul was never intended to return for the series.
Worth a mention is that Ray Park has shared the Obi-Wan Kenobi trailer on his Instagram and is excited about the series.
"KENOBI!!! Who else is excited for this? Obi-Wan Kenobi. I'm looking forward to it! SITH RULE!!" Park posted.
Update: Lucasfilm Creative Executive Pablo Hidalgo has denied the report from THR via Twitter, "A brown sun rises. Bullshit has been spilled."
Original article continues:
Obi-Wan Kenobi too dark
In a separate report (via Indie Wire), Kennedy also said a reason for the changes to Obi-Wan Kenobi is that originally it was darker, but they wanted to lighten things up, and director Deborah Chow also confirmed a full revamp of the show, with Chow adding that "we inherited some of it, but we did really make some significant changes and add a few different elements."
"We're looking, ultimately, to make a hopeful, uplifting story," Kennedy said. "It's tricky when you're starting with a character in the state that Obi-Wan would be in coming off of Revenge of the Sith. That's a pretty bleak period of time. You can't just wave the magic wand with any writer and arrive at a story that necessarily reflects what you want to feel."
While it sounds as if they are trying to turn the series into a goofy Marvel show, Ewan McGregor did note that he still thinks the show is dark enough.
"Obi-Wan is lost," he said. "He's a broken man after what happened with the Jedi order at the end of 'Episode III,' but also what happened with Anakin; that he lost him to the dark side. He feels an enormous amount of responsibility for that, and guilt."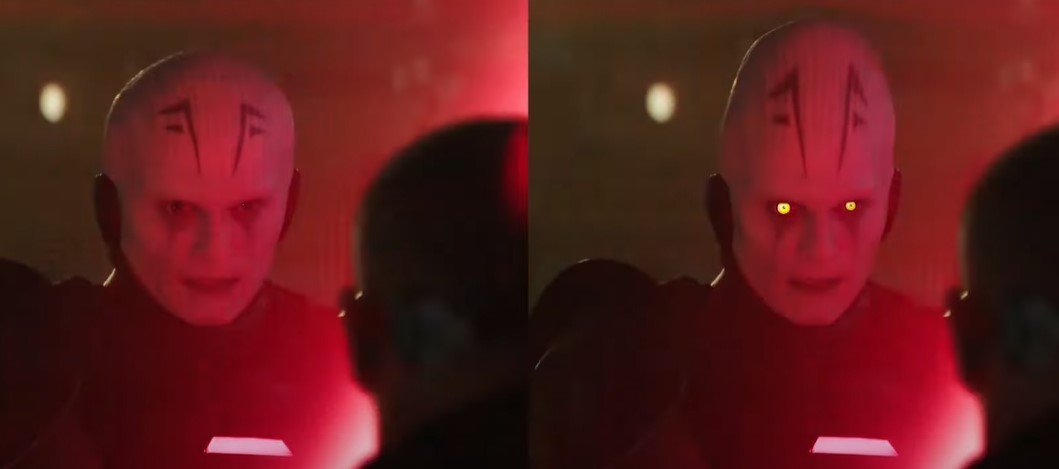 Fans worried about Obi-Wan Kenobi
Speaking of goofy, some Star Wars fans are worried about Obi-Wan Kenobi as they aren't at all happy with the recent trailer and reveal of the Grand Inquisitor, who looks even goofier than his animated version.
Fans have actually edited the footage of the trailer to include a better version and note it isn't difficult to do (see above).
Following the poor production of Disney's Boba Fett and Marvel's Hawkeye series, the fans' worries might be valid.
Obi-Wan Kenobi premiers May 25 on Disney Plus.
(via THR)