For once it's not the fault of Tom Holland, as the actor reacts to the Spider-Man: No Way Home trailer leaking online over the weekend.
Sunday night saw an unfinished version of the trailer leak first apparently on TikTok before it went viral on additional social networks such as Facebook, Twitter, and Reddit.
The footage shows and confirms various info about the movie, but the visual effects of the trailer are not complete.
Tom Holland, who is known for "accidentally" leaking info about his MCU movies, including The Avengers: Endgame, responded on Instagram Story.
"YOU AIN'T READY!" posted the actor.
Update: Trailer has officially been released.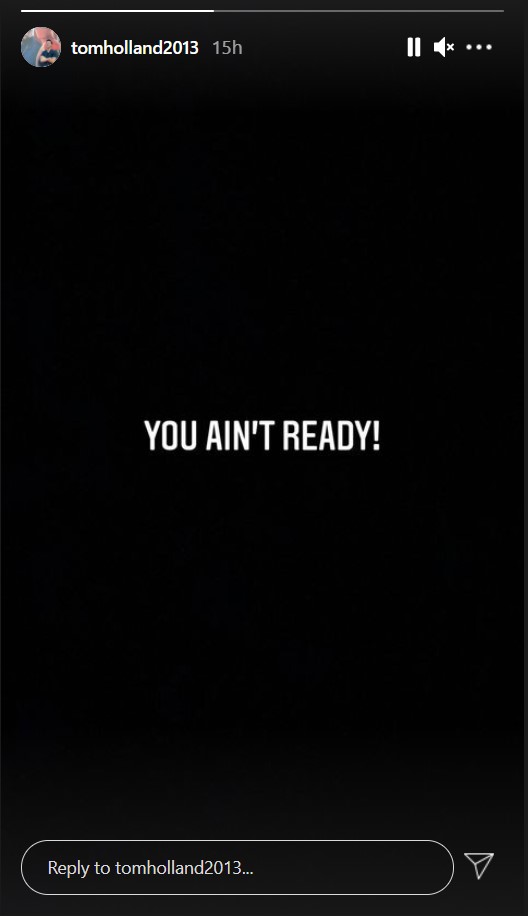 Spider-Man: No Way Home trailer expected Monday night
It's still thought the Spider-Man: No Way Home trailer will be released online on Monday, as it is speculated Sony will release the trailer tonight during CinemaCon in Las Vegas.
If I had to guess, I would guess the Spider-Man: No Way Home trailer, or a version of it, was leaked online intentionally to create some free hype for the movie, as with the flick only three months away, both Sony and Marvel have barely promoted anything.
If the trailer does get released tonight, it is also highly probable the first poster gets released along with it, so be sure to check back for updates.
Spider-Man: No Way Home has a Dec. 17, 2021 release date directed by Jon Watts and also stars Benedict Cumberbatch as Doctor Strange, Zendaya as MJ, Jamie Foxx as Electro, Alfred Molina as Doc Ock, J.K. Simmons as J. Jonah Jameson, Marisa Tomei as Aunt May, Jacob Batalon as Ned, Tony Revolori as Flash Thompson, Angourie Rice as Betty Brant, with it also said Tobey Maguire and Andrew Garfield will be back as their respective versions of Spider-Man, with Willem Dafoe back as Norman Osborn aka the Green Goblin.
Spider-Man: No Way Home images: