It has been rumored that Spider-Man 3 will be a Multiverse Spider-Verse movie, but Tom Holland says both Tobey Maguire and Andrew Garfield are not a part of the flick.
While speaking with Esquire, Holland says, with it noted he is only slightly kidding, "I honestly have no idea what this film is about and I'm eight weeks into shooting it."
The interview reveals that when Holland arrived on set in Atlanta to start filming on Spider-Man 3 that he was only given the first seventy pages of the script, which would equate to the first seventy or so minutes of the movie, so that would mean Tobey Maguire and Andrew Garfield are not featured in over an hour of the movie. However, it's revealed that since Tom Holland is known for dropping spoilers that Holland was only given a short outline for the conclusion of the film, and also that Holland thinks "the packet had some omissions, or perhaps even decoy information."
"They do it all the time," Holland offered. "In [Avengers: Endgame], Robert Downey Jr.'s funeral scene, for the longest time I was under the impression that it was a wedding. I'm 100 percent sure that they're still tricking me."
When the topic of Tobey Maguire and Andrew Garfield in Spider-Man 3 came up, Holland replied it isn't happening.
"No, no, they will not be appearing in this film," Holland said firmly. "Unless they have hidden the most massive piece of information from me, which I think is too big of a secret for them to keep from me. But as of yet, no. It'll be a continuation of the Spider-Man movies that we've been making."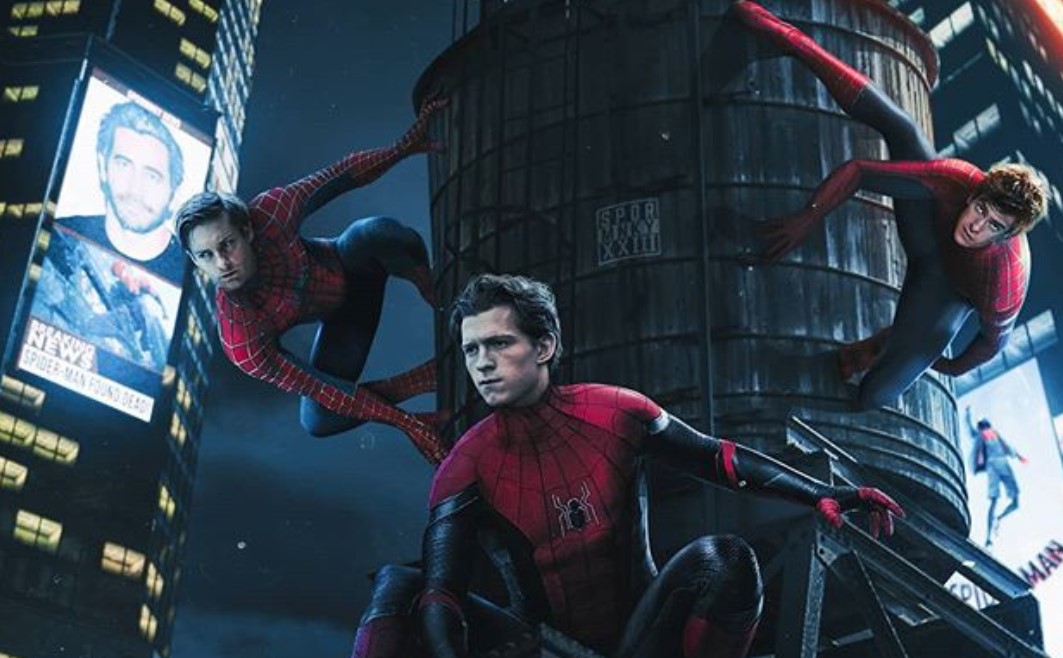 Spider-Man 3 connects to Doctor Strange 2
Of course, Tom Holland could simply be playing coy as to not spoil the movie, and it's hard to believe he really doesn't know what is going on, but it could be possible that Tobey Maguire and Andrew Garfield are being saved for Doctor Strange 2 and either appear briefly at the end of Spider-Man 3 or in the post-credit scene which leads directly into Doctor Strange 2.
That said, there are lots of indications that Spider-Man 3 will be a Spider-Verse movie as Jamie Foxx is back as Electro who teased a Multiverse flick, and recently Zendaya basically confirmed shooting scenes with Alfred Molina, who is said to be back as Doctor Octopus from the Sam Raimi and Tobey Maguire movies (Raimi is directing Doctor Strange 2).
Kevin Feige also confirmed WandaVision, Spider-Man 3, and Doctor Strange 2 all connect.
"Elizabeth Olsen is currently in London right now. She is shooting the film Doctor Strange: In The Multiverse of Madness with director Sam Raimi, star Benedict Cumberbatch and the rest of the cast including Benedict Wong, Rachel McAdams, and Chiwetel Ejiofor, and joining them is a new fan-favorite character from the comics, America Chavez, played by Xochitl Gomez," said Feige at the recent Disney Investor Day event. "[Doctor Strange: In The Multiverse of Madness] hits theaters March 25, 2022, and we are really pushing the boundaries of storytelling with this thrilling, scary, mind-bending adventure. Not only will Doctor Strange: In The Multiverse Of Madness connect directly to the events of WandaVision, but it will also connect to the events of our new Spider-Man film coming to theaters December 2021."
The untitled Spider-Man 3 has a Dec. 17, 2021 release.