No one saw this coming right? The She-Hulk ratings are on the low end for Marvel on Disney Plus.
Samba TV reports only 1.5 million households tuned in for the She-Hulk premiere in its first four days of being released.
What's actually odd is that Samba TV always reports the 5-day premiere numbers, but for the case of She-Hulk, Samba TV reports only the four-day ratings. Did people stop watching on day 5?
Samba TV does compare the She-Hulk numbers to that of Moon Knight which had 1.8 million viewers in its first five days of release, but only says, She-Hulk "delivered numbers on par with Moon Knight." But again, Samba TV only reported the four-day numbers and not the five day. Strange. So it sounds like the five-day is actually lower than Moon Knight.
If we go by that 1.5 million number, that ties She-Hulk with Hawkeye as the second-worst-rated Marvel show and the second least viewed MCU show on Disney Plus, with only Ms. Marvel performing worse.
Worth a mention is that double the fans tuned in for She-Hulk than Ms. Marvel, so at least that is a win for Disney Plus and Marvel, but is it really? The premiere episode was basically a mini Marvel movie with the inclusion of Mark Ruffalo as the Hulk, but again, we see Marvel fans didn't go out of their way to tune in. Maybe those IMDb ratings are right, after all. More on that below.
Disney Plus Marvel premiere five-day ratings:
WandaVision: 1.6M
The Falcon and the Winter Soldier: 1.8M
Loki: 2.5M
Hawkeye: 1.5M
Moon Knight: 1.8M
Ms. Marvel: 775K
She-Hulk: 1.5 million (4-day)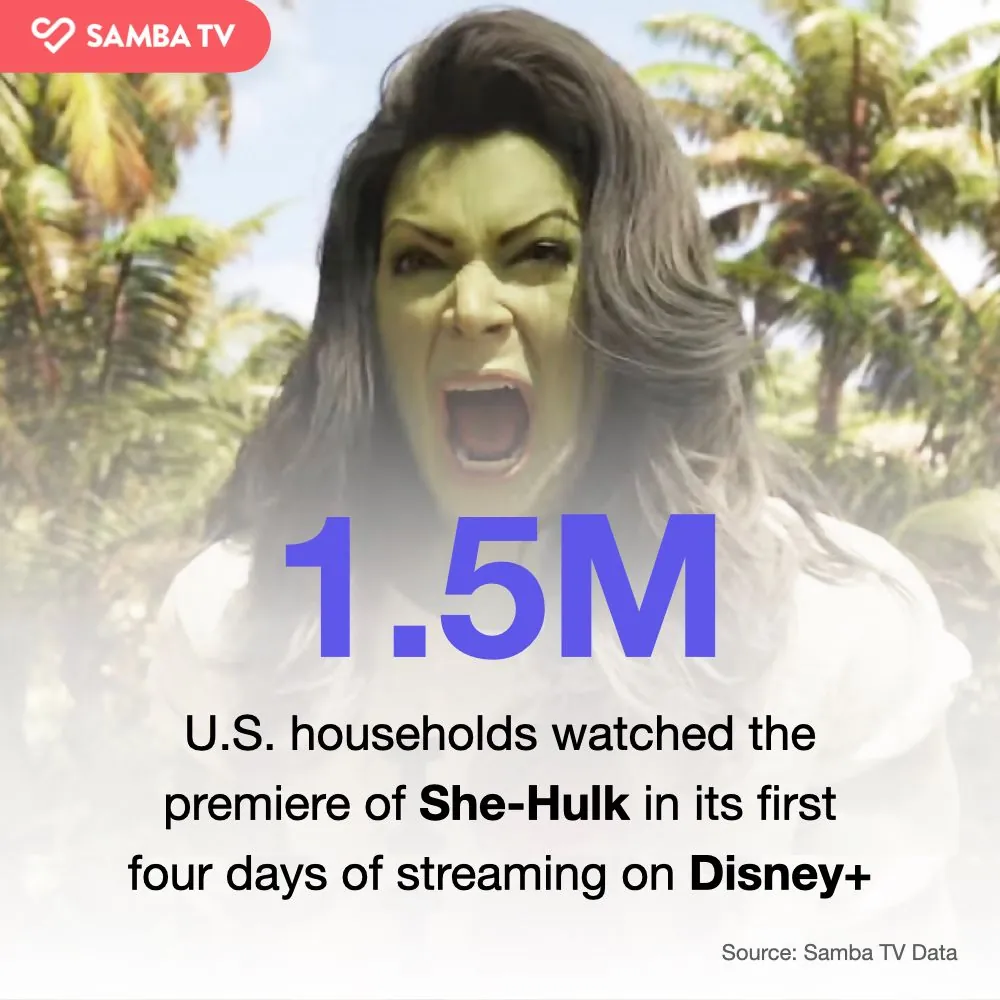 She-Hulk is a low-budget hack job
Presently, She-Hulk is rated a 5.2 on IMDb, a lot lower than Ms. Marvel's 6.2, but Marvel fans may be more disappointed with She-Hulk because of its goofy nature, abysmal writing, terrible CGI, and woke content, or the fact that She-Hulk is replacing the Hulk in the MCU.
Over at Rotten Tomatoes, the show has an 88% Critics Score, and a 75% Audience Score, which is up from its low of a 63% Audience Score following the first episode with reactions on par with that of Brie Larson and Captain Marvel.
I will say I liked the second episode, and it featured a bunch of cool Easter Eggs, so maybe the second episode has been received more favorably by the fans and helped offset the low numbers for the first episode, which I felt was garbage.
Of course, if you don't like She-Hulk you are being labeled a misogynist, but I would actually argue if you are a feminist and such, or even a plain Marvel fan, wouldn't you want the best form of representation?
I would actually be upset at what Feige has done with She-Hulk if it was my favorite character or if I felt it was supposed to "represent" me in some way, it's a complete embarrassment and a low-budget hack job. I never settle for anything just because it's my "favorite," I always expect the best.