Joker, aka the "MCU Killer," now passes Deadpool and becomes the highest R-rated flick at the box office, which sees Ryan Reynolds take to social media to offer congratulations in a way that only the Merc With A Mouth knows how.
"R-Rated box office congratulatory posts aren't like the ones you're used to…" Reynolds posted on Instagram with a poster from the Joker that reads "You Mother F*cker" along with the other R-rated movies that make up the list.
Deadpool creator Rob Liefeld also added in the comments, "Happy to cede the crown to this clown!!!"
Michael B. Jordan also commented with a smiley crying face emoji.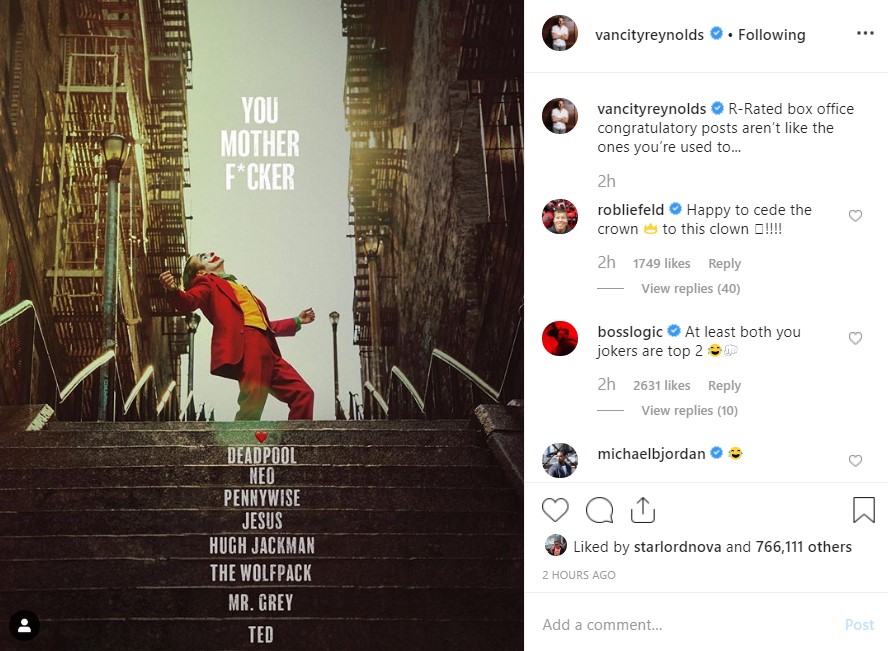 Ryan Reynolds Congratulates Joker
Regarding Joker being the #1 R-rated movie at the box office, it's current worldwide gross stands at a whopping $788.3 million, which passes Deadpool ($782.6 million in 2016) and Deadpool 2's record of $785.05 million in 2018.
With today's box office numbers, Joker will domestically pass Captain America: The Winter Soldier ($259 million) and The Amazing Spider-Man ($262 million).
And if you can believe it, the flick is also on par with Marvel's The Avengers: Infinity War in terms of profit, as Joker is estimated to make at least a half-billion dollars in profits. Why that is exceptional is because Joker only had around a $100 million budget, while Marvel films such as Infinity War and Avengers: Endgame made billions, they cost a lot to make so the profits aren't as high.
Warner Bros. new DC approach of going with low budget flicks, but with quality stories and directors, seems to be paying off, at least for Joker it has.
There is now talk of Joaquin Phoenix and the movie winning various Oscars.