A couple of weeks ago saw Robert Pattinson tease that he is in the very early stages of getting buff to play the new Bruce Wayne, and now the 33-year-old actor's Jiu-Jitsu trainer teases The Batman.
Rigan Machado posted an image of himself with Robert Pattinson on Instagram from his school in Beverly Hills.
"Batman is coming," Machado posted, who has an 8th degree red and black belt in Brazilian Jiu-Jitsu having trained under Carlos Gracie Jr. and is undefeated in more than 13 years of competition with a record of 365-0. Machado has also trained Keanu Reeves for John Wick, Ashton Kutcher, Vin Diesel, Wiz Khalifa, and Charlie Hunnam.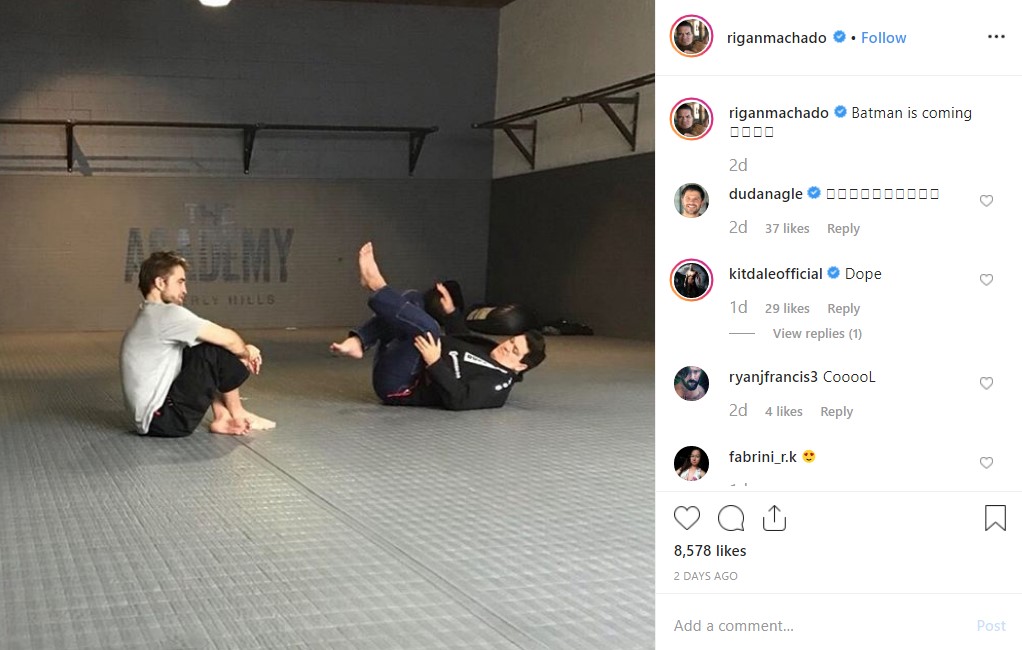 Robert Pattinson training in Jiu-Jitsu for The Batman
Obviously, since Batman is an expert at martial arts, Robert Pattinson needs to be able to appear as if he is of similar expertise on screen. Personally, I wasn't that big a fan of the Christopher Nolan Dark Knight Trilogy style of fighting, so I am glad to see Pattinson training in some form of jujitsu.
Update: Since Rigan Machado also trained Keanu Reeves for the John Wick flicks, I'll say the first John Wick movie I liked a lot, especially the style of martial arts, which is a lot closer to real martial arts than most Hollywood films, so this is definitely good news.
Original article continues:
While I'm not into sport jujitsu like Brazilian, I've trained in no-rules combat DanZan Ryu jujitsu myself, but at least Brazilian stuff is better than Kung Fu, Krav Maga, Karate, and Tae Kwon Do. My sensei was just promoted to 6th degree (Rokudan) and his to seventh, and if you ever get the chance, I highly recommend you train with Professor Tom Ryan to see some mind-blowing stuff.
Regarding getting buff, Robert Pattinson recently said with a laugh: "I'm in the early stage. Very, very early."
Pattinson also recently talked about the new Batsuit: "Matt has got a really awesome idea about it. I think this thing is going to be very, very cool."
The Batman has a June 25, 2021 release directed by Matt Reeves, co-written by Reeves and Mattson Tomlin, composed by Michael Giacchino, films at the start of next year, with the cast also including Jeffrey Wright as Commissioner Gordon, Zoe Kravtiz as Selina Kyle, aka Catwoman, Paul Dano as Riddler, with Penguin and additional characters yet to be cast.
Rumors offer the movie will be adapting the DC Comics "The Long Halloween" storyline and explores a detective case where people start dying in strange ways so Batman must go deep into the dark world of Gotham City to find the clues and solve the mystery/conspiracy connected to Gotham City's history and criminals.