It's now claimed the problems surrounding Pedro Pascal and The Mandalorian are "far more serious," which follows the announcement from Jon Favreau.
The information once again comes from YouTuber Grace Randolph who first said Pedro Pascal caused problems on the set of filming The Mandalorian Season 2 involving not wanting to wear a helmet, but now Grace claims things are even worse than originally thought.
In a deleted tweet posted Monday, Randolph tweeted, "Final Pascal Tweet: Another source just reached out to me, turns out reason Pascal was asked to leave the set is far more serious than I'd originally heard. It was NOT the helmet issue. Since it's so serious I didn't ask for the reason because I want to stay out of it. Done."
Grace Randolph deleted tweet about Pedro Pascal and The Mandalorian: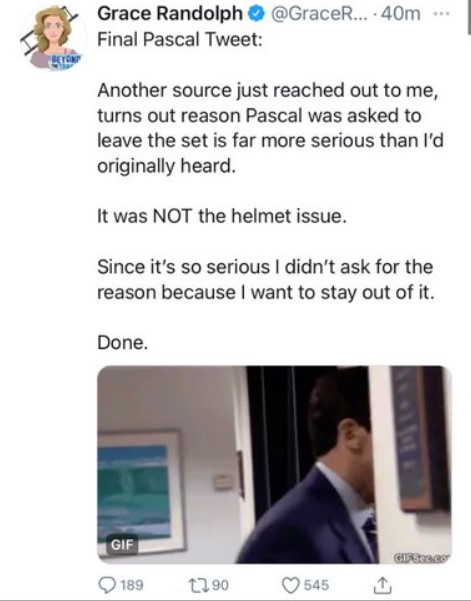 Jon Favreau never confirmed Pedro Pascal for The Mandalorian Season 3
It's unknown what the issue is with Pedro Pascal at this time, but interestingly enough, while announcing the new Boba Fett series and The Mandalorian Season 3, Jon Favreau told Good Morning America that The Mandalorian Season 3 will "back with the main character that we all know and love," and Favreau didn't say Pedro Pascal will be back, which is now leading to speculation that there are still problems with Pascal and that the actor could possibly be replaced.
Randolph took notice of Favreau's apparent careful wording as well and responded to fans on Twitter.
"[Season 3] NOT confirmed for Dec 2021, no release date announced. I told [you] there were some issues and that's why The Book of Boba Fett a series, is taking its release date – Favreau specifically said this morning that's the chapter Kennedy referenced Disney Investor Day," tweeted Randolph.
In another tweet, Randolph remarks on how the Boba Fett series is premiering in December, which is the normal timeslot The Mandalorian debuts its new season: "I am the ONLY person who was able to predict that Boba Fett would fill in for The Mandalorian because I knew of the drama and there you go, The Book of Boba Fett is taking its usual release date which Favreau confirmed this morning. Let's just move on."
Grace also reiterated problems what she heard about Season 2: "From what I heard everybody was upset by the end of it which is why he left the set."
Randolph points out Jon Favreau never said Pedro Pascal is returning for The Mandalorian Season 3.
"Finally Favreau did NOT say specifically Pascal was returning S3 which was odd. Instead 'back with the main character we have all known and loved,'" she tweeted.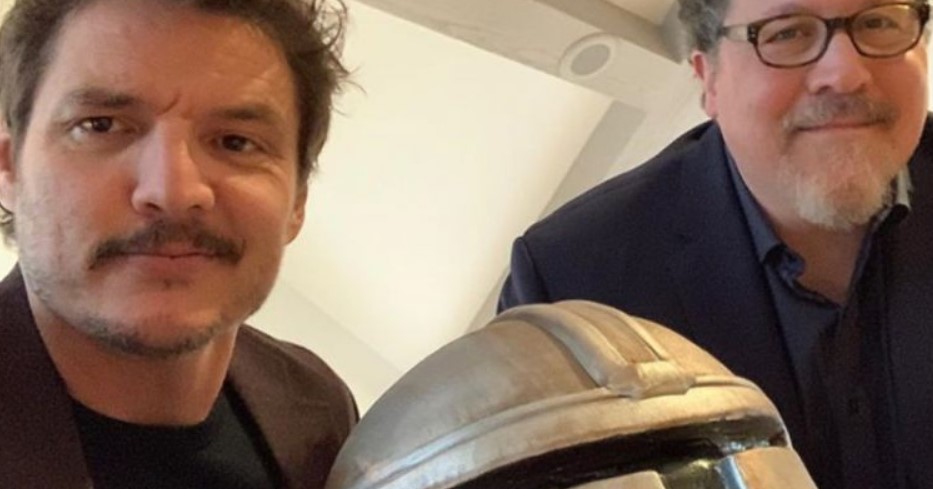 Pedro Pascal The Mandalorian rumored problems
So recapping what Grace Randolph has been reporting, she said there were problems with Pedro Pascal while filming The Mandalorian Season 2 which saw him leave the set.
Originally, it was thought to be related to Pascal not wanting to wear a helmet all the time, but per the deleted tweet above, Grace now says it's far more serious than that and doesn't involve the helmet issue.
As a result, the Pedro Pascal problems have caused a delay for The Mandalorian Season 3, as Boba Fett is now taking The Mandalorian's normal December premiere date.
The Mandalorian Season 3 has no release date and it's unknown if Pedro Pascal will be back.
We can also add that since The Mandalorian Season 3 is confirmed to be released after Boba Fett, that means Season 3 will debut sometime in 2022. If they keep with the December premiere, that would mean The Mandalorian Season 3 wouldn't premiere for two years, which does sound very odd for something as successful and well-received as The Mandalorian.
(via Ethan Van Sciver YouTube)