We already know that Ms. Marvel is the least-watched Marvel show on Disney Plus, but now it's learned just how bad the ratings are, which are described as "embarrassing" and "shocking."
YouTuber Grace Randolph covers the ratings and streaming viewing numbers for the week of June 6-12 where the first episode of Ms. Marvel comes in at #10, which is considered really bad as the previous Marvel shows debuted usually in the top five.
The premiere episode of Ms. Marvel was only viewed 249 million minutes which is over 40% less than the previous Marvel debut of Moon Knight, which came in at #5 with 418 minutes for the week of March 28 to April 3. So what that means is that a lot of Marvel fans that are already subscribed to Disney Plus are not watching the Ms. Marvel series.
What also usually happens is the first episodes are the highest viewed episode of the series, so we can guess that the subsequent episodes of Ms. Marvel have dipped further which might have knocked it out of the top ten.
Tonight happens to be the last episode where it seems fans are expecting and hoping to see Brie Larson as Captain Marvel, as Iman Vellani is also starring in The Marvels, so at least maybe the final episode will get a bump, though obviously artificial in nature.
RELATED: Ms. Marvel spoiler ending details confirmed.
UPDATE: Ms. Marvel ratings have dropped out of top ten.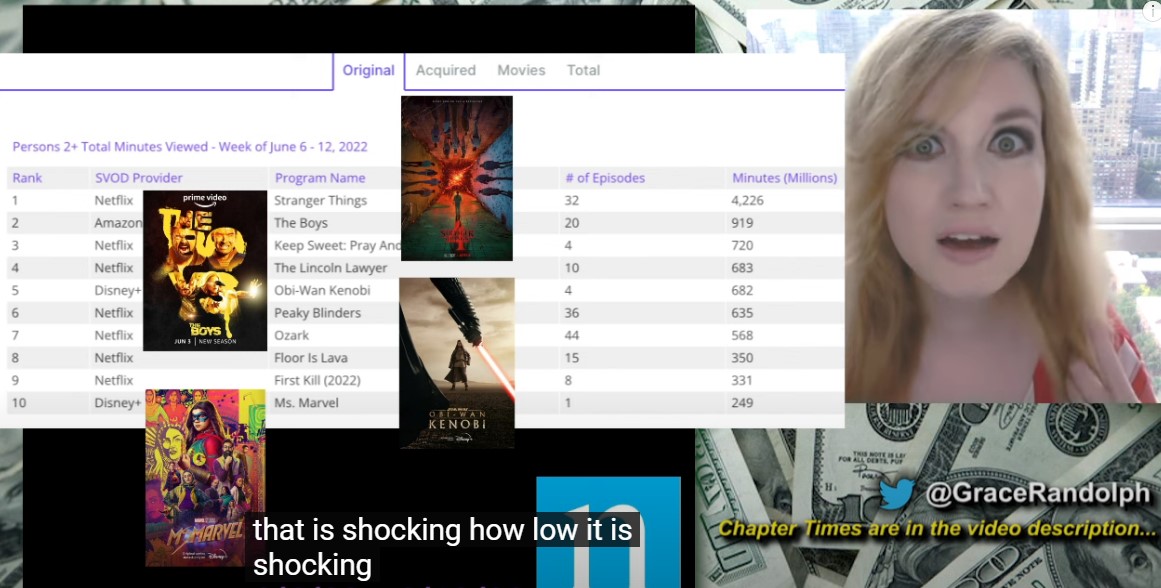 Ms. Marvel is a huge bust
Randolph also points out that the Obi-Wan Kenobi series saw a big dip, and then spoke about Ms. Marvel.
As for Obi-Wan, with its fourth episode, it's sinking in the top ten as it goes along. Pretty embarrassing for what was supposed to be such an iconic show. Obi-Wan, Darth Vader and Anakin Skywalker unable to compete? I mean if that isn't the Disney Star Wars era in a nutshell, I don't know what is. That's tragic.

But at least it's not as embarrassing with what's going on with Ms. Marvel. Look at its debut?! Sure it only has one episode versus multiple seasons for the other shows or multiple episodes, but other Disney Plus Marvel and Star Wars shows have debuted much higher with just one episode, top five, so let's just hope Ms. Marvel can stay in the top ten, much less get any higher. That is shocking how low it is. Shocking. Shocking. Shocking. Highest-rated. Least-watched.
Last month also saw Samba TV reveal the 5-day viewing numbers where it was learned Ms. Marvel is a huge bust, and I'm surprised Randolph is shocked by the numbers as the comic book character isn't popular and has never been able to sell. The Disney Plus series also isn't any good as everything is changed about the character, and I don't even think of it as a superhero show as it's more of a family sitcom series than anything comic book related. When it comes down to it, it's boring.