As expected, Ms. Marvel is a HUGE bust for Kevin Feige on Disney Plus as it's the least-watched Marvel show by far, even worse than Hawkeye.
Samba TV released its 5-day numbers where Ms. Marvel was only watched by 775k households, which is a near 50% drop from Feige's previous least-watched Marvel show, Hawkeye, and a 69% drop from the high of Loki.
So that means half of the people watching the Marvel shows didn't bother to watch Ms. Marvel, even though they have an existing Disney Plus subscription where they can watch it basically for "free," but again, half of the Marvel fans chose not to watch Ms. Marvel.
Disney Plus Marvel premiere five-day ratings:
WandaVision: 1.6M
The Falcon and the Winter Soldier: 1.8M
Loki: 2.5M
Hawkeye: 1.5M
Moon Knight: 1.8M
Ms. Marvel: 775K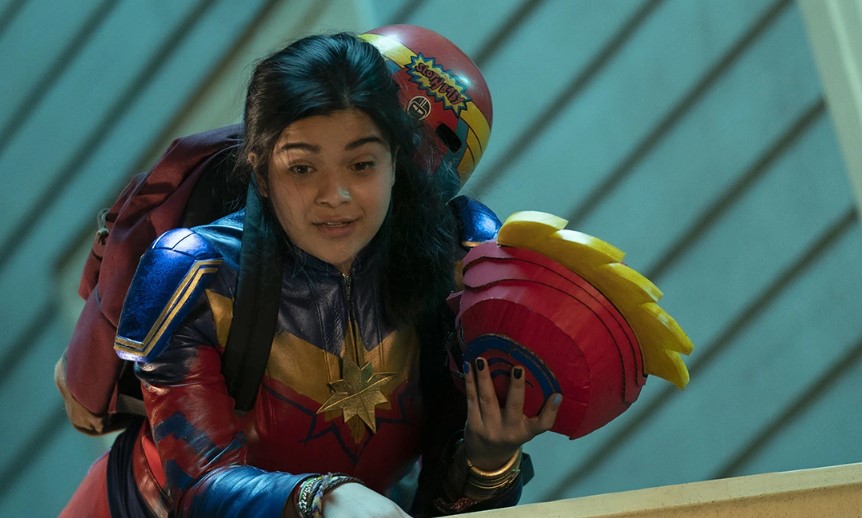 Ms. Marvel another Phase 4 fail for Kevin Feige
Again, the news isn't at all surprising as, just as I said, Ms. Marvel is another character forced on to the fans that no one likes just like Brie Larson and Captain Marvel and all of Kevin Feige's Phase 4 approach that has proven to be a big failure at the box office and on Disney Plus as Black Widow, Shang-Chi, and Eternals are all big busts, and Doctor Strange 2 failed to live up to expectations and won't hit a billion dollars at the box office, which should have been an easy thing to do following the huge success of Spider-Man: No Way Home, but instead the flick features forced characters and a forced storyline all at the expense of the main character.
Analysts have also shed doubt about the Marvel brand's ability to build the Disney Plus streaming service along with Star Wars, and the Disney stock price is down almost 50% in a year amid the current market meltdown.
Regarding Ms. Marvel, I watched the first two episodes and didn't hate them, but I also didn't like them, as the series is obviously aimed at 12-year-old woke little girls and it's full of cosmic cringe. I can't imagine Kamala Khan teaming up with any of the Avengers, and I can't even begin to imagine how bad The Marvels is going to be.
In the comics, Ms. Marvel came about as a result of political correctness and replaced Carol Danvers as Ms. Marvel who replaced Mar-vell as Captain Marvel as another woke replacement character, and the characters have been a huge failure as well, yet Marvel continues to relaunch and promote them over and over and over.
There is an obvious message being sent to Kevin Feige, Disney, Marvel, and their Phase 4 approach, as fans are voting with their dollars and not buying into the agenda. The question is: How low can Feige go?
Ms. Marvel Samba TV 5-day ratings: