The alarm bells are going off just as they did for Brie Larson over three years ago, as now Ms. Marvel is being forced on the MCU fans.
Regarding Brie Larson, back when Kevin Feige promoted Brie Larson and the Captain Marvel movie, Feige took a page out of Disney's Pinocchio by stating to his audience that Captain Marvel is "one of the most popular characters in our comics" and that Captain Marvel is "one of the most powerful characters in the comics," which is false on all accounts.
So Feige was trying to con his MCU audience into accepting and thinking that Brie Larson and Captain Marvel are already and will be a success without proving they are a success, but again, that's false on all accounts, which was something proven with the reception to the release of Captain Marvel and that Brie Larson briefly appeared in The Avengers: Endgame. Now we also see the writers, directors, and title (and short haircut) have been dropped from the sequel with two actresses and characters added into The Marvels (which just saw its release date delayed).
What's also interesting is that at the time Kevin Feige added Captain Marvel "will be the most powerful character in the Marvel Cinematic Universe," but since then, Feige has changed his tune and now says Scarlet Witch is the most powerful.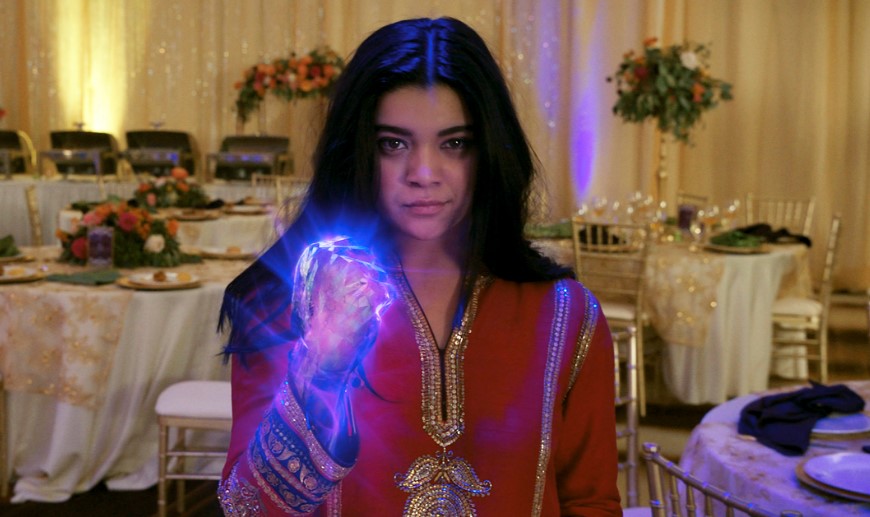 Ms. Marvel forced on the fans as one of The Avengers
Now they are doing the same with Ms. Marvel, another character who is not popular in the comics, which is forcing and mandating the character into existence for politically correct purposes instead of creating the characters organically, and what typically happens is they have to change everything about said character in order to force the square into the circle to fit the agenda.
Sana Amanat, the Marvel Comics writer who created Kamala Khan, goes so far as to say that Ms. Marvel is the equivalent of an Avenger. Well, we all know that's false, too.
"[Kamala is] this young character who is very much a fan of the bigwigs of the Marvel Universe like the Avengers, and she doesn't feel necessarily like she can stand toe to toe with them. But I think, ultimately, she can, and she does," Amanat told Total Film Magazine.
So we see much like how Kevin Feige falsely attempted to "persuade" the MCU fans about Captain Marvel being a success, that Sana Amanat is doing much the same thing about Ms. Marvel, just like the Marvel's Avengers video game did which forced Kamala Khan on the fans and is a complete disaster and a huge failure and came at the expense of The Avengers.
Again, Captain Marvel and Ms. Marvel are characters that no one asked for or cares about. They're woke characters that replace already existing characters, characters that had years and years of creativity and development behind them who were much more well-liked and popular, but all that was thrown in the garbage in order to promote an agenda.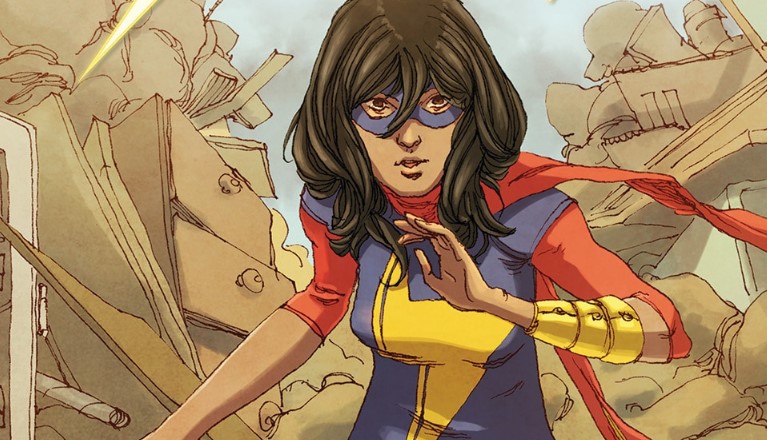 Ms. Marvel Kamala Khan creator is a "talentless hack"
Eric D. July explains things best in his latest YouTube video "Haha. You can't SPEAK this lie into existence."
"Sana Amanat – for those of us tied to the comic book community and even in the gaming space – has had a great hand in f—ing up nerd culture because she's a talentless hack that hyper-emphasizes elements of social justice. That's the only reason she is here," the YouTuber explains. "She created characters like Ms. Marvel, aka Kamala Harris Khan, who was only created as a self-insert essentially, and she had to say something that was completely retarded but she believed just because it needs to be true."
July continues, "Sana Amanat, creator of Kamala Khan, has said that this character, 'Stretch McGee,' though [Kamala Khan] is not going to be used as 'Stretchy McGee' [in the Disney Plus series as] she has these cosmic kind of powers based on these like Nega Bands. I don't know if those are actually what those are… way to bite off f'n everything from OG Captain Marvel to Quasar… having these cosmic powers, she's not 'Stretchy McGee,' but [Sana Amanat] said [Kamala Khan] is on par with the top f'n heroes [laughs] of the MCU. They're trying to speak it into existence, guys…"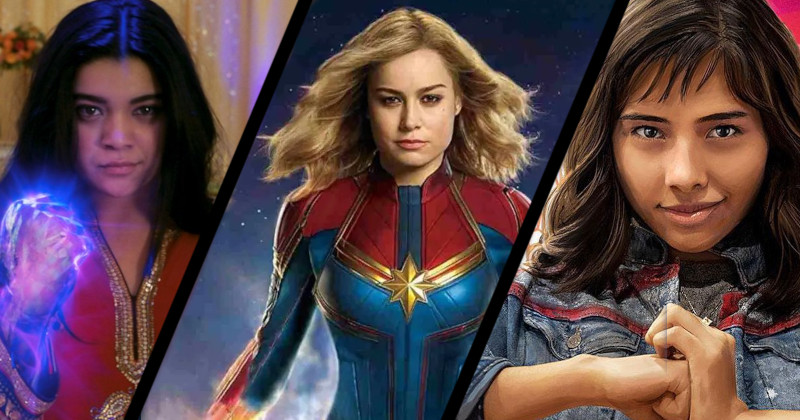 Marvel forcing characters on the fans no one cares about or wants
July goes on to explain that is also what's happening with various characters that are coming to the MCU.
"This is what is happening with a lot of these characters that are going to begin popping up that nobody asked for," says July. "When I say popping up I mean being in prominent roles. Kate Bishop. Ironheart is on the way. America Chavez is on the way. We got Captain Marvel. We got f'n Kamala Khan. Characters that nobody asked for. Like I said before, a lot of these creators of these goofy ass characters are very, very upset and irate at the fact that their characters will never be in a position – period – to be liked and loved like the characters of old that have been around for decades."
July explains, "Reason being is because they don't know how to create them, they can't make them interesting and they would never accept they are lousy at their jobs. It's more 'there is something wrong with the audience that's why people feel the way that it is they feel' and 'we have to try to speak it into existence to put these characters in a position of prominence' despite the actual lack of supporters of these characters [who] have rejected these characters as anything remotely interesting… You can't speak the characters into existence, the decision, it's not for you to make the decision on, it's for the customers to make the decision on."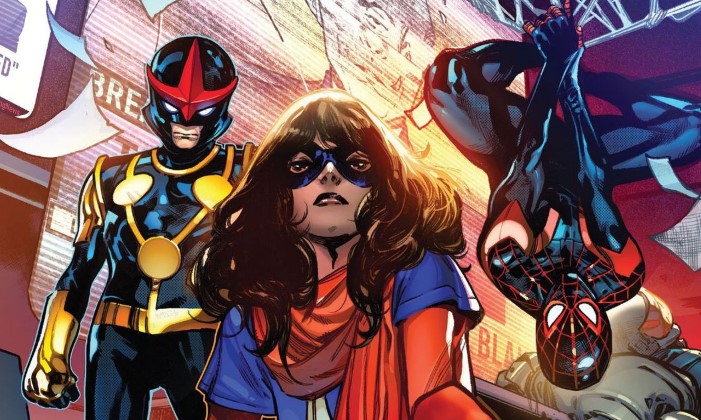 You can't speak characters into existence
Eric D. July goes on to state that modern comic book writers are clueless when it comes down to it.
"When you try to lead with this moronic idea that she can be right up there with these goofy characters, we know that that can't be the case, but we also know that you can't speak that into existence," he says. "You can try, and they have sure enough tried. Marvel has, with this character forced… I mean, putting them in positions they should never be in. Let's say that… Giving them all sorts of resources to try to make them into prominent characters even though the customers largely rejected them but it's because they don't like the idea that at the end of the day you will never be up there with the likes of these heroes. All the top tier heroes in the MCU have been created long before, hell, even before these people were alive, but what they haven't been able to connect the dot on is why those characters were able to stick around or rather why those characters had been interesting enough to be mainstays, that's the part that the modern comic book creator does not understand."
True to July's words, in conjunction with the release of the Ms. Marvel Disney Plus series, Marvel Comics just announced another new Ms. Marvel comic book, but this time they are pairing Kamala Khan with Wolverine, which is obviously an attempt to artificially inflate sales and further force the character on the fans. Good luck.
Related: It's learned Marvel is doing nothing for Disney Plus.