Good news for Kevin Feige's brutal take on the MCU as the Moon Knight ratings aren't all that bad and are on par with the four other Marvel shows on the Disney Plus streaming service.
While the numbers aren't all that high for any of the Marvel shows on Disney Plus, at least they are pretty much consistent, which means the same amount of fans keeps watching them. Speaking of the fans, Moon Knight also presently has the highest Audience Score of any of the Marvel shows on Disney Plus with a current 94%, another good sign, but we'll have to wait and see how that goes with subsequent episodes released and reactions.
Samba TV, which measures three million SmartTV households, offers that for the first five days of viewing, the Moon Knight premiere episode was watched by 1.8 million U.S. households, the same as The Falcon and the Winter Soldier, and more than both WandaVision and Hawkeye, but short of Loki, and the number also beats the premiere of The Book of Boba Fett (1.7 million).
Samba TV also previously released numbers for each of the Marvel show's episode six where there is a dip, but Loki does come out on top with 1.9 million households. Check out the infographs below.
It should also be said that as time goes on, all the shows should see some kind of uptick in views that correlates with the increasing amount of Disney Plus subscribers.
As I said in my review, I liked Moon Knight a lot, and it was particularly cool how they left things up to the imagination, things they obviously couldn't show which would probably be too mature for Disney Plus, something I was okay with as again the way they did the blackouts was pretty cool.
Recently also saw it learned that Hawkeye is the least-watched on Disney Plus, something that comes as no surprise.
Disney Plus Marvel premiere five-day ratings:
WandaVision: 1.6M
The Falcon and the Winter Soldier: 1.8M
Loki: 2.5M
Hawkeye: 1.5M
Moon Knight: 1.8M
Disney Plus Marvel episode 6 ratings:
WandaVision: 1.4M
The Falcon and the Winter Soldier: 1.7M
Loki: 1.9M
Hawkeye: 1.3M
Moon Knight: TBD
Marvel Disney Plus premiere ratings from Samba TV: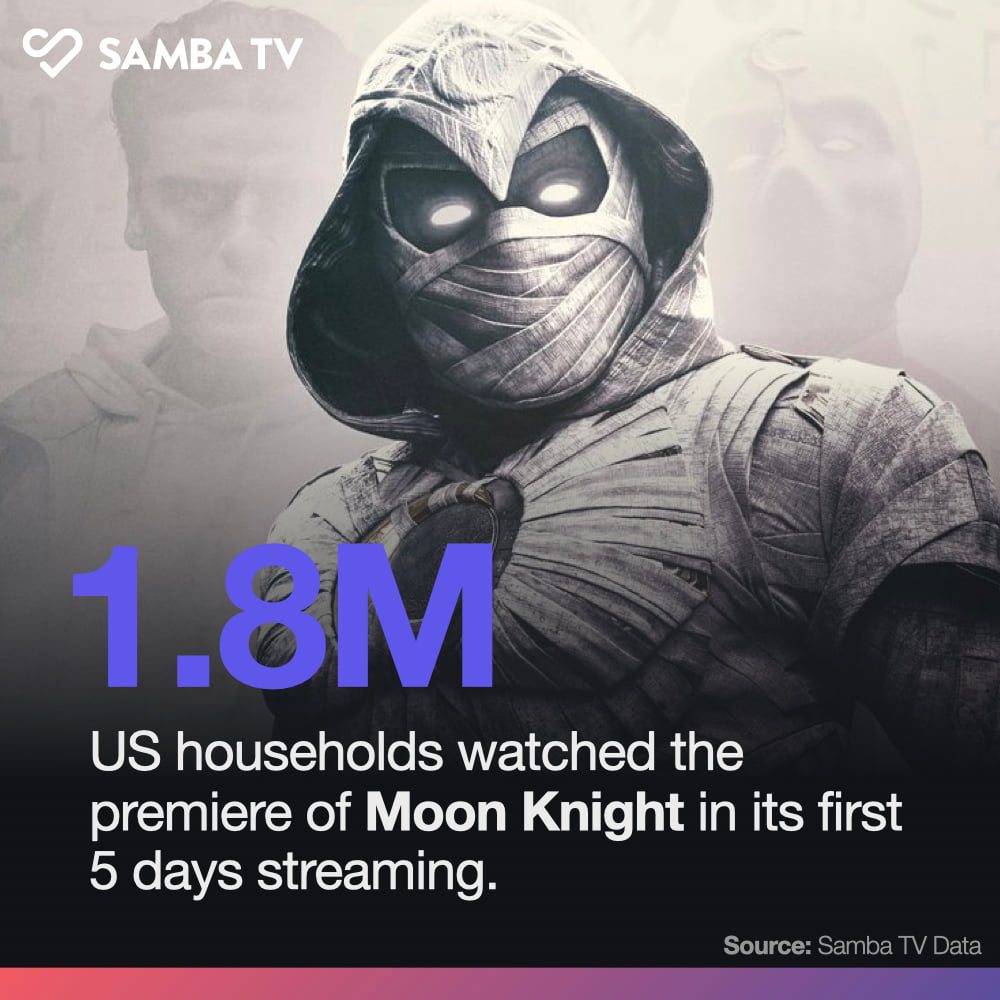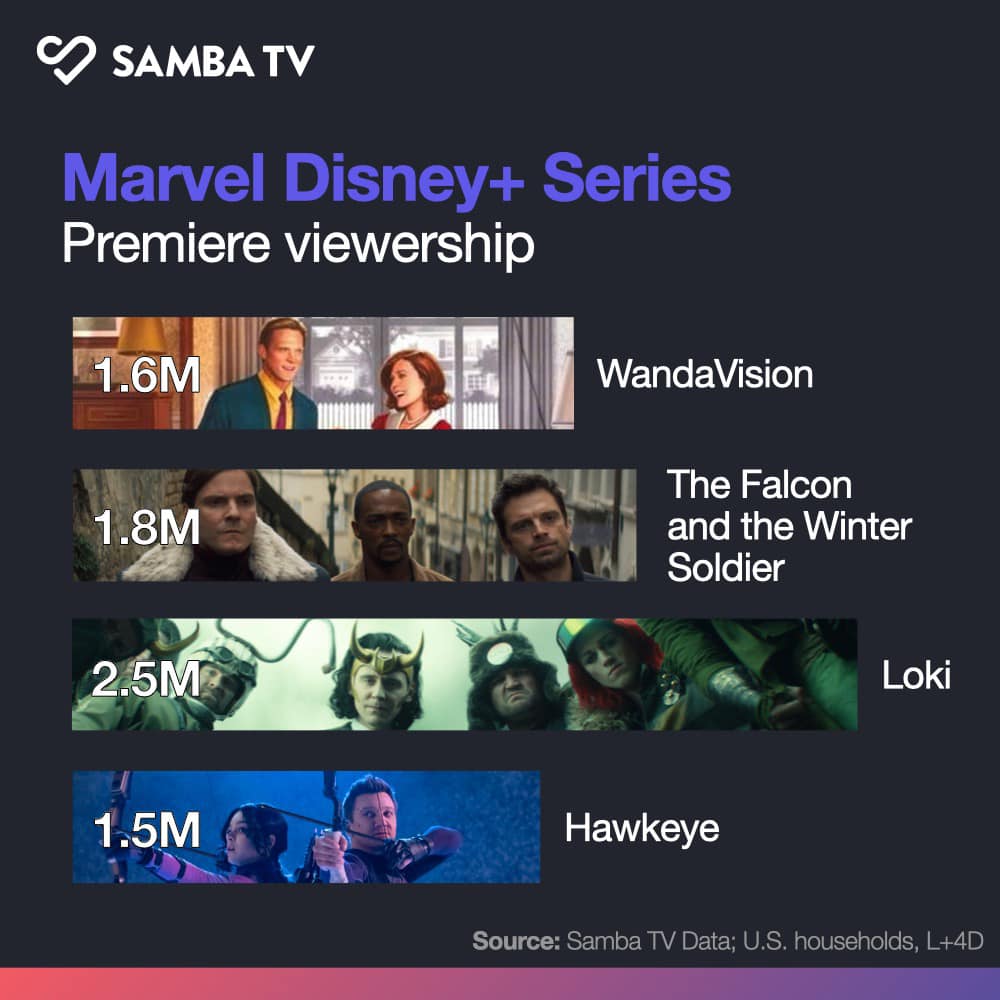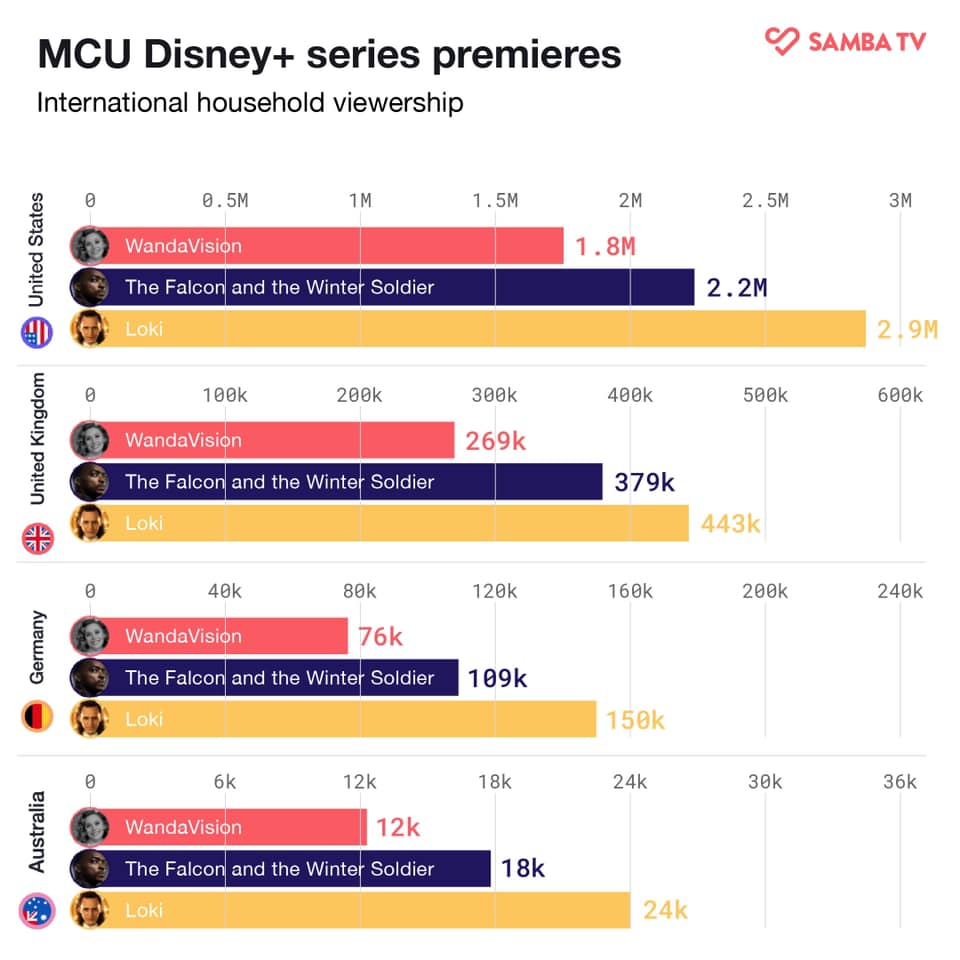 Marvel Disney Plus Episode 6 ratings from Samba TV: