With rumors surrounding a potential Green Lantern Corps project of some sort in the works, actor Michael Jai White takes to social media to offer he wouldn't mind being involved.
The actor, who has previously played Spawn and Bronze Tiger, posted fan art of himself as Green Lantern John Stewart along with his wife, Gillian Iliana White, as Vixen.
"John Stewart is one of the most requested roles I receive from fans. I really appreciate the support & would gladly welcome the idea of joining the Green Lantern Corps if given the opportunity! Thank you @breno10moreira for this John Stewart x Vixen rendition featuring me as John Stewart & my wife," White posted on Instagram.
His wife also added: "I love #fanart! Thanks @breno10moreira for drawing @officialmichaeljai and I as @dccomics #JohnStewart AKA #GreenLantern and #Vixen. I can absolutely see this on the big screen!"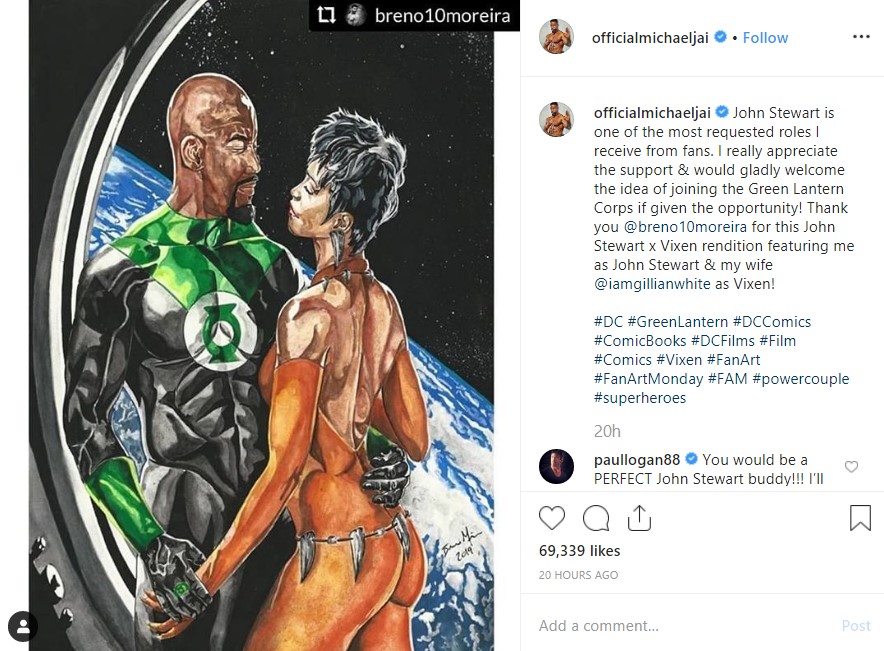 Status of Green Lantern and Green Lantern Corps?
Regarding what is exactly going on with Green Lantern in the DCEU is currently all up for speculation.
A Green Lantern Corps movie was announced a few years back at the San Diego Comic-Con, with Geoff Johns said to be involved as his Mad Ghost Productions website still lists it as being in development, noting: "GREEN LANTERN CORPS – Once of DC Comics' greatest Super Hero universes, the film will feature Hal Jordan and John Stewart… IN DEVELOPMENT."
However, while I was at Comic-Con, DC insiders filled me in that J.J. Abrams is tackling the DCEU and will be taking on Superman and Green Lantern first, which will involve some sort of DCEU reboot.
Another rumor also has it that Green Lantern Corps will now be a big-budget TV series for HBO Max.