Megan Fox wowed the VMAs on Sunday where it became rumored the actress wants to play the Batman villain, Poison Ivy, and fans also got a look at her body for The Expendables 4.
Regarding Poison Ivy, who has yet to appear in the DC films, social media quickly lit up with an image allegedly from the Instagram account of Megan Fox's assistance, Madison Bigos, which stated, "Poison Ivy? Expecting a call very soon."
However, Bigos has since posted on her real Instagram story that the image is fake and that she knows nothing about any potential casting.
"This is a photoshopped post. I never put this on my story, nor am I privy to the casting of this project…" Bigos said.
Currently, it's unknown if Poison Ivy will be coming to the DC films, but Bridget Regan has been cast as the character for Batwoman Season 2.
Megan Fox's assistant shoots down Poison Ivy Rumor: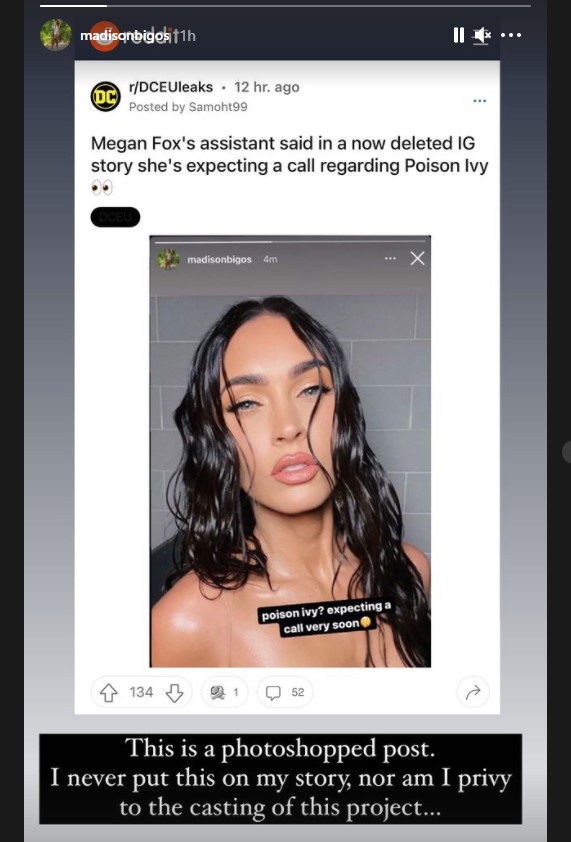 Megan Fox to star in The Expendables 4
Regarding The Expendables 4, Megan Fox has been cast as the female lead which will see her co-star with Sylvester Stallone, Jason Statham, Dolph Lundgren, and Randy Couture, with newcomers including Curtis "50 Cent" Jackson, and Tony Jaa.
The flick will once again be a no holds barred action film that follows a group of veteran mercenaries, so we see that the 35-year-old Megan Fox will need to be in tip-top shape, which she is, as you can check out images and footage from Sunday and from her Instagram account.
Megan Fox images and video: