The Expendables 4 is officially happening with Sylvester Stallone returning for the fourth flick in the franchise that marks the first film in seven years.
Details include the action fighting film will reunite Stallone with Jason Statham, Dolph Lundgren, and Randy Couture.
Newcomers include Curtis "50 Cent" Jackson, Megan Fox, and Tony Jaa.
Stuntman-turned-helmer Scott Waugh is directing who is known for Need For Speed.
It's said The Expendables 4 will see the focus shift more on Jason Statham instead of Sylvester Stallone, with Megan Fox as the female lead and similar to the previous movies will follow a group of veteran mercenaries.
Sylvester Stallone actually first confirmed The Expendables 4 in an Instagram post back in July.
"Just finished designing the new ring for EXPENDABLE 4. It's a little heavy, but it'll definitely put some muscles on your fingertips," said Sly.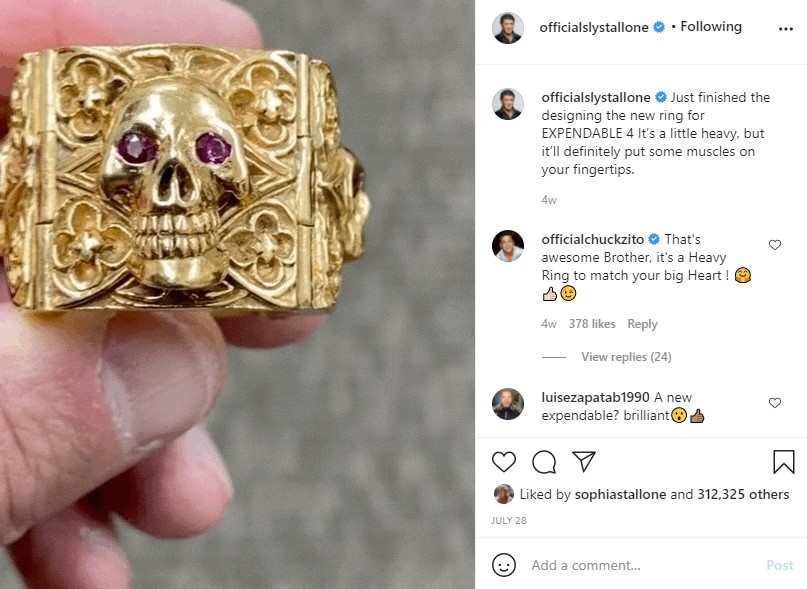 The Expendables 4: no-holds-barred action film
"It's so much fun to bring these stars together for a no-holds-barred action film," said Jason Constantine, president of acquisitions and co-productions for the Lionsgate Motion Picture Group, in a statement. "The new film will raise the stakes and be the biggest, most badass adventure yet."
"Popcorn entertainment is guaranteed," said Millennium president Jeffrey Greenstein, noting that the new additions to the roll call were meant to "keep it fresh and fun."
Spenser Cohen wrote the script, with revisions by Max Adams and John Joseph Connolly.
(via THR)