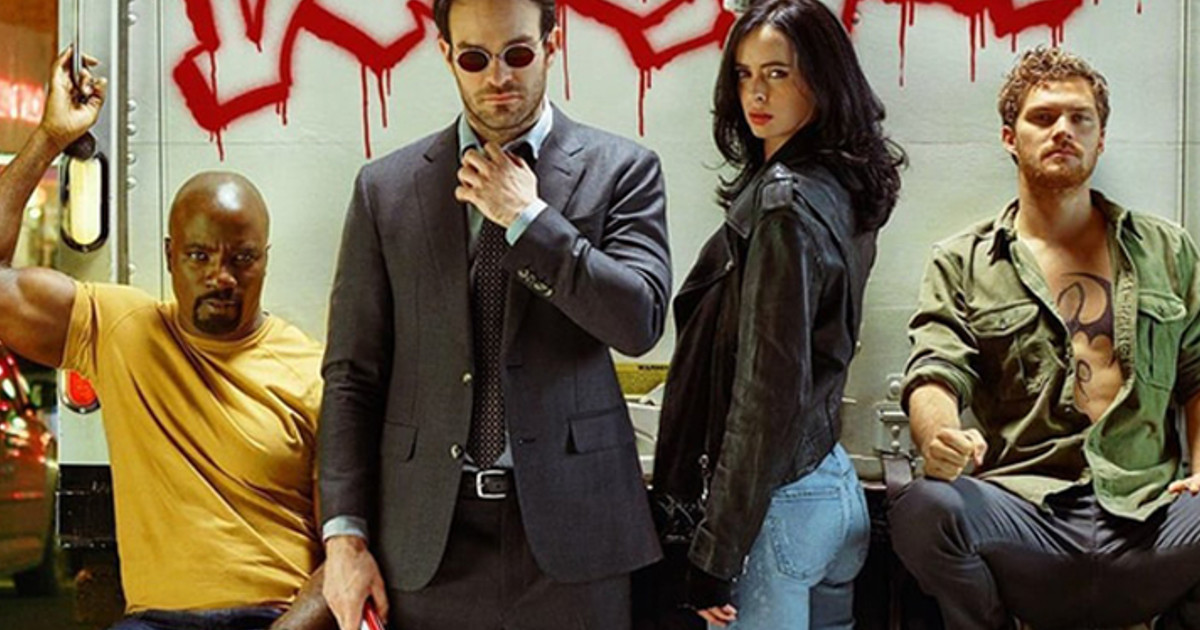 In a press release from New York State Governor Andrew Cuomo, it's announced that Marvel TV and Netflix announce the largest production project commitment in New York State's history, which includes a total of 135 episodes by the end of this year from the Netflix series Daredevil, Jessica Jones, Luke Cage, Iron Fist and Defenders.
Marvel TV has also provided a host of additional economic benefits which engages 500 local vendors and small businesses, and generates more than 14,000 jobs.
Check out the full release below.
Marvel's Defenders airs August 18th, with The Punisher premiering later this year.
Press Release
Governor Cuomo, the Walt Disney Company, Marvel Television and Netflix Announce the Largest Television Production Project Commitment in New York State History
Engages 500 Local Vendors and Small Businesses and Generates More than 14,000 Production Hires
135 Episodes Will Be Completed in New York by End of 2017
Governor Andrew M. Cuomo, The Walt Disney Company, Marvel Television and Netflix Inc. today announced that Marvel Television is continuing the largest television production project commitment in New York State history – more than doubling its initial commitment. The groundbreaking live-action miniseries, which brings street level heroes, Daredevil, Jessica Jones, Luke Cage and Iron Fist together to fight fictitious crime on the streets of New York City, will premiere on Netflix on August 18th. Produced by Marvel Television, in association with ABC Television Studios, the live-action epic is Marvel's most ambitious television project, featuring New York State as a backdrop and central to the heroes' identities as they unite to form "Marvel's The Defenders."
"New York is home to world-class entertainment talent and opportunities, and this historic commitment from Disney and Marvel Television studios underscores our position as the film and television capital of the world," Governor Cuomo said. "These productions will result in thousands of new hires and infuse our economy as we continue our momentum across the state."
Disney and Netflix previously announced the unprecedented commitment for Marvel Television to develop multiple original series revealing the adventures of four of Marvel's most popular characters. By releasing a series focused on Daredevil, followed by Jessica Jones, Luke Cage and Iron Fist, the epic has taken viewers deep into the gritty world of heroes and villains of Hell's Kitchen and Harlem in New York City. All four series have been picked up for additional seasons as well as a new spin-off series featuring The Punisher.
Cameras started rolling for the first series in the partnership in the summer of 2014, generating more than 14,000 production hires in New York State including cast and crew, extras, and other below the line hires. Marvel Television is continuing its partnership with the state with 26 episodes currently in production and an additional commitment to film 23 episodes by the end of 2017, which will total 135 episodes filmed in New York since the partnership was announced. Marvel Television has engaged more than 500 local vendors and small businesses that have supplied soundstages, equipment rentals, supplies and catering services located throughout the state. The multi-year original programming partnership has exceeded its initial commitment and continues to embark on a historic partnership with New York State.
Robert A. Iger, Chairman and CEO, The Walt Disney Company, said, "We are very proud of the success of the Marvel Television/Netflix partnership. Thanks to Governor Cuomo's leadership and support of the film and television industry, we will produce a staggering 135 episodes by the end of the year, well beyond our initial commitment."
Since taking office, Governor Cuomo has consistently supported the film and television industry in New York State and has taken decisive action to ensure the stability of the New York State Film Tax Credit Program. During his tenure, New York State has dramatically expanded the credit for post-production, enacted a 10 percent additional credit for labor costs Upstate, increased the credit for relocated television productions, lowered the threshold for visual effects and animation and extended the production and post-production tax credit program through 2022. Since 2011, New York has received a total of 1,151 applications, representing $17 billion in statewide spending and creating more than one million new hires.
Television series, like "Marvel's The Defenders" epic, continue to experience the greatest growth under the state's film incentive program. In 2017, 40 television series have already applied for the film tax credit program and are projected to spend $1.4 billion with 94,185 hires across the state; since Governor Cuomo took office in 2011 television series have spent a total of $12.2 billion statewide.
The economic impact of the film and television industry is exemplified by the rapid increase in the construction of Qualified Production Facilities (QPFs), including soundstages, statewide. Since 2016, the number of QPFs has increased from 70 to a total of 85 facilities statewide, allowing New York State's infrastructure to accommodate for the industry's rapid growth, creating thousands of jobs directly and indirectly which complement productions statewide.
Stacy Adler Anselmo, Owner of Y-CATS Craft Services & Catering said, "When the news broke that we are currently working on the largest television project in New York State history, my whole crew was ecstatic with pride. My companies Y-CATS Craft Service & JAYSE Catering have surpassed our 2015 projections, and have maintained steady growth with an annual increase of 20% profitability. With this growth, we have been able to secure full-time employment for my crew, hire part-timers, create new positions and we are currently seeking new recruits. As we embark on our 7th MARVEL production, what once was considered a freelance gig, has now become our Marvel-ous NY success story,"