We get a peek at Marvel's She-Hulk as pics reveal Mark Ruffalo and what Jameela Jamil's Titania will look like in the Disney Plus series.
Jameela Jamil posted the look of her new red hair on social media on Thursday, which is the same color as Titania from the comics.
In addition, a She-Hulk set pic reveals Mark Ruffalo in mo-cap with who is thought to be Jameela Jamil's stunt double, where we see Jamil and the stunt double look the same.
In the comics, Titania is a She-Hulk villain who often teams with Doctor Doom and battles and defeats She-Hulk.
She-Hulk: Jameela Jamil, Mark Ruffalo, stunt double: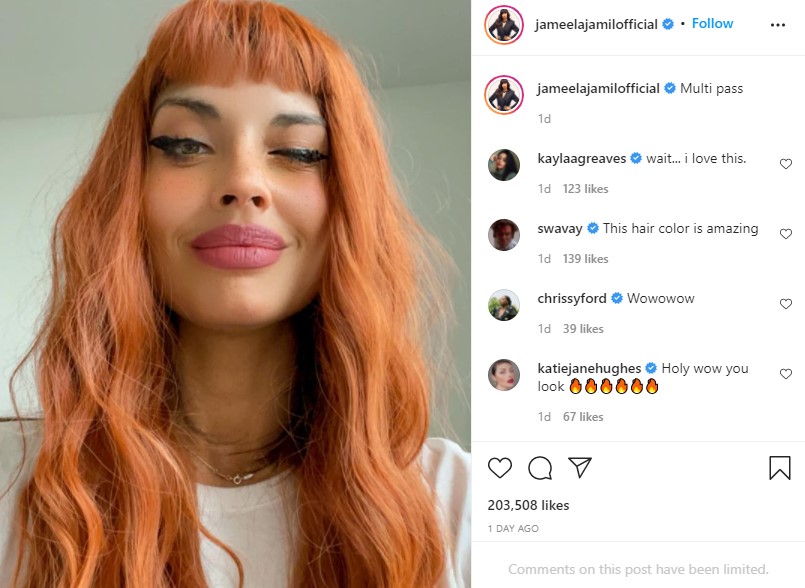 Will the She-Hulk origin be similar to the comics?
With Mark Ruffalo in co-cap, obviously, that means Ruffalo will be back as the Hulk, where I am interested to see how they handle the Hulk, as The Avengers: Endgame featured the Goofy Hulk (it's rumored Marvel is ditching the Smart Hulk).
The She-Hulk origin from the comics has Banner giving his cousin Jen Walters a blood transfusion to save her life which creates She-Hulk, but in the Disney Plus series will it be Ruffalo's Banner or the Hulk that gives her a blood transfusion, if the MCU even goes the same route?
Tatiana Maslany is playing Jennifer Walters and She-Hulk who has yet to be seen.
"Debuting for the first time in the MCU, She-Hulk is coming to Disney Plus," said Kevin Feige at December's Disney Investor Day event. "It's a series about a woman trying to navigate the world and be taken seriously as a working professional despite the fact that she is well over 6'7" and green. It's a very funny series being directed by Kat Coiro and Anu Valia, and I can officially confirm that She-Hulk/Jennifer Walters will be played by the talented and Emmy Award-winning Tatiana Maslany. I'm also pleased to reveal that the brilliant Tim Roth is returning as the Abomination, the character we first introduced in the MCU in 2008's The Incredible Hulk. If that is not enough, I can confirm that the Hulk himself, Mark Ruffalo, will be appearing in the series as well. And since Jennifer Walters is a lawyer who specializes specifically in superhero-oriented legal cases, you never know what Marvel characters are going to pop up from episode to episode."