Marvel fans have voted with their wallets and have rejected the Robbie Reyes Ghost Rider.
The character was launched by Marvel Comics in 2014 as part of the company's politically correct approach to replacing original and existing characters with its "All-New, All-Different Marvel" initiative.
Among the changes includes that the Ghost Rider motorcycle was dropped in favor of a muscle car and that the character didn't have the penance stare (since added).
Robbie Reyes also didn't derive his powers from the demon Zarathos or the Spirit of Vengeance but got them from a serial killer.
So really, Robbie Reyes is Ghost Rider in name only (why not create him as a new character as he is completely different than the originals?) but out the door were the more popular Johnny Blaze and Dan Ketch versions (which, similar to being replaced by most of the "All-New, All-Different Marvel" characters, have since returned ).
Robbie Reyes also appeared in Marvel TV's Agents of SHIELD played by Gabriel Luna which was actually done really well and came off pretty cool (they didn't shit all over the original).
Luna was also set to get his own live-action Ghost Rider TV series on HULU but then Kevin Feige took over Marvel and canceled all the Marvel TV stuff which included Daredevil on Netlix, Agents of SHIELD, etc.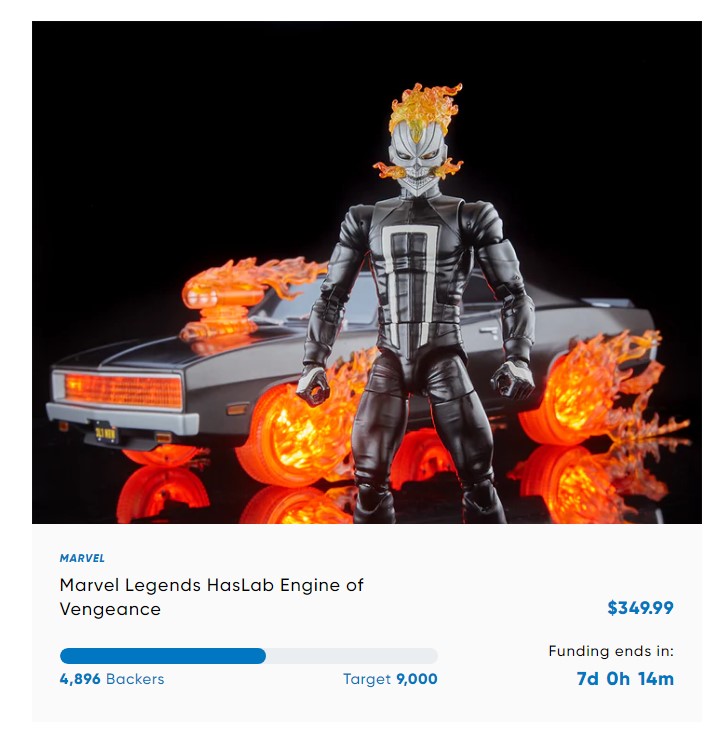 Robbie Reyes Ghost Rider fails to deliver for Hasbro HasLabs
Recently saw Hasbro launch a Robbie Reyes Ghost Rider action figure as part of its crowd-funded HasLabs program which features high-quality action figures and products that fans can fund for a limited time (check out how awesome Galactus is).
However, the Robbie Reyes Ghost Rider failed to get enough funding and won't get made as the backing came to a conclusion on Monday.
"Not Funded," confirms the Hasbro product page. "Unfortunately, this project did not meet its backer goal and did not go into production."
As you can see above, the funding only got to about half, and there was even been online chatter that a lot of fans dropped out from supporting the product.
I tweeted that I didn't like it myself (I funded Galactus at the price of four hundred bucks a pop) as it seems you are basically paying a high price for just the car.
Other fans chimed in wondering why Hasbro didn't go with the originals.
Hasbro actually has the originals available for pre-order, but of course, it's not like they are of the super high quality that HasLabs service provides.
Recently also saw Star Wars fans reject the Moses Ingram Reva Lightsaber.