Kumail Nanjiani, known for Silicon Valley, revealed his new muscular look for the Marvel movie Eternals earlier in the month.
Nanjiani posted images of his physique transformation into the Marvel Eternals character Kingo on Instagram.
"I never thought I'd be one of those people who would post a thirsty shirtless, but I've worked way too hard for way too long so here we are. You either die a hero, or you live long enough to see yourself become the villain. I found out a year ago I was going to be in Marvel's Eternals and decided I wanted to transform how I looked. I would not have been able to do this if I didn't have a full year with the best trainers and nutritionists paid for by the biggest studio in the world. I'm glad I look like this, but I also understand why I never did before. It would have been impossible without these resources and time," Kumail explained.
He continued: "So big thanks to @grantrobertsfit who started working with me at the beginning of the year and made me understand true physical pain for months and months. Then, once we started shooting, a massive thanks to @davidhigginslondon and his team (@ellispartridge, @thebeardypt, @tomcheesemanfitness for training me almost every day and making me strong, limber and injury free. I can almost touch my toes now. (And thank you for forcing me to do cheat meals David.) Matthews Street Catering for their delicious and healthy meals. And finally, the biggest thanks goes to @emilyvgordon for putting up with me complaining and talking about only working out and dieting for the last year. I promise I'll be interesting again some day."
Kumail Nanjiani Eternals physique transformation: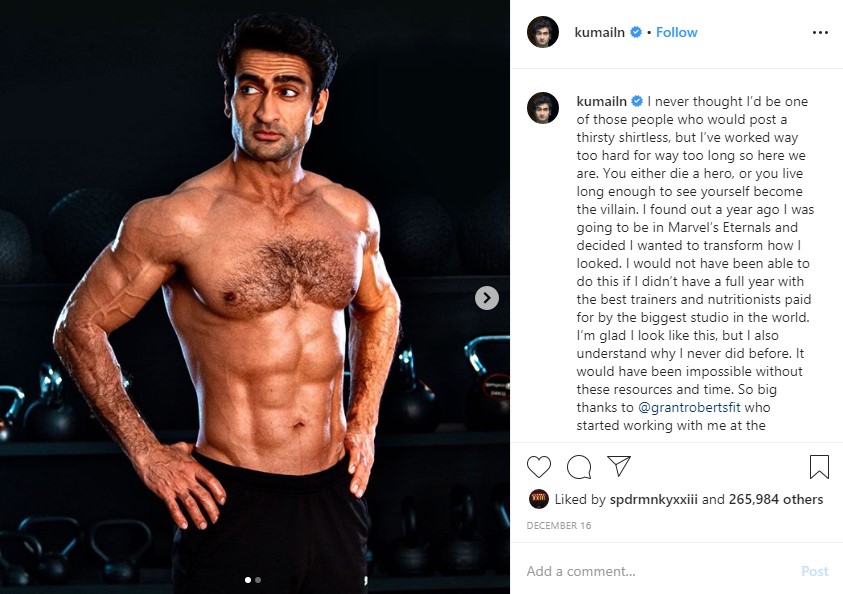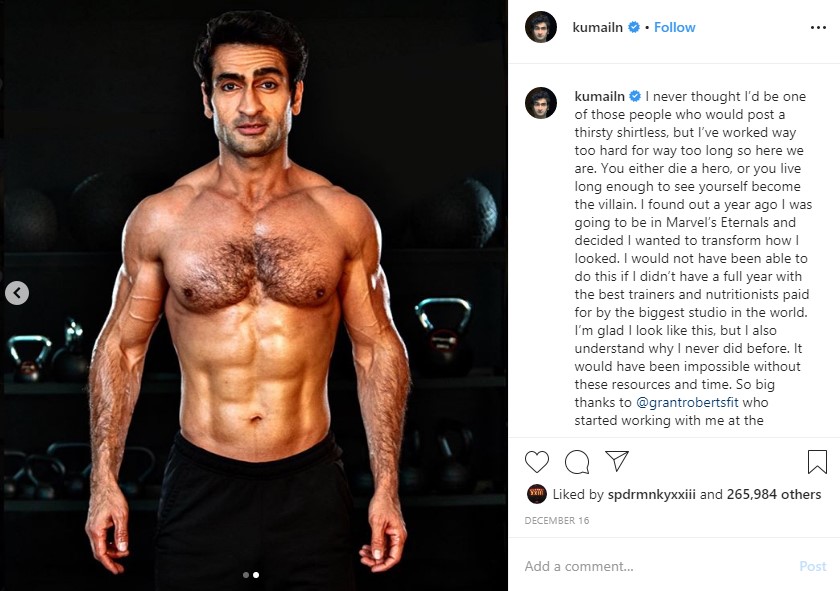 Yesterday at Christmas, Kumail Nanjiani also tweeted: "Merry Christmas everybody! I'm gonna eat some carbs."
Merry Christmas everybody!

I'm gonna eat some carbs.

— Kumail Nanjiani (@kumailn) December 25, 2019
In the comics, Kingo is actually a Japanese character who was alive in Japan during the 16th century and learned the ways of the Samurai, but similar to a lot of the MCU characters in the Eternals movie, Kevin Feige is changing things up. The character's powers include near-immortality, super-strength, flight, energy projection, and molecular manipulation, and Kingo is a samurai, master swordsman, film star and producer.
Earlier also saw Kumail Nanjiani post a pic with Angelina Jolie, who is playing Thena, and Salma Hayek, who plays Ajak.
Maybe Nanjiani can lend a hand to DC's new Batman Robert Pattinson?
Eternals opens Nov. 6, 2020.
Kumail Nanjiani, Salma Hayek, Angelina Jolie: