You will recall that following the Season 2 premiere, I questioned if Krypton would get canceled, and now it is learned that is the case, which also means the planned Lobo spinoff series will not be moving forward on the network.
It's reported that SYFY has opted not to renew Krypton, a Superman prequel origin show, and that this past Wednesday's episode was the series finale. Obviously, with SYFY not moving forward with Krypton Season 3, the network also is not going forward with the Lobo spinoff that was set to star Emmett J Scanlan.
The good news is that it is being reported that producer Warner Horizon Scripted is in talks to get the show to air somewhere else, possibly on the DC Universe app, where Season 1 can be found, or the upcoming HBO Max streaming service (also like I said).
Regarding the cancellation, ratings took a major nosedive for Season 2.
Update: A #SaveKrypton campaign is underway.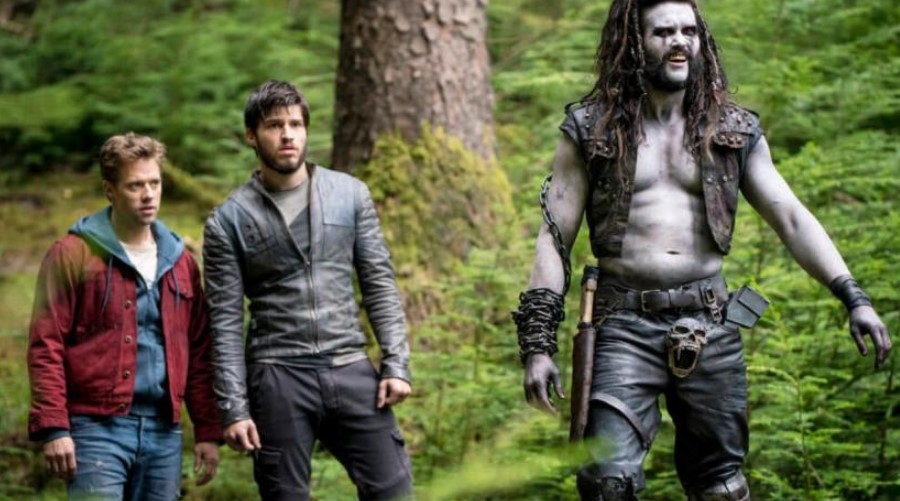 Krypton, Lobo canceled but could air somewhere else
Both Emmett J. Scanlan and Krypton star Cameron Cuffe commented on the cancellations.
"What I feel above all is gratitude. I spent 3 years living an impossible dream. I will always be a proud son of Krypton. Keep believing in a better tomorrow," Cuffe tweeted.
What I feel above all is gratitude. I spent 3 years living an impossible dream. I will always be a proud son of Krypton.

Keep believing in a better tomorrow. pic.twitter.com/LqMBedxpdf

— Cameron Cuffe (@thecameroncuffe) August 16, 2019
Emmett J. Scanlan released a series of tweets:
..confusing.@KryptonSYFY S2 has been praised by critics right across the board, & in that we can take away so much happiness. It was & still is a great show, a ballzy show I was so proud to be part of. But it was a show not enough people watched live, because watching live…

— Emmett J. Scanlan (@EmmettScanlan) August 16, 2019
….is what seems to really matter on TV… I wanna take this opportunity to thank a few people without which none of this would have happened. From the bottom of my heart thank you @warnerbrostv , @DCComics, @SYFY, David Goyer, cast, crew, writers, @WaringMcKenna…

— Emmett J. Scanlan (@EmmettScanlan) August 16, 2019
…..has the pleasure of working with him- the real deal. A force of nature. I've met a few in my time & he's definitely one. In closing I say this. Fate whispered to the wolf "you cannot survive the storm" & the wolf whispered back "I am the fuckin storm". This ain't over…

— Emmett J. Scanlan (@EmmettScanlan) August 16, 2019
Trust me.

When you know the outcome you don't worry about the journey….

See yis all very soon. #Krypton #Lobo #Believe #Gratitude

— Emmett J. Scanlan (@EmmettScanlan) August 16, 2019
The cast I worked with on @KryptonSYFY trained hard, eating boiled chicken & broccoli, looking like they'd been sculpted from the ballbag of Zeus (Adonis looking motherfuckers) I just looked like an actual ballbag. Albeit a #LOBO ballbag, but a ballbag nonetheless. 3 weeks… pic.twitter.com/32pU3F5Amy

— Emmett J. Scanlan (@EmmettScanlan) August 16, 2019
…..spin off. So on the off chance either got picked up, I took myself away & beasted for 3 months on my own dime. 3 months on a "maybe". Breaking myself with @myokinetics on a maybe. Reaching new levels of pain on a maybe. Plant based, high intensity training on a maybe…

— Emmett J. Scanlan (@EmmettScanlan) August 16, 2019
….Now @syfy may have cancelled on them, but being asked to dance in the first place, being asked to dance with @CamWelsh_ @warnerbros, @DCComics & Goyer on a maybe, has been my greatest honour.. Getting to this point has been worth the maybe….Maybe next time..

Maybe…. pic.twitter.com/7jJW6V4C2u

— Emmett J. Scanlan (@EmmettScanlan) August 16, 2019