We can hopefully kiss Kevin Smith's woke He-Man series, Masters of the Universe: Revelation, goodbye on Netflix as it is learned the show has quickly dropped out of the top ten.
YouTuber Grace Randolph has pointed out that Masters of the Universe: Revelation in its second weekend has already dropped out of the Top 10 in the U.S., not a good sign at all:
"On Netflix this week, fans sent a clear message to Kevin Smith and company who tried to spin the negative reaction last week as if it was a couple of upset fans who were review-bombing, but it's hard to argue with Masters of the Universe: Revelation disappearing out of the overall Top 10 and the Top 10 TV shows after just one week while so many other shows have stayed in the top ten for weeks on end. You know, so forget just two weeks; so I think that makes it a more serious situation. We'll see what happens with Part 2. I mean I think it's already done, right, I don't think they can reanimate it."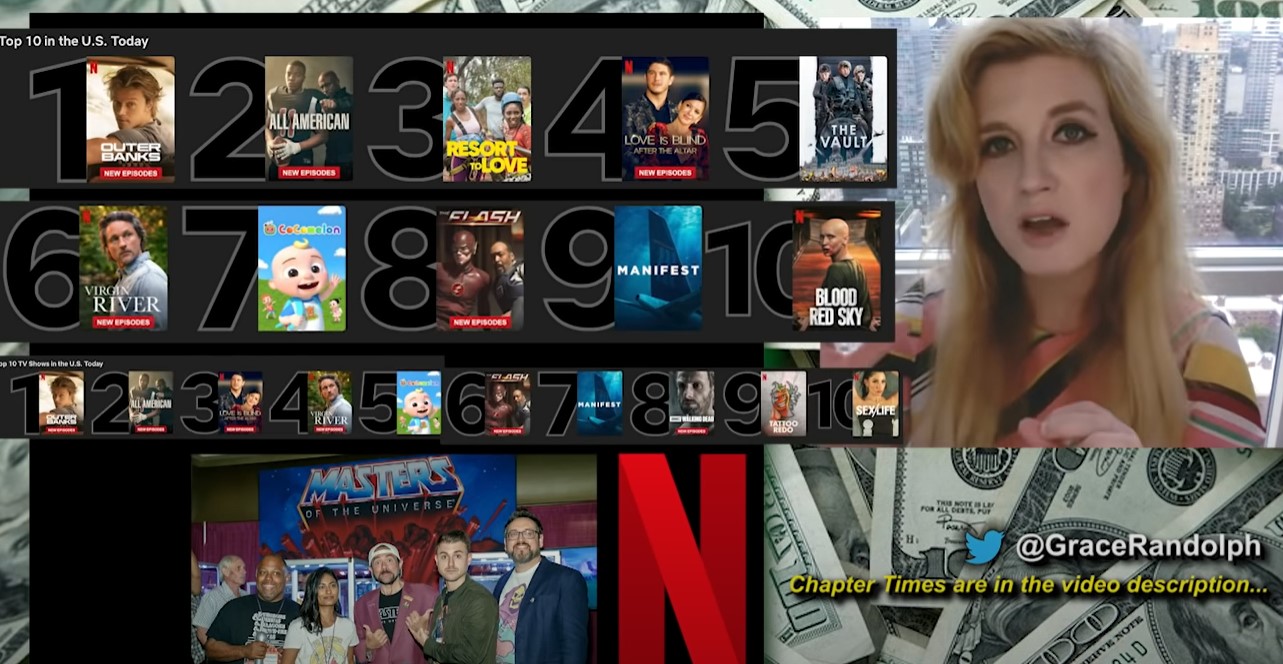 He-Man fans stopped watching Kevin Smith's Masters of the Universe: Revelation
So with the He-Man series dropping out of the Top 10 on Netflix after only one week, what that tells us is that a lot of fans watched it when it was first released (something Smith bragged about), but not only did no one new watch the series in its second week, but those original fans didn't watch the series again, as they obviously tuned it out, which means Masters of the Universe: Revelation has a no-repeat viewability factor.
Grace also brings up a good point, and it is something I have seen other fans remark about, since everybody hated the first part of Masters of the Universe: Revelation, will Smith and the producers change Part 2? Judging from how Smith has insulted the fans and f-bombed them, I can't see it happening, unless Netflix steps in, or what probably will end up happening is that when Part 2 is released (to fewer numbers than Part 1), you'll never hear from Kevin Smith on He-Man again (and hopefully, Teddy Biaselli and Rob David).
I also found it pretty funny that when Masters of the Universe: Revelation was first released, Kevin Smith was overjoyed how it had a high Rotten Tomatoes critics rating – his highest rating for anything he had ever done – but there were only three dozen reviews, while the Audience Score was at a 26% with over a 1000 responses from He-Man fans.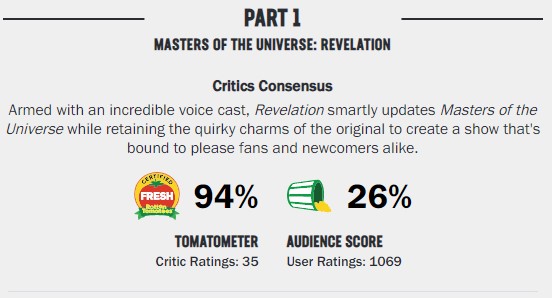 I also can't wait to see how Kevin Smith spins things on how Masters of the Universe: Revelation has dropped out of the Netflix Top 10.
The numbers certainly don't lie.
Update: Fans have taken to the Netflix YouTube channel to overwhelmingly reject Kevin Smith and the series.