Breaking news as Henry Cavill will be starring in a live-action series adaptation of Warhammer 40,000 at Amazon.
Update: Henry confirms and announces the Warhammer Cinematic Universe.
The news follows Henry exiting the Superman role as James Gunn is developing his own take on the character.
Cavill also recently departed The Witcher and won't be returning to that series.
Similar to The Witcher, it's known that Henry Cavill is a huge fan of Warhammer, the popular table-top fantasy miniature wargame, as the actor has posted images and video of himself painting the figures on Instagram (see below).
The live-action series is in early development as Amazon is in final talks for the rights and no writers and showrunners are attached as of yet, with Henry Cavill also executive producing.
Yesterday actually saw actor Rahul Kohli (Supergirl, iZombie) recommend Henry for the role.
"Hey Henry, f-ck it, let's make a Warhammer movie/limited series. Kind regards, Rahul," states the tweet which has over 158k likes. "Okay but if this hits 40k likes then that's it, it has to be made. It's the law."
Jeff Sneider then said it was a done deal.
"As I just announced on THE HOT MIC, I'm told that this may actually be in the works. I'm hearing that AMAZON is making a play for the rights to WARHAMMER 40K and trying to attach Henry Cavill to star. I got this tip several hours BEFORE yesterday's announcement/Rahul's tweet," tweeted Sneider.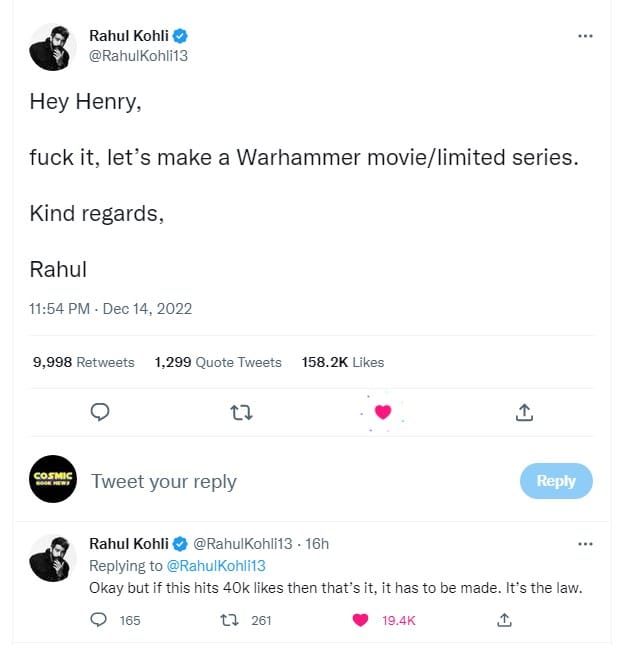 What happened with Superman?
Regarding what happened with Superman, now that James Gunn is in charge of the DCU, Gunn is writing and developing a new Superman movie featuring a younger version of the character and a younger actor.
It has been reported by Variety that "Gunn's script will focus on Superman's life as a cub reporter in the fictional city of Metropolis. Audiences will encounter him meeting key characters, like colleague Lois Lane. Because Gunn's Superman is younger, there was never a chance of Cavill playing the role."
Henry Cavill Warhammer Instagram posts: