It appears as if Henry Cavill is confirmed back as Superman for the upcoming The Flash movie starring Ezra Miller, though it should be said the confirmation does not come from Warner Bros.
Following the leak of the set pic of the new Ezra Miller costume, a Twitter user claiming to have done work on the movie tweeted he saw both Batman and Superman on the set, but it wasn't made clear who was playing Superman.
The Twitter user posted a follow-up tweet adding that it was the Henry Cavill Superman.
"Jeez this got some engagement. Sorry for not replying sooner but I actually have a life outside twitter," states the tweet from crypt0dad.eth. "Yes, Cavill. Not saying anything else. Also will be deleting the tweet so you fan boys better screen shot it quick before it's gone. And no, I won't be getting fired."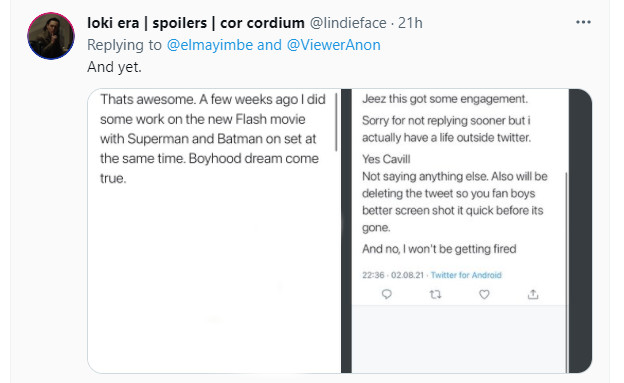 A previous tweet from the user also states he went to school with Henry Cavill, so we can guess that possibly they are friends.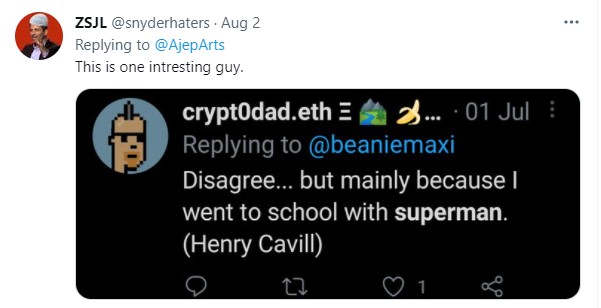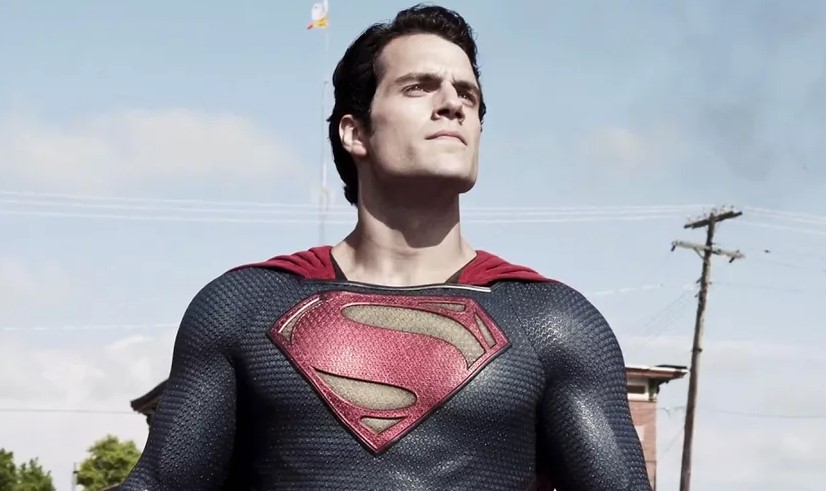 Henry Cavill Superman not in The Flash?
While this Twitter user is claiming to confirm Henry Cavill as Superman in The Flash, another Twitter user is stating the exact opposite.
Scooper and writer for The Wrap, Umberto Gonzalez, has tweeted that Henry Cavill is not in The Flash and hasn't signed any new Superman deal, as it has been rumored Henry Cavill signed for three more appearances, possibly also including Shazam! 2 and Black Adam.
"He isn't going to be in The Flash and in fact doesn't currently have a deal to reprise Supes in any movie," tweeted Gonzalez in response to ViewerAnon who previously said back in January Henry Cavill was going to appear as Superman in The Flash and did so again.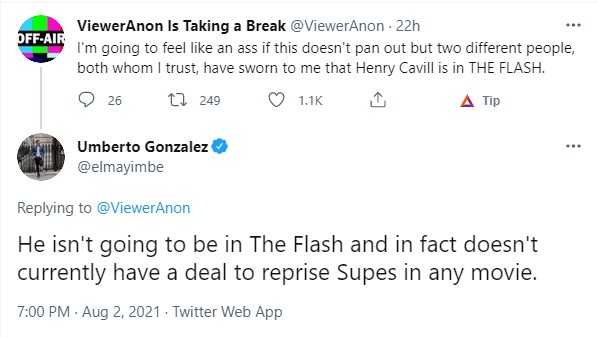 As fans have pointed out in the comments, Gonzalez also said Ben Affleck wouldn't be in The Flash, Zack Snyder's Justice League movie wouldn't be happening, and that Zack Snyder's Justice League wouldn't feature new footage on HBO Max, but we now know those are all wrong.
Henry Cavill's manager, Dany Garcia, who also happens to be a producer on Shazam! and Black Adam, as well as the business partner and former wife of Dwayne Johnson, has also seemed to have teased a return of Henry Cavill as Superman, and it's no secret that The Rock wants to battle the Man of Steel, so maybe it all starts with The Flash.
Update: Grace Randolph is also stating Henry Cavill is not in The Flash:
I looked into the #HenryCavill #TheFlash rumor many of you asked me about…

I can't say he's DEFINITELY not in the movie
( you never know)

but I CAN without question say he has NOT been on set, that's fake.#DC #DCEU

— Grace Randolph (@GraceRandolph) August 3, 2021
The Flash has a November 4, 2022 release date directed by Andy Muschietti.