Tuesday saw Ryan Reynolds take a jab at the Henry Cavill Superman Justice League fiasco which sees the Man of Steel actor respond in the affirmative.
Reynolds posted a video to promote his Aviation Gin brand while wearing a mustache and when he took a sip, the stache disappeared with bad use of CGI.
The comments saw Henry Cavill offer back, "Can't CGI the pain away....make mine a double."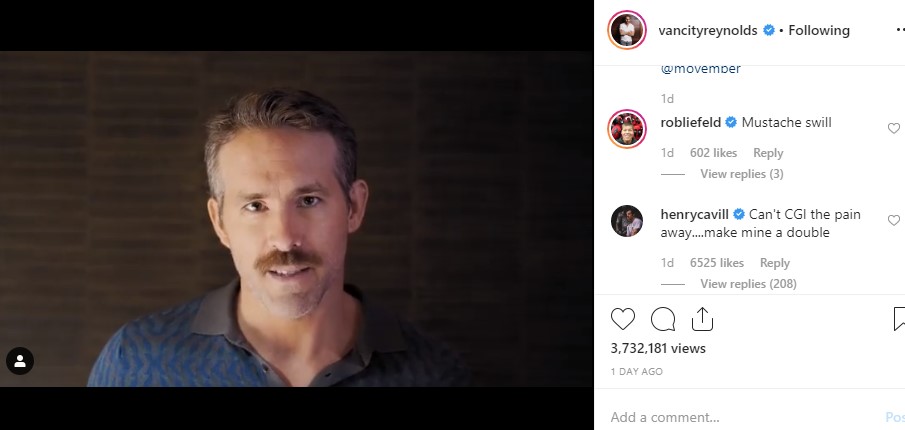 Fans react to Henry Cavill comment on Ryan Reynolds video
Fans reacted as well to Henry Cavill's comment.
"No matter how sh-tty studios treat you, you'll always be our Superman," commented one fan.
Another fan recommended going to Marvel, which Henry Cavill is rumored to do.
"Nah man you were great lad, best of hope that you keep the role in the future or just go to marvel better," the fan said.
A fan commenting with the "Release The Snyder Cut" hashtag wanted the full Superman beard.
"Should have pushed for the full post-death beard from the comics. Wouldn't have fixed JL, but at least you would have looked bad-a--," said the fan.
"They did you dirty with that whole mess, Mr. Cavill. Keep on keeping on and kicking ass," said another.
Another Release The Snyder Cut fan chimed in.
"Henry Cavill, we need to see you, the real Superman in the Snyder Cut!! Keep fighting for you, Zack and all the people involved in the movie," the fan said.
"I loved your mustache as Supes. I hated they CGIED it off Henry," reads another comment.
"Henry Cavill we don't blame you. We have taken many double shots for you. You will always be Superman though," another offered.
Watch Ryan Reynolds make fun of Henry Cavill Superman mustache: