If the rumors are correct, Grant Gustin will once again be suiting up as The Flash alongside Ezra Miller, but not in the Arrowerse, on the big screen.
In what would be a first, Grant Gustin is rumored to crossover from The CW Arrowverse to the DCEU as it's said Gustin is among one of many "crazy cameos" that could appear in the upcoming The Flash movie that will explore the DC Multiverse.
According to scooper Daniel RPK, Warner Bros. is considering including lots of different cameos in The Flash which could also include the various Batman actors from the movies, such as Christian Bale, George Clooney, and Val Kilmer, that would be in addition to the already confirmed return appearances of Ben Affleck and Michael Keaton, and it's further claimed the Nicolas Cage Superman and Tom Welling from Smallville are wanted to return.
As seen in the recent Crisis On Infinite Earths crossover on The CW, Ezra Miller made a surprise appearance as the DCEU Flash side-by-side Grant Gustin, so who knows, maybe we'll get a quick scene of the Arrowverse universe with Grant Gustin in The Flash.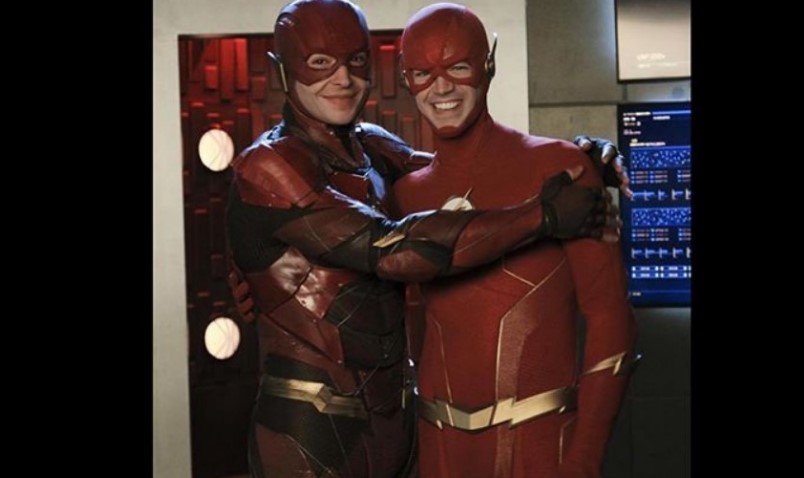 The Flash sounds like Crisis but on a bigger scale
Actually, what The Flash movie sounds like is the Crisis On Infinite Earths crossover but on a much bigger scale and a tweaked story, as the story surrounding the movie is said to follow the Ezra Miller Barry Allen as he breaks the bonds of physics and crashes into various parallel dimensions where Barry will encounter different versions of DC's superheroes.
Another description also offers that Barry goes back in time to save his mother from getting murdered which causes changes to the timeline where The Flash connects to a new universe, the Michael Keaton Batman '89 universe; so if the rumors are true, it seems the Ezra Miller Barry Allen will also connect to the different universes from DC TV and film.
Last year at the San Diego Comic-Con, DC insiders filled me in how the Crisis On Infinite Earths crossover was going to connect all of DC film, TV, and streaming, which was all about the HBO Max streaming service, so it seems as if WarnerMedia is doing the same thing with The Flash movie, but again, on a much grander scale for the big screen.
Grant Gustin does happen to be a huge fan-favorite version of DC's Scarlet Speedster, so hopefully, they use him.
The Flash has a June 3, 2022 release directed by Andy Muschietti.