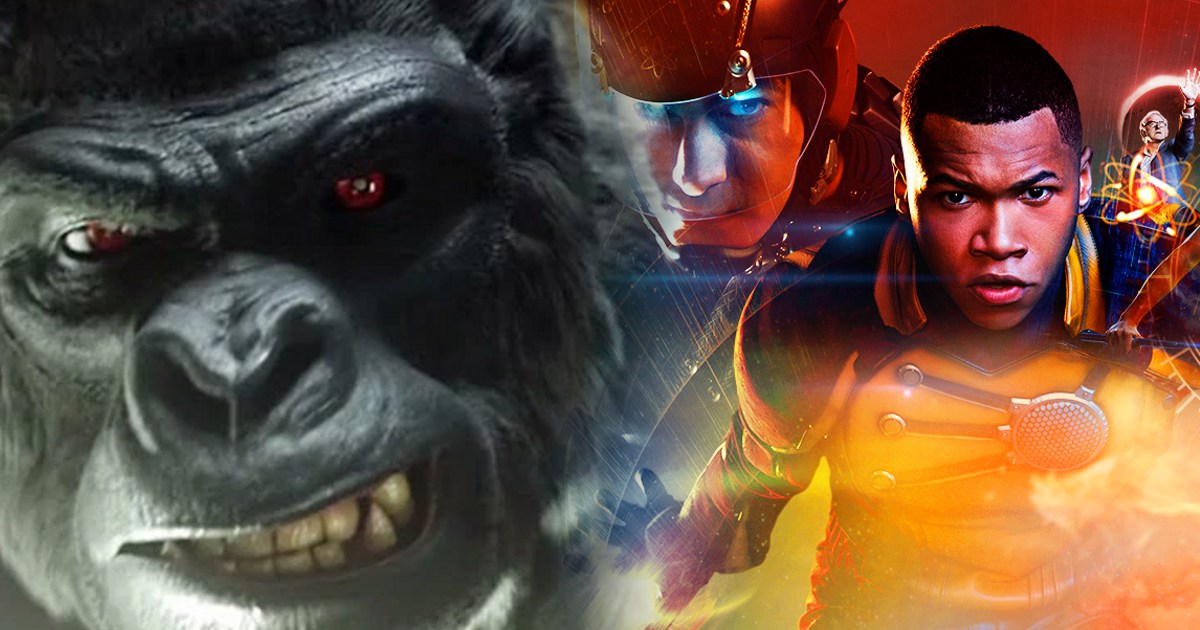 It's learned Gorilla Grodd from The Flash TV series is coming to DC's Legends of Tomorrow!
Legends of Tomorrow executive producer Phil Klemmer teased the villains of the new Season while at the recent 2017 TV Critics' Association summer press tour revealing to IGN that Gorilla Grodd and Damian Darhk will be villains in addition to a mystery bad guy.
"It will be a version of him that we have not met yet on any of the shows. It will be the most evolved and powerful form of Grodd. We're actually breaking the episode now," Klemmer said, with it further revealed it will be a post-Gorilla City Grodd and that one of the Legends becomes sympathetic to Grodd's plight and "takes the bait."
Other details revealed for Legends of Tomorrow Season 3 include:
• Damien Darhk will be the leader of a bad guy team that features Grodd.
• The big bad looks to be a non-human entity.
• The season is said to be a: "much more supernatural, spooky vibe this season. We're dealing more with magic. It's less real-world bad guys."
• Season 3 will deal with "anachronisms," where figures from throughout history appear in time periods not their own with an example given of Helen of Troy in the 1940s.
• A new Legend will be named Zari (in the DC Comics she is Isis).
• The Legends will visit Ray's childhood revealing dark secrets.
• Paul Blackthorne's Quentin Lance is hoped to appear.
• Wentworth Miller will be back as Captain Cold.
• They want Matt Reeves as Constantine.
Legends of Tomorrow Season 3 premiers Tuesday, October 10th at 9pm ET on The CW. Watch the trailer:
Legends of Tomorrow Season 3 synopsis:
After the defeat of Eobard Thawne and his equally nefarious Legion of Doom, the Legends face a new threat created by their actions at the end of last season. In revisiting a moment in time that they had already participated in, they have essentially fractured the timeline and created anachronisms – a scattering of people, animals, and objects all across time! Our team must find a way to return all the anachronisms to their original timelines before the time stream falls apart. But before our Legends can jump back into action, Rip Hunter (Arthur Darvill) and his newly established Time Bureau call their methods into question. With the Time Bureau effectively the new sheriffs in town, the Legends disband – until Mick Rory (Dominic Purcell) discovers one of them in the middle of his well-deserved vacation in Aruba. Seeing this as an opportunity to continue their time travelling heroics, Sara (Caity Lotz) wastes no time in getting the Legends back together. We reunite with billionaire inventor Ray Palmer (Brandon Routh), the unconventional historian-turned-superhero Nick Heywood (Nick Zano), and Professor Martin Stein (Victor Garber) and Jefferson "Jax" Jackson (Franz Drameh), who together form the meta-human Firestorm. Once reunited, the Legends will challenge the Time Bureau's authority over the timeline and insist that however messy their methods may be, some problems are beyond the Bureau's capabilities. Some problems can only be fixed by Legends. Based on the characters from DC, DC'S LEGENDS OF TOMORROW is from Bonanza Productions Inc. in association with Berlanti Productions and Warner Bros. Television, with executive producers Greg Berlanti ("Arrow," "The Flash," "Supergirl"), Marc Guggenheim ("Arrow," "Trollhunters," "Percy Jackson: Sea of Monsters"), Andrew Kreisberg ("Arrow," "The Flash," "Eli Stone," "Warehouse 13"), Phil Klemmer ("The Tomorrow People," "Chuck") and Sarah Schechter ("Arrow," "The Flash").