Godzilla vs Kong Warzone calling cards are now available from Activision for free.
Last week saw the first details released for the Godzilla vs Kong "Operation Monarch" event coming to Call of Duty: Warzone where players will be battling side by side as Godzilla takes on Kong in a kaiju fight of epic proportions.
Now Activision and Legendary have announced that if fans visit Monsterverse.com they can get a set of free calling cards.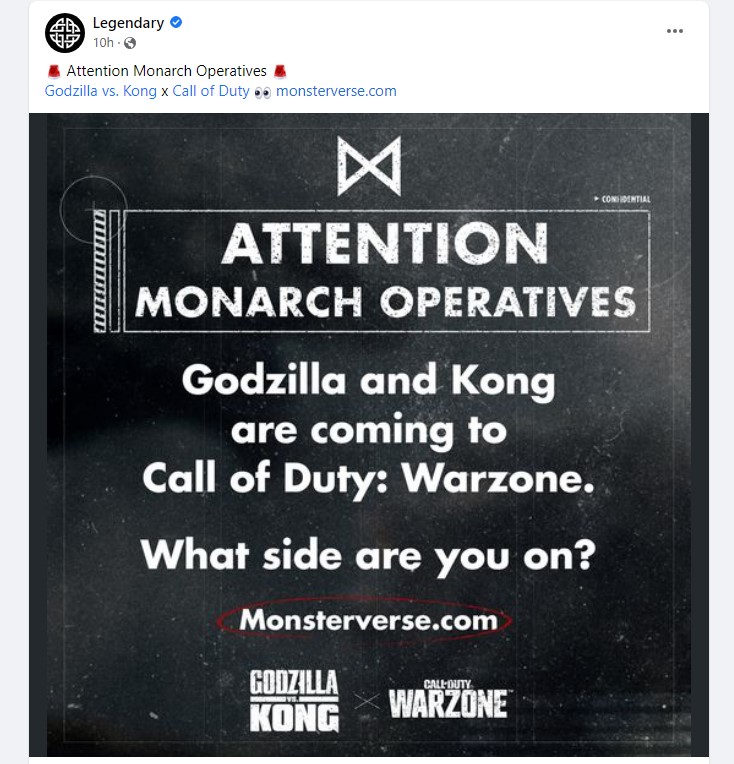 Redeem a set of three Godzilla vs. Kong Call of Duty in-game Calling Cards
When visiting Monsterverse.com, simply enter your e-mail to receive the code.
"Greetings Monarch Operative, Use the code below to redeem your exclusive set of three Godzilla vs. Kong Call of Duty in-game Calling Cards," states the e-mail. "Team Kong, Team Godzilla, or Monarch Operative- show your allegiance and prepare to battle in a time of monsters! REDEMPTION INSTRUCTIONS: Visit callofduty.com/godzillavskong and log in with your Activision account (don't have an Activision account? Create one here). Enter the code when prompted and hit submit to claim your exclusive rewards. The items will be in your inventory the next time you start up the game. Contact [email protected] if you experience any issues redeeming your Code."
I signed up and got the "Team Godzilla," "Operation Monarch," and "Team King Kong," call cards; however, I'm Team Godzilla all the way, so that is what I'll be displaying!
The items will become available once you restart the game.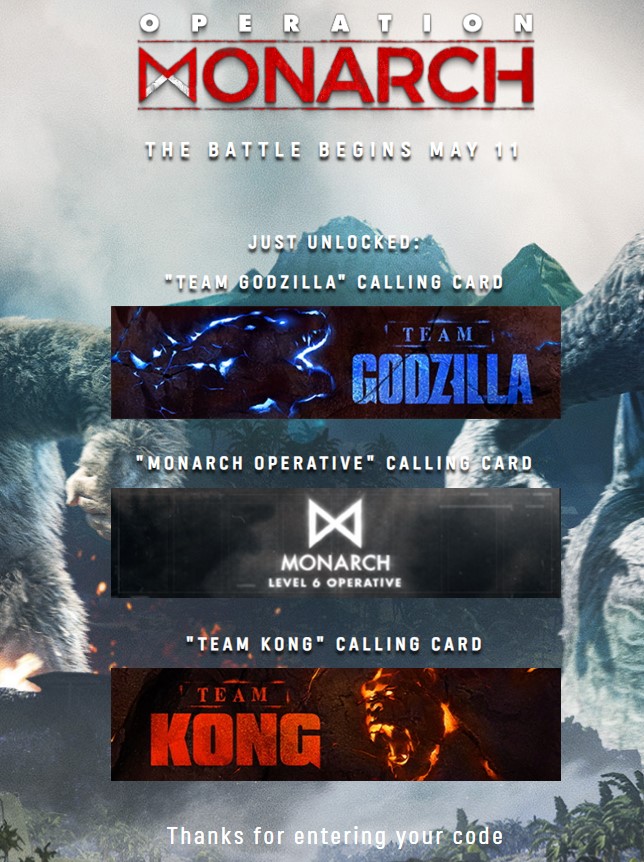 Operation Monarch goes live May 11
The "Operation Monarch" campaign doesn't go live until May 11, but with the start of the new COD season on Wednesday, Godzilla vs Kong Easter Eggs are already featured in the game.