Activision and Legendary have announced Godzilla vs. Kong is coming to the Call of Duty: Warzone video game starting on May 11 which follows the new season launching on April 27.
"Hold on to your… everything. The MONSTER OF ALL BATTLES is coming!" teases the video description.
The details include the Godzilla vs Kong event is called "Operation Monarch" and will take place on the map of Caldera, but little else is known. The trailer footage shows Godzilla vs Kong fighting which seems to hint their battle could take place in the background as players make their way through the map. It could be possible that players might have to avoid the battle, but it would be really cool if players could take on the two kaiju in some way as the description also teases the use of secret prototype weapons.
Watch the teaser below.
As noted above, the third season for Call of Duty: Vanguard and Warzone launches April 27 and is known as "Classified Arms."
"Learn about prototype weaponry, updated Points of Interest on Caldera, S.O.T.F Harpy, and what Titans will make an impact during Operation Monarch…" states the description from Activision.
Call of Duty: Warzone "Operation Monarch" teaser with Godzilla vs. Kong: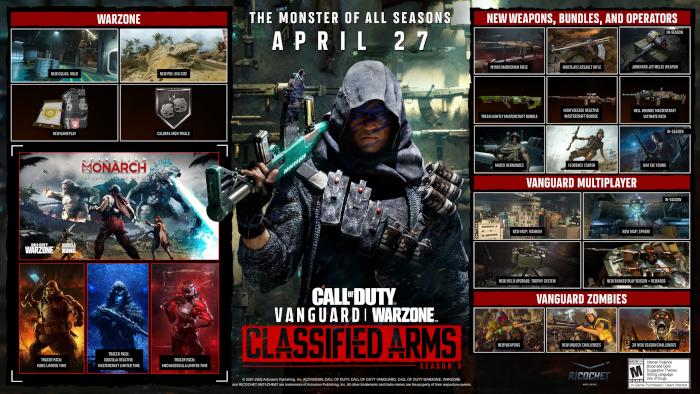 Classified Arms:
A New Season Declassified — Prepare to Wield Classified Arms
On Caldera, Captain Butcher calls upon three more Operators — S.O.T.F. 008 — to investigate the true impact of previous enemy attacks. After reclaiming the island through tactical, yet somewhat flashy force, these elite Allied soldiers are rewarded with treasure troves of secret prototype weapons.
But these prototypes on the island, let alone their existence, raise a massive question: what kind of threats are these powerful weapons supposed to combat?
Their answer comes from an abandoned radio, which picks up several signals and primal roars unlike that of any known creature…
A top-secret armory is open for all Operators during Classified Arms, the third season of Call of Duty: Warzone and Vanguard launching on April 27. And they will need all the power they can get their hands on to combat Godzilla and Kong, laying siege to Caldera later in the season with the limited-time event, Operation Monarch.
This new season of content will be available following updates to both games: one for Vanguard on April 26 at 9 AM PT, and one for Warzone on April 27 at 9 AM PT.
Lead studios Sledgehammer Games and Raven Software, in addition to Treyarch and Toys for Bob, came together to kick off this monstrous season. Here is what you can expect across Warzone and Vanguard: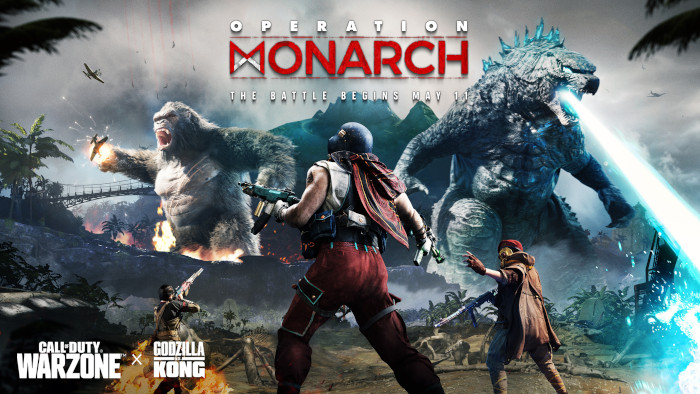 Godzilla vs Kong COD:
Operation Monarch: Preparations Underway
Giant skulls and rebuilt defenses are just two of the many clues towards what will come with Operation Monarch, a special limited-time event featuring the iconic Titans of the Monsterverse, Godzilla and Kong.
Along with bringing two of the largest stars in movie history to Call of Duty, Operation Monarch will introduce a new game mode for Quads based on several classic experiences with a titan-sized twist.
While Operation Monarch won't begin until 9 AM PT May 11, be on the lookout for the presence of ancient artifacts, Monarch Research equipment and tents, as well as…well, it won't take much investigating to see the massive glowing axe jutting out of the ground right near the Resort.