David Zaslav has done it again and canceled another DC project at HBO Max as it is learned the Green Lantern series is getting a complete overhaul.
THR and Deadline report the Green Lantern series which has been in development at HBO Max for three years and has its eight-episode script already completed will not be moving forward, confirming rumors.
Kevin Smith recently doubted the series would happen when he revealed the news his own DC project got canceled.
Writer and showrunner Seth Grahame-Smith has left the project; Greg Berlanti is still attached.
The actors cast as Guy Gardner and Alan Scott are also no longer attached, Finn Wittrock and Jeremy Irvine, respectively.
Instead of focusing on Gardner and the gay Alan Scott, the Green Lantern series will get overhauled to now focus on John Stewart, the first black Green Lantern who debuted back in 1971 in the comics and who is a Marine Corps veteran.
Stewart was previously off-limits along with Hal Jordan as part of a Green Lantern movie at Geoff Johns' Mad Ghost productions company, but now that Warner Bros. Discovery has taken over, that's apparently all out the door.
THR also adds that the new John Stewart series will cost significantly less than the preceding version which was estimated to cost as high as $120 million and involve being set on Earth and in space along with featuring Sinestro.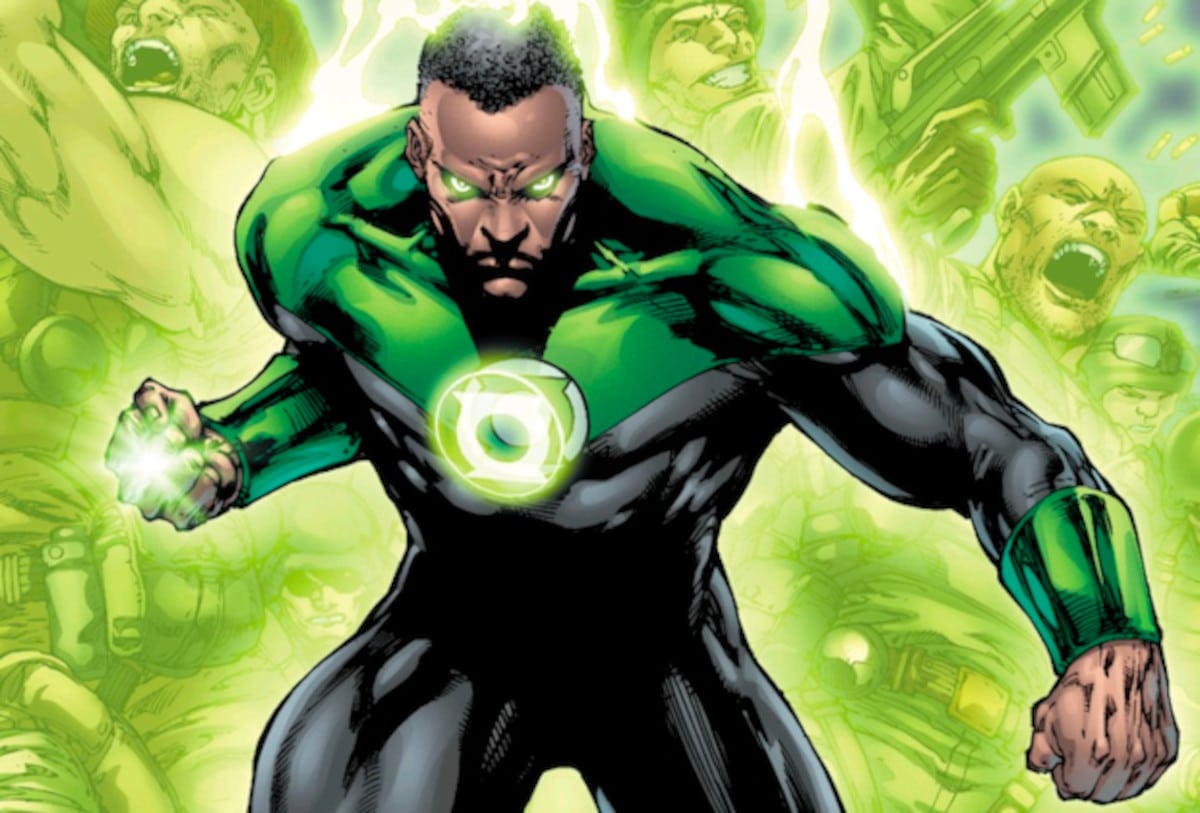 Green Lantern series will now focus on John Stewart
If I had to guess, I'm guessing the John Stewart series will be more set on Earth which is a lot cheaper (probably why James Gunn's Disney Plus Guardians of the Galaxy Holiday Special is set on Earth due to Disney Plus' own low-budget requirements).
Worth a mention is that the change in Green Lantern is said to not have anything to do with this week's news about James Gunn and Peter Safran taking over DC.
It's also said that while the series was being fast-tracked and was to begin shooting last year, which obviously didn't happen, the project is now taking a slower approach to development, so it sounds like it could be a while as, again, all the scripts need to be re-written, the actors need to be recast, etc.
Details for the Guy Gardner and Alan Scott version of the series have been made known through the official description, character descriptions, and audition videos.
Guy Gardner came off as the "white bad guy," Alan Scott as "the gay guy," and Bree Jarta as the "person of color" who gets discriminated against.
The official HBO Max description emphasizes Alan Scott as being gay (below), as does the character breakdown, as does the audition scenes; with a Bree Jarta audition video all about racism as well:
From HBO Max, DC, Berlanti Productions and Warner Bros. Television comes a bold adaptation of the iconic comic book franchise, a saga spanning decades and galaxies. Green Lantern will depict the adventures of a multitude of Lanterns, including Guy Gardner, Jessica Cruz, Simon Baz, and Alan Scott — Earth's first Green Lantern, who, true to the comics, is a gay man — and many more. The series will also include fan favorites such as Sinestro and Kilowog, and will also introduce new heroes to the ranks of the Green Lantern Corps.
Alan Scott was created in 1940 but only recently became gay as part of the DC Comics New 52 relaunch in 2011.
Among the DC changes under Zaslav, Warner Bros. Discovery has also canceled the Batgirl and Wonder Twins movie at HBO Max; canceled the Sasha Calle Supergirl movie; brought back Henry Cavill instead of going with the Black Superman; brought back Ben Affleck as Batman, and reportedly, changed The Flash movie to not wipe out the Henry Cavill Superman.
Recently also saw DC Comics cancel the gay Superman comic book.
Below is official promo art that was used for the Alan Scott and Guy Gardner version of the show.
Official HBO Max promo art: