Currently underway on Twitter is a Bitcoin scam involving the hacked accounts of notable individuals and corporations including Elon Musk, Bill Gates, Joe Biden, Obama, Kayne West, Apple, and more.
It's claimed that a hacker or hackers got a hold of an executive Twitter account that is able to access accounts without a password.
Many of the hacked accounts are claiming they had 2-factor authorization as well as a strong password, which is supposed to make it difficult for hackers to get access, but somehow the hackers were able to hack into a Twitter account for someone who works with the company.
The hackers took over Twitter accounts and posted messages stating that people should send Bitcoin to a certain Bitcoin address, and in turn, they will send out double.
"We are giving back to our community. We support Bitcoin and we believe you should too!" states a tweet from the official Apple Twitter account. "All Bitcoin sent to our address below will be sent back to you doubled!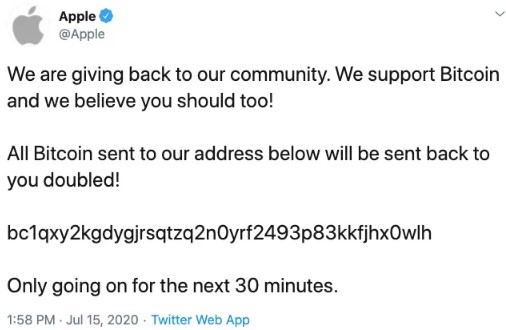 Twitter hacked: Do Not Send Bitcoin, It's A Scam!
To be clear, the accounts have been hacked, so DO NOT send any Bitcoin to the listed address.
Among the hacked accounts also includes cryptocurrency companies such as Coinbase, Binance, Gemini, Jucoin, Gate.io, Coindesk, Tron, as well as Tron founder Justin Sun, and Litecoin founder Charlie Lee.
Again, DO NOT send any Bitcoin to any of the addresses.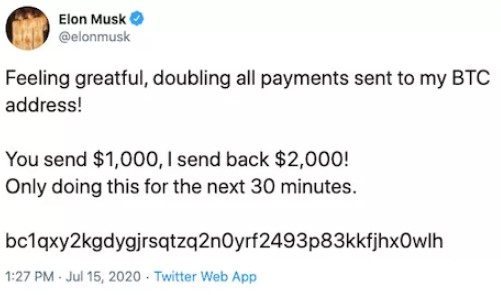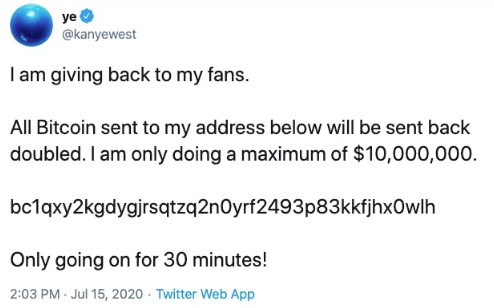 Following Twitter Accounts have been hacked – be careful don't fall for any giveaway Scams.

– Bill Gates
– Elon Musk
– Kayne West
– Bitcoin
– Apple
– Coinbase
– BINANCE
– CZ_Binance
– Gemini
– Kucoin
– Gate .io
– Coindesk
– Uber
– Tron
– Justin Sun
– Charlee Lee

— Crypto Chef —- (@CryptoChef_) July 15, 2020
Obama hacked, and they pinned the Tweet pic.twitter.com/W56fNIyVnE

— Steve Lookner (@lookner) July 15, 2020
Looks like some of top accounts on Twitter — including those for Bill Gates, Elon Musk et. al — and some top crypto accounts e.g. Coinbase, Binance, Gemini just got used to promote bitcoin scams. Not clear yet if hacked accounts or larger twitter issue. https://t.co/fAWEGnfVgU

— briankrebs (@briankrebs) July 15, 2020
#BREAKING: There appears to be a major hack underway, targeting numerous prominent accounts and using them to push a crypto scam. Hacked accounts include Bill Gates, Elon Musk, CashApp, Apple, and more. pic.twitter.com/m8wBNp4X1J

— Caroline Orr (@RVAwonk) July 15, 2020
Elon Musk's, Bill Gates' and Kanye West's Twitter accounts hacked.

5,314 people have fallen for the scam already, and sent these hackers $7.8M USD thus far.

Here is the hacker info ——– pic.twitter.com/eal5oRscyE

— living king (@ToyosiAG) July 15, 2020
Now @Apple?! dude. This is huge. pic.twitter.com/csVHMoZlay

— JerryRigEverything (@ZacksJerryRig) July 15, 2020
apparently a bunch of accounts are getting hacked and posting a bitcoin scam lmao incredible pic.twitter.com/wDTXjOgrH6

— shoe (@shoe0nhead) July 15, 2020
Kanye west, Jeff Bezos, Bill Gates and Elon Musk Twitter accounts got hacked and this guys have made over 10M dollars

This will go down as the biggest heist on Twitter pic.twitter.com/q7mUXYzpt0

— ploque– (@_oluwatobiiiii) July 15, 2020
Kanye West was hacked.

The hackers requested for Bitcoin to be sent to a specific address and they said they will double the money and return it to you.

The hackers recieved a total $58,054 from 237 fans that thought it was Kanye West in only 4 minutes. Sheesh. pic.twitter.com/ghXCO50mSP

— mariano — (@TheRapAgenda) July 15, 2020