Wow! Dwayne Johnson is ultra-jacked for Black Adam, DC's villain turned anti-hero and archnemesis of Shazam and potential foe of Superman.
The Rock took to social media on Sunday to offer a new look at his super-jacked muscles confirming filming begins this summer while at the same time seemingly taking a jab at the Man of Steel.
"The hierarchy of power in the DC Universe is about to change. Training and prep for Black Adam has been a grind but this passion project outweighs the sacrifices. Truth, justice and the Black Adam way," posted Johnson on Instagram.
Fans of Superman will note that Johnson is playing with words regarding the Superman motto: "Truth, Justice and the American way."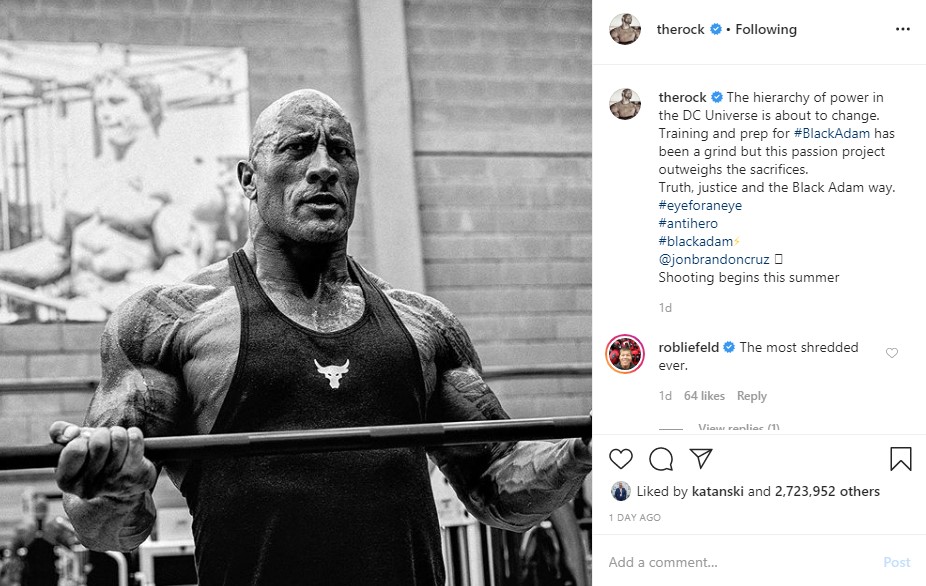 Dwayne Johnson has big Black Adam plans — and not just with his body
Regarding a potential battle with Superman, back when Henry Cavill was still involved with the role, the two teased a confrontation on social media numerous times. To boot, Dwayne Johnson's former wife, business and producer partner, Dany Garcia, also happens to manage Henry Cavill, with Cavill recently having said he is still fighting for the Superman role amid rumors that J.J. Abrams may recast the role (Henry Cavill is also rumored for Black Adam 2).
Johnson also name-dropped Superman when the Black Adam release date was officially announced.
"It all changed for me when I was 10yrs old and was first introduced to the greatest superhero of all time – SUPERMAN," Johnson said in part. "As a kid, Superman was the hero I always wanted to be. But, a few years into my fantasy, I realized that Superman was the hero, I could never be…"
In addition to possible Superman plans, it has also been reported that Dwayne Johnson has big plans for Black Adam involving a shared universe, the Justice Society of America and even a Green Lantern.
This is probably the biggest and most ripped that Dwayne Johnson has been in all of his career, which is a testament to his dedication for the role and the movie. Check out more pics below.
Black Adam films in July and gets released on Dec. 22, 2021.
Dwayne Johnson jacked for Black Adam: