I'm told from sources within the business that Dolph Lundgren is directing a new movie called Castle Falls, as I've been provided the plot and character descriptions.
Update: The movie was released on December 3, 2021, directed by and starring Dolph Lundgren, and Scott Adkins. The IMDb description also confirms what I have been told below: "Rival gangs seek out millions of dollars hidden inside a luxury condominium that's scheduled to be demolished, but first they have to deal with the janitor who found the loot first."
Original article continues:
While not listed yet on the IMDb page of Dolph Lundgren, the IMDb pro version does list Dolph Lundgren as directing, and starring along with Scott Adkins, which will see the two reunite from The Expendables 2, Universal Soldier: Day of Reckoning and Legendary.
I can't confirm Scott Adkins, but since he has been listed on IMDb Pro since December and the movie is in the works, the two seem to add up.
I'm told the movie is an action-thriller about a building that is under demolition, and on that night the demolition foreman encounters a group of thieves seeking to recover millions of stolen dollars hidden within the bowels of the building.
IMDb Pro lists Dolph Lundgren as playing Shea, with Scott Adkins as Mike, which the character descriptions below mention, and Andre Relis as the producer.
I'm also told filming on Castle Falls may start in March.
City on Fire first reported on the involvement of Dolph Lundgren and Scott Adkins back in December.
Check out the character descriptions below.
Dolph Lundgren is known for lots of movies in addition to The Expendables including Rocky IV and he recently starred in Aquaman as King Nereus.
Scott Adkins recently starred in Ip Man 4: The Finale and is known for his martial arts action flicks (he was also a fan-favorite choice to play Batman at one time).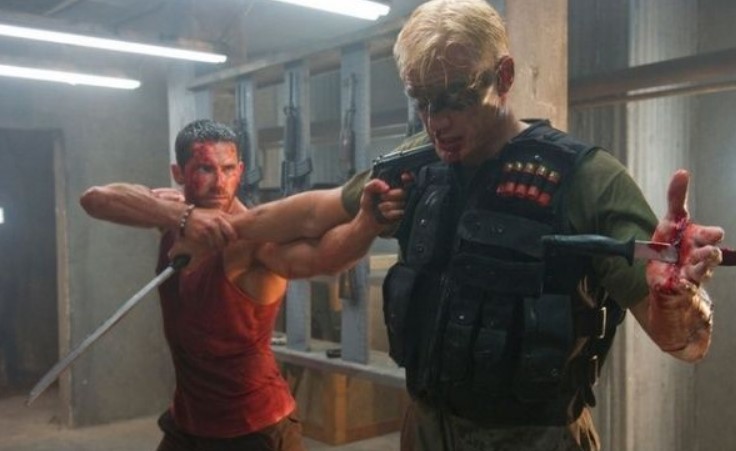 Castle Falls character descriptions:
Caleb: 30 to 40 years old, caucasian. He's part of Deacon's gang. Big, a bit slow and not too sure of himself. Ex-football player, little slow, righteous. Babyface guy.
James: 30 to 40 years old, caucasian male. He's part of Deacon's gang. Quick on the trigger and emotional. Bad ass. Ex-Military type.
Charlie: 30 to 40 years old, caucasian male. He's part of Deacon's gang. Smokes, laid back and dangerous. Interesting and different looking. Stunt experience/ability a plus. Over 6'2″ and built.
Duke: 25 to 35 years old, caucasian male. He's part of Deacon's gang. He is younger and more heavyset than the others. Naive and physically limited by his weight. Funny to look at.
Walsh: 25 to 35 years old, all ethnicities male. A prison guard who works with Shea. Walsh is on the payroll for Derek Glass. He's a user, slick and greedy. Untrustworthy.
Kirkland "Lando" Collins: 35 to 45 years old. Black/African American. An African-American prisoner in Shea's prison. He has information about where the money is located. Ex-gang banger, cared of Deacon's gang. Quick-witted and tough physically. A survivor. Tough looking.
Foreman: 40 to 50 years old, caucasian male. An old-fashioned, play-by-the-rules guy who is Mike's construction boss while he works at Castle Heights. Gruff, no-nonsense. Bad breath and a bad attitude. Tough to work for.
Mayor: 50 to 65 years old, all ethnicities male. A career politician who holds a press conference announcing the demolition of Castle Heights. Likable and a just a bit too charming.
Vince: 35 to 50 years old, all ethnicities male. A gym owner who takes his work very seriously. Likes Mike. Ex-fighter, tough, has seen it all.