Confirming speculation, Chris Pratt joins the cast of Thor: Love and Thunder and will return as Star-Lord following The Avengers: Endgame and prior to Guardians of the Galaxy 3.
The casting news comes from THR who also teases Thor: Love and Thunder could feature additional members of the Guardians of the Galaxy or even The Avengers:
Chris Pratt is joining Chris Hemsworth in the fourth Thor installment from Marvel Studios.

Pratt's involvement should not come as a total surprise since his Star-Lord was last seen in Avengers: Endgame having his captainship amusingly threatened by Thor, who had decided to join the Guardians of the Galaxy aboard Star-Lord's ship for adventures in parts unknown. And who knows what other Guardians, or even Avengers, will join the fray?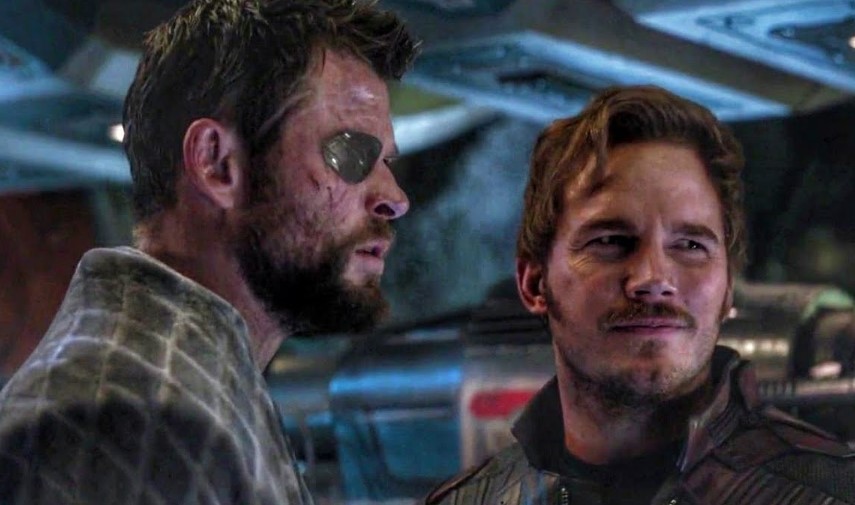 Chris Hemsworth also said to be in Guardians of the Galaxy 3
Back in August of 2019, Chris Pratt was asked about appearing in Thor 4 where he teased his involvement by replying when asked: "I know the answer to that, but I can't tell you."
Likewise, it's also said Chris Hemsworth will appear in Guardians of the Galaxy 3, which James Gunn recently said will go into production following his DC HBO Max Peacemaker series.
As noted by THR, Thor: Love and Thunder "is now becoming quite the stuffed superhero sandwich" as the flick also boasts Natalie Portman reprising the role of Jane Forster and who will become Female Thor, Tessa Thompson returns as Valkyrie and the king of Asgard who searches for her queen, and Christian Bale is also said to be starring as the villain of the movie.
It's also said Thor 4 will shoot in Australia in January, and that first Chris Pratt will film reshoots for The Tomorrow War prior to filming Thor for Marvel.
Thor: Love and Thunder has a Feb. 11, 2022 release date directed by Taika Waititi who will also again provide the voice of Korg.