Chris Hemsworth recently appeared on Jimmy Kimmel via live video feed from Australia as the actor is in lockdown due to the coronavirus.
Hemsworth remarked that things aren't too bad in Australia and joked about having to homeschool his kids, but at least he gets to escape and cut the grass which he feels is therapeutic.
The Marvel actor also joked about having a huge supply of toilet paper as his wife accidentally bought boxes of it thinking she had ordered rolls.
Chris Hemsworth also has his latest movie out on Netflix on Friday with Extraction.
"It's adrenaline-driven high action… It does have a heartbeat at the center of it. It's a sort of an action art film if you can combine the two," Hemsworth said who also talked about how Marvel stuntman Sam Hargrave (Thor: Ragnarok, Infinity War, Avengers: Endgame) is directing. "The action is unlike anything I've ever seen."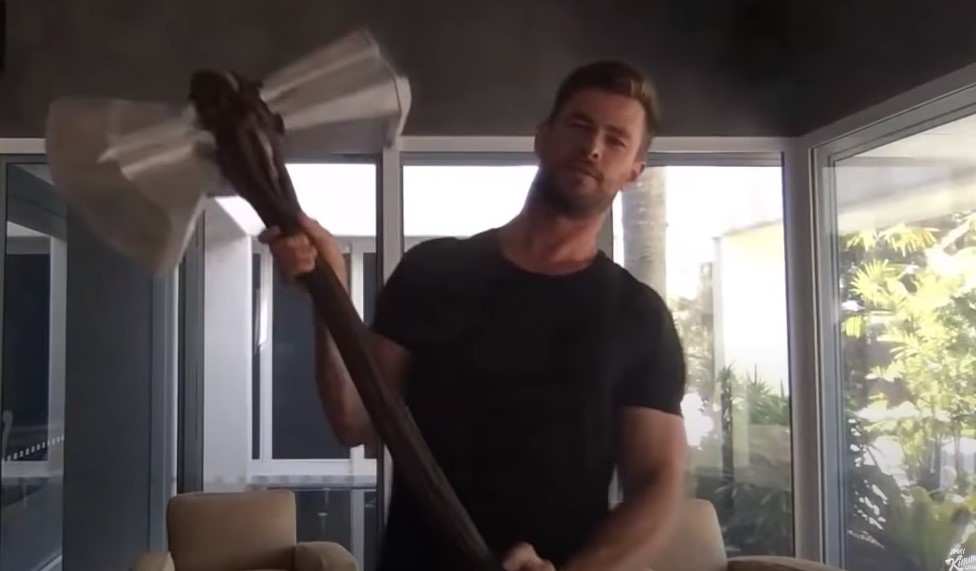 Chris Hemsworth has Thor's hammer, Mjolnir, and ax, Stormbreaker
The last time Chris Hemsworth appeared on Jimmy Kimmel, Hemsworth let it be known that he kept two of Thor's hammers at his house.
Kimmel asked if Hemsworth has the hammers, which saw Hemsworth bring out Mjolnir revealing it's the prop from the first Thor back in 2011.
Hemsworth also happens to have Stormbreaker, which we can see in the below video is a lot larger than Mjolnir.
Chris Hemsworth is also scheduled to start filming Thor 4 soon, but unfortunately, they didn't touch upon the flick. Recently did see director Taika Waititi talk "Love and Thunder" while participating in a live-stream with Tessa Thompson which saw details and concept art revealed.
While on lockdown the actor is also keeping in super shape.
Marvel actor Tom Holland also recently appeared on Jimmy Kimmel as Spider-Man.
Chris Hemsworth on Quarantine in Australia, Homeschooling Kids & Thor Props on Jimmy Kimmel: