Metro Goldwyn Mayer Pictures (MGM) has partnered with Emmy Award-winning character FX studio MastersFX (The Predator, Sinister, RoboCop) to bring to life the BUDDI doll, a contemporary version of the iconic Good Guys doll for Orion Pictures' much anticipated Child's Play from Lars Klevberg (Polaroid). The announcement was made by producers David Katzenberg and Seth Grahame-Smith (It, It: Chapter Two).
MastersFX has brought the new Chucky doll to life on screen like never before in a mixture of practical on-set puppet work and digital FX enhancements. Todd Masters, founder of MastersFX, and his team took six weeks to prepare and assemble seven practical animatronic puppets, each with interchangeable arms and heads that perform a variety of required actions on set. The FX team, led by ace puppeteer Keith Arbuthnot, along with Mike Fields, Jason Ward and Josh Raymond each controlled a different part of the doll.
"It was important to Lars that we use animatronics as much as possible," said Katzenberg. "As fans of Todd's work, we were thrilled when he and his team of exceptional artists and puppeteers agreed to take on the challenge of creating our take on a classic character."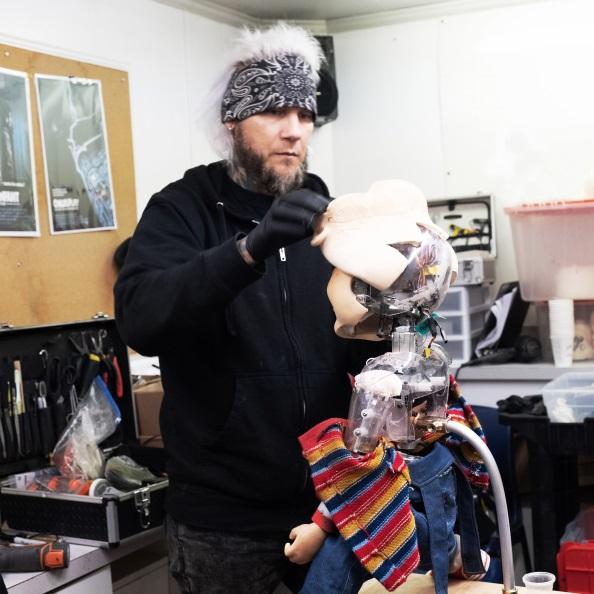 "Reconceiving a well-loved classic always feels like wading into tricky waters, however, Lars' fresh vision for this film turned what could have been a challenging process into a seamless and beautiful collaboration," said Masters. "MGM and Orion's Child's Play is not a remake or retelling but a completely new style and concept and we believe that BUDDI fits with this vision perfectly."
Child's Play, a contemporary version of the iconic horror classic, follows a mother who gives her son a toy doll for his birthday, unaware of its more sinister nature.
Directed by Kleverg and written by Tyler Burton Smith (Kung Fury, Quantum Break video game), the film stars Aubrey Plaza (Ingrid Goes West, FX's Legion, Safety Not Guaranteed) as Karen, Emmy and Tony nominee Brian Tyree Henry (FX's Atlanta, Widows, If Beale Street Could Talk) as Mike and Gabriel Bateman (Lights Out, CBS's American Gothic) as Andy. Child's Play is produced by Katzenberg and Grahame-Smith under their KatzSmith Productions banner, with Aaron Schmidt and Chris Ferguson executive producing. Orion Pictures will release Child's Play in theaters nationwide on June 21, 2019.
Next on the Orion Pictures slate is Nicholas McCarthy's supernatural horror thriller The Prodigy starring Golden Globe and Emmy nominee Taylor Schilling (Netflix's Orange Is the New Black) and breakout star Jackson Robert Scott (It, AMC's Fear the Walking Dead), opening in theaters on February 8, 2019. Orion Pictures is currently in production on Osgood Perkins' Gretel and Hansel, a horror retelling of the Brothers Grimm fairy tale starring Sophia Lillis (It, HBO's Sharp Objects), Sammy Leakey, Charles Babalola (Mary Magdalene, Netflix's Black Mirror), Alice Krige (Star Trek: First Contact, Silent Hill) and Jessica De Gouw (NBC's Dracula, CW's Arrow); recently attached filmmaker Roxanne Benjamin (Southbound, XX) to the reimagining of the 1984 critically acclaimed cult classic Night of the Comet; acquired rights to remake the critically acclaimed Icelandic psychological horror film Rökkur' (Rift) for U.S. audiences; and are in development on Casa, a social horror thriller centered around an intergenerational Latino family from brothers Andres and Diego Meza- Valdés (Boniato).